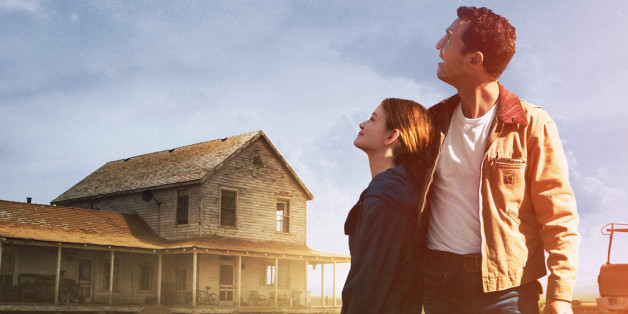 For "Interstellar," director Christopher Nolan created worm holes, planets made of ice and water, robots that look like Kit Kat bars and even a fifth-dimensional tesseract. So asking cinematographer Hoyte van Hoytema to pick the biggest challenge he had in bringing Nolan's film to visual life amounts to a fool's errand.
"What I should tell you about it is that I've never been involved in a film where every single day we did something new," van Hoytema told HuffPost Entertainment in a recent interview when asked about the toughest shot in the film. "Every day there was a new technical or emotional challenge, and something where we had to come up with a new solution. So in that way, there's nothing in particular that sticks out."
Born in Switzerland, van Hoytema has become one of the most in-demand cinematographers in Hollywood following his breakout work in 2008's "Let the Right One In." Jobs with David O. Russell ("The Fighter") and Spike Jonze ("Her") have followed in the years since, which led to "Interstellar." Van Hoytema stepped in for Nolan's frequent cinematographer, Wally Pfister, who had teamed with the director on every film he's made since "The Following." (Pfister directed "Transcendence" while Nolan was shooting "Interstellar.")
"It was, on first sight, scary," van Hoytema admitted of filling Pfister's role. "But Chris and I had a very good chemistry, which was not necessarily replicating something he had with someone he already worked with. It was maybe a little bit more exclusive to us. I have a lot of respect for his work with Wally, and I'm a big fan of Wally as well, but I told Chris very early in the process that I was not Wally. I was a very different person and brought something different to the table. Chris was very open to that."
The collaboration was a success: van Hoytema has been discussed as a possible Oscar contender for "Interstellar," which includes some Nolan's most ambitious visuals yet. And while van Hoytema, who is cinematographer on the next James Bond film, wouldn't admit to a most difficult shot in "Interstellar," he did allow that one specific part of the story did keep him up at night.
"There are so many intimacies between Cooper and his daughter [played by Matthew McConaughey and Mackenzie Foy], and they look very simple, but they come with their own challenges," he said when pressed again for a difficulty in shooting the sprawling project. "I remember that sometimes I would go to set and be more worried for those scenes than the spaceships."
"Interstellar" is out now.
BEFORE YOU GO
PHOTO GALLERY
"Interstellar" Photos