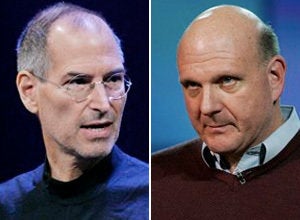 There hasn't been much word on the HP Slate--Microsoft's rebuttal to the iPad--since Steve Ballmer showed off the tablet PC at the Consumer Electronics Show this past January.
Two new videos from Hewlett Packard help demystify the device, and show off what the HP Slate has that the iPad doesn't.
So what do the two rival tablets look like side-by-side?
HP has released a techno-thumping marketing video for the HP Slate, following hot on the heels of Apple's first-ever iPad ad, which debuted during the Oscars. We've included the two new videos below to help you judge the two tablets' merits.
The format of the two ads is remarkably similar--Engadget remarks that the HP Slate spot 'bears a striking resemblance to last night's iPad commercial.' (Do you agree or disagree?)
The demo of Microsoft's tablet PC features someone using the device to track down a concert using a variety of media, such as maps, video, the New York Times' website, and music players. As we wrote here, the iPad ad is inspired by iPhone commercials, and shows a user employing the tablet to compose emails, download movies and books from Apple's platforms, upload photos, and browse the web.
One of the major points of criticism of the iPad has been its inability to run Adobe's Flash Player--a platform used for running media such as video and animation on web sites--and one of the videos released by HP foregrounds the HP Slate's support for Adobe Flash and Adobe AIR. The clip shows the HP Slate running video from MTV.com, playing a Spongebob Squarepants game, and browsing the New York Times' online edition.
The VP and chief technology officer of HP's personal system group wrote in a blog post that the tablet PC will offer 'No watered-down internet, no sacrifices.'
No launch date or price has yet been announced for the HP Slate. Microsoft CEO Steve Ballmer has said only that the tablet will be available 'later this year.'
See pictures of the HP Slate here.
Check out the two videos below, then tell us what you think of the competing devices.
WATCH:
Related
Popular in the Community