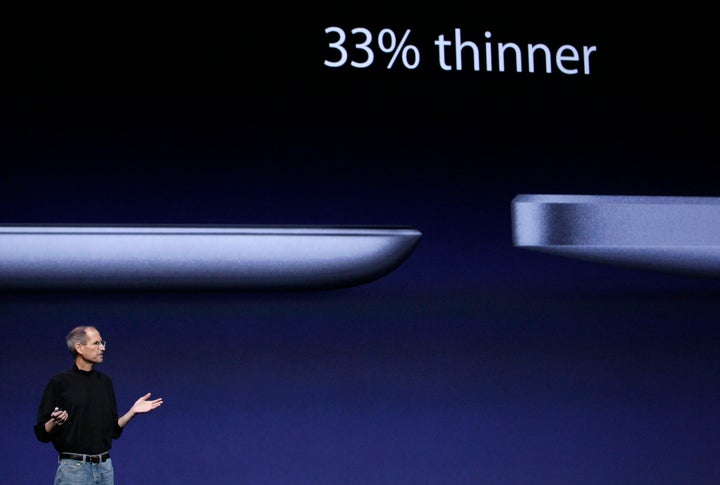 The tablet fight already looked like the Jolly Green Giant fighting off four or five Smurfs helplessly kicking at its ankles, hoping against hope that the Leviathan would succumb to their ankle-kicks and come crashing to the ground. Now, with the discontinuation of the TouchPad, it is as though the biggest Smurf has quit the fight to go hang out with Smurfette. The iPad is in a good spot.
But what could tablet makers do to diminish the iPad's dominance? Is it game over? What would it take to produce a powerful, credible iPad rival?
Though there are no official statistics on what kind of market share the TouchPad gained in its 50 days of existence, there is evidence that the Touchpad was the only other tablet on the market that had even entered the public consciousness. A recent survey by private equity firm Robert W. Baird & Co. showed that the only real "tablet of interest" for consumers was the iPad: Almost 95 percent of Americans indicated that they considered the iPad "of interest," while the only other tablet to score over 10 percent interest was the TouchPad, which snuck into the double digits with 10.4 percent:
Here's a look at what a new entrant into the tablet market could do to attract buyers and woo consumers away from Apple.
You might be confused by this survey, as you can get a tablet running Android for less than $250 (from Archos, COBY and Viewsonic, among others); so price clearly isn't the final answer for tablet makers looking to take down King iPad. If price were the only consideration, perhaps those $30 Android tablets from India would be in the hands of every subway reader and big screen Angry Bird-flinger in America.
"If people walked into a store and advertising wasn't an issue, and all of the tablets were lined up next to each other without any branding information, people would gravitate toward the cheaper devices," Jennifer Jacobson of Retrevo said in an interview.
And yet clearly, as the 200,000 unsold TouchPads allegedly sitting in Best Buys across the country indicate, price is not the only factor. After its final price cut, the 16GB HP tablet was down to $400, a full Benjamin Franklin less than the 16GB iPad. The 16GB Acer Iconia Tab is also $400 and runs the most recent Android Honeycomb OS, but I'm guessing most of my readers didn't even know something called an "Acer Iconia Tab" even existed. Radically slashing prices, or offering a similar tablet at a lower price, is clearly not the key to an iPad takedown.
MOVIES, MUSIC, AND OTHER WAYS TO MAKE AIRPLANES LESS BORING
Though Jacobson thinks that consumers might initially gravitate toward cheaper tablets, the luster of the lower price tag would wear off quickly as soon as they actually got the tablets in their hands.
"Once they started playing around with them, I think most would land on the iPad," Jacobson said.
HP seems to have learned its lesson from the failures of webOS. And I would bargain some major chips that if any tablet is able to upend the iPad, it will have access to the Android Market, the Windows Marketplace, or some other bulked-up, fully fleshed-out, trustworthy infrastructure for the buying and selling of apps. Jacobson cites the Amazon Marketplace as one such example, pointing to a rumored Amazon tablet as a potential iPad killer.
"The benefit of Amazon is that it will automatically connect to books, music, movies, all the things you want to do," she said. "The more that any company can build out their gaming platform, their reading platform, movies, music, everything that people consume, the more likely that people will buy or gravitate to [that company's tablet]."
If Amazon and Motoroogle do make their own branded tablets, there is one thing they definitely need to do to wean iPad fans off of the glow of Apple products.
Other than having lots and lots of apps and other time-wasters, it seems clear that a tablet is going to have to differentiate itself in some major way, with a hallmark feature or features, in order to steal market share from the iPad.
Would a slideout, physical keyboard make a tablet more attractive? A super HD screen? A processor and memory that could replace a PC? Jacobson thinks that this technology is about one or two years away, and warns that increased manufacturing costs would result in a price that is too high for cost-sensitive tablet buyers. Yet she still thinks a convertible tablet might do well on the marketplace.
"Right now, [a tablet] is a luxury device. If you have a laptop and a smartphone, you don't really need one," Jacobson said.
There are tablets out there that have the features consumers want and that the iPad doesn't have: Take a look at the recently released Toshiba Thrive, for example, which can play Flash and has an SD card slot and USB and HDMI ports. It also runs Android Honeycomb, and the 16GB version costs $70 less than the iPad 2.
And yet still the iPad laughs from on high. But for how long?
The iPad, Jacobson pointed out, is not its music-playing uncle. Overtaking the iPad is not necessarily a losing battle.
"It's not impossible," she said. "It's not like the MP3 market, with the iPod. If someone [back then] said, 'Can someone compete with the iPod?' That would be ridiculous, of course not. But if someone [today] said, 'Can someone compete with the iPad?' I think someone can."
iPad's market share has predictably fallen as alternatives flood the market. Whereas at the end of 2010, the iPad had 85 percent of the tablet market share, that number has shrunk to 61 percent as of July 2011, with Android tablets making up 30 percent of the market. Of course, this stat represents all of the Android tablets against one Apple iPad, so the iPad's dominance appears stable, though perhaps not as dominant as it once was.
Now, however, might be the time for a new entrant to shake things up. The iPad 3 was supposed to be released this fall or winter, but now it appears that, due to production problems with display screens, the next-generation Apple tablet won't be out until early 2012. If a big company like Amazon, or the freshly-stitched Googorola, can put out a high-quality, well-priced, well-branded tablet in that window, then it just might be able to make the tablet fight a fair one.
Until someone finds that magical iPad-toppling tablet, however, we'll be seeing the Smurfs kicking at the Jolly Green Giant's ankles for some time.
Support HuffPost
The Stakes Have Never Been Higher
Related
Popular in the Community