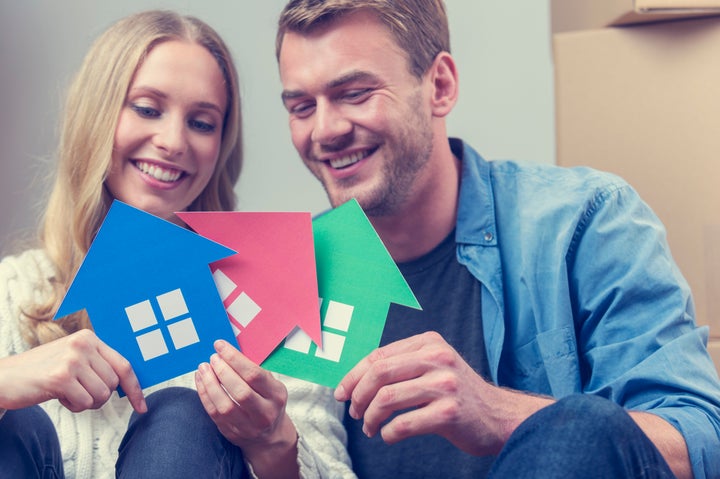 First time home owners know that buying a home is one of the most important investments that you can make. And while signing the papers on your first home can feel like putting down roots in your perfect pad, the reality is that most millennial homeowners end up moving multiple times, due to changing family and career factors. That's why your home's resale value should be a primary focus right from the get-go.
Selling a first home can seem even more stressful than purchasing one, but these simple tips on boosting your home's resale value can go a long way in removing the stress from the equation. That's why we've partnered with H&R Block to bring homeowners a guide to home improvement projects with the best return on investment. Whether you're looking to sell now or in the distant future, knowing how to boost your property value is a great investment in your future.
1. Landscape Wisely
Like a good haircut, a yard should frame the face of your house in the most flattering way possible. After all, your yard is wholly responsible for your property's first impressions. While it's pretty obvious advice to keep your lawn mowed and weed-free, certain outdoor renovation projects are more likely to add value than others.
Forget about add-ons like a pool or hot tub, which can signal to potential buyers more maintenance than enjoyment. Instead, focus on the classics. Making sure your yard has a couple of healthy, thriving trees is a trusty way to boost your home's resale value more than you may think. Check out the National Tree Benefit Calculator to see how trees in your zipcode affects property values, stormwater runoff, and other homeowner considerations. You'll also want to landscape with native plant species, which will boost your home's value without adding significant maintenance costs. When considering whether to tackle a yard renovation project, think about whether it will appeal to most people. A deck? Yes. A hedge maze? Not so much.
2. Refresh Your Front Door
If you've wowed house hunters with your stellar landscaping, the next place their eye will travel to is the front door. And it plays a big factor in your home's resale value. In fact, according to a Cost vs. Value report conducted by Remodel, replacing an outdated entryway can have one of the biggest returns of any home improvement you could do yourself. Update the appearance of your whole home with a door that uses modern materials and a new color scheme.
3. Refinish The Floors
Floors are another make or break factor for most buyers. Gone are the days of wall-to-wall carpeting signaling luxury; instead they just signal lots of dust mites and vacuuming. Wood is always a classic choice, with varieties like oak being safe bets amongst house hunters. Replacing floors that have signs of wood rot or termites is another great way to add value to your home. To show your floors some less costly TLC, repair broken tiles or add a well-placed nail to conceal a pesky squeak.
4. Make Your Home More Energy and Cost Efficient
According to an annual survey done by the National Association of Realtors, millennials comprise 35 percent of all first-time homebuyers. This tech-savvy generation is looking for properties with smart home technology upgrades that will offer enhanced security, energy efficiency, and savings. Smart thermostats, lighting, and door locks can be a big draw for millennials, who value the ease of controlling their home by a smartphone app, even when they're away from home. And smart thermostats can save up to 10 percent annually in home heating costs, proving that connected home apps aren't just a passing trend.
Energy efficient upgrades can also bring tax credits to homeowners, so be sure to check out which updated homeowner credits are available through the U.S. Department of Energy. A 30 percent tax credit for installing solar energy systems has been extended through 2019, and credits are also available for several other energy efficient home improvement projects.
5. Update The Kitchen
The average cost of a kitchen remodel is $20,000, according to Home Advisor. This is no small renovation cost, but when you consider that updated and modern kitchens are a main selling point, the cost of remodeling can significantly boost your resale value. And you may not need to go all-in on a renovation when a facelift can go a long way. Consider adding some combination of new stainless steel appliances, cabinets, flooring and a modern countertop to refresh your kitchen on a smaller budget, depending on which aspect of your current setup could most use a facelift.
6. Refresh The Bathroom
While a kitchen remodel can get pricey pretty quickly, there's a lot of mileage you can get from a bathroom upgrade in the $500 range. Cleaning grout, re-caulking the tub, and replacing an outdated vanity for a granite version can make an outdated bathroom look clean and modern in time for open house day.
H&R Block believes that healthy finances are at the heart of finding happiness as a homeowner. For more than 60 years, H&R Block has been the go-to source to help you not just get your taxes done, but get them won, with more options to file online for free. Because we want you to focus on filling your home with happy memories instead of stressing about filing your taxes.