The nation's largest LGBTQ advocacy group teamed up with a multimedia artist to take the Trump administration to task over reportedly banning several words and phrases from Centers for Disease Control and Prevention documents.
President Donald Trump's administration told CDC policy analysts last week that seven words ― "fetus," "transgender," "diversity," vulnerable," "entitlement," "evidence-based" and "science-based" ― could no longer be used in the agency's documents, according to The Washington Post.
A spokesperson for the Department of Health and Human Services, which oversees the CDC, dismissed reports of the ban as "a complete mischaracterization."
CDC Director Brenda Fitzgerald also wrote a series of tweets in which she said, "There are no banned words at the CDC."
Still, LGBTQ activists were quick to speak out against the idea of banning words from CDC documents ― and the Human Rights Campaign made moves to show its displeasure in a big way.
The organization tapped artist Robin Bell to help it create a stunning light installation that would project all the reportedly banned words onto the the facade of the Trump International Hotel in Washington, D.C.
HRC officials said they decided to end Tuesday's display with a special message for Trump: "We will not be erased."
The HRC also filed a Freedom of Information Act request with the HHS on Tuesday, asking the department to release any records from November 2016 to present, including communications with the CDC, that relate to the words Trump reportedly tried to ban.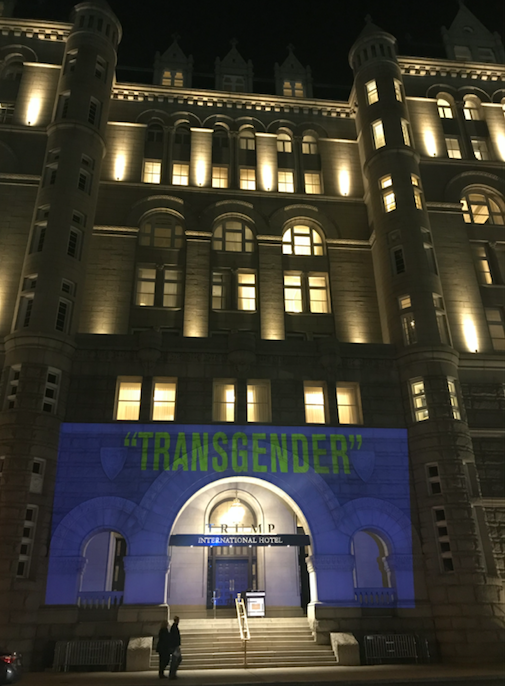 Both the installation and the FOIA request are reflective of the organization's vow to "meet attacks on [the LGBTQ] community with a resolve to be louder and more visible than ever before," David Stacy, the director of government affairs for the HRC, said in a statement.
"It was not long ago that the government tried to ignore the reality of the HIV and AIDS crisis to the detriment of millions. This kind of erasure has potentially catastrophic consequences beyond the words used by the CDC," Stacy added. "It could impact the very programs most vital to the health of transgender people, women, youth and others."