(Reuters) - HSBC has agreed to pay a record $1.92 billion fine to settle a multi-year probe by U.S. prosecutors, who accused Europe's biggest bank of failing to enforce rules designed to prevent the laundering of criminal cash.
HSBC Holdings Plc admitted to a breakdown of controls and apologized in a statement on Tuesday announcing it had reached a deferred-prosecution agreement with the U.S. Department of Justice, as first reported by Reuters last week.
"We accept responsibility for our past mistakes. We have said we are profoundly sorry for them, and we do so again. The HSBC of today is a fundamentally different organization from the one that made those mistakes," said Chief Executive Stuart Gulliver.
"Over the last two years, under new senior leadership, we have been taking concrete steps to put right what went wrong and to participate actively with government authorities in bringing to light and addressing these matters."
The deferred prosecution agreement, when detailed by U.S. Justice Department officials later on Tuesday, could yield new information about a failure at HSBC to police transactions linked to Mexico, sources familiar with the matter said.
Details of those dealings were reported this summer in a sweeping U.S. Senate probe.
The Senate panel alleged that HSBC failed to maintain controls designed to prevent money laundering by drug cartels, terrorists and tax cheats, when acting as a financier to clients routing funds from places including Mexico, Iran and Syria.
The bank was unable to properly monitor $15 billion in bulk cash transactions between mid-2006 and mid-2009, and had inadequate staffing and high turnover in its compliance units, July's report said.
HSBC on Tuesday said it expected to also reach a settlement with British watchdog the Financial Services Authority. The FSA declined to comment.
U.S. and European banks have now agreed to settlements with U.S. regulators totaling some $5 billion in recent years on charges they violated U.S. sanctions and failed to police potentially illicit transactions.
No bank or bank executives, however, have been indicted, as prosecutors have instead used deferred prosecutions - under which criminal charges against a firm are set aside if it agrees to conditions such as paying fines and changing behavior.
HSBC's settlement also includes agreements or consent orders with the Manhattan district attorney, the Federal Reserve and three U.S. Treasury Department units: the Office of Foreign Assets Control, the Comptroller of the Currency and the Financial Crimes Enforcement Network.
HSBC said it would pay $1.921 billion, continue to cooperate fully with regulatory and law enforcement authorities and take further action to strengthen its compliance policies and procedures. U.S. prosecutors have agreed to defer or forego prosecution.
The settlement is the third time in a decade that HSBC has been penalized for lax controls and ordered by U.S. authorities to better monitor suspicious transactions. Directives by regulators to improve oversight came in 2003 and again in 2010.
Last month, HSBC told investors it had set aside $1.5 billion to cover fines or penalties stemming from the inquiry and warned costs could be significantly higher.
Analyst Jim Antos of Mizuho Securities said the settlement costs were "trivial" in terms of the company's book value.
"But in terms of real cash terms, that's a huge fine to pay," said Antos, who rates HSBC a "buy".
HSBC shares dipped 0.3 percent in early London trading to 639 pence, in line with a slightly weaker European bank index. Its Hong Kong stock nudged up 0.3 percent to HK$79.70.
"It has been damaging for the brand, albeit not as bad as it might have been," said Ian Gordon, analyst at Investec Securities in London.
"Is it absorbable? Yes. Is it significant? Yes. But in the absence of a broader attack on the business structure or individuals, that explains why the market reaction has been relatively muted today and has been since the allegations came out," he added.
ANTI-MONEY LAUNDERING CONTROLS
HSBC said it had increased spending on anti-money laundering systems by around nine times between 2009 and 2011, exited business relationships and clawed back bonuses for senior executives. It cited the hiring last January of Stuart Levey, a former top U.S. Treasury Department official, as chief legal officer, as evidence of its determination to change.
Under a five-year agreement with the Justice Department, HSBC agreed to have an independent monitor evaluate its progress in improving its compliance.
It also said that as part of the overhaul of its controls it has launched a global review of its "Know Your Customer" files, which will cost an estimated $700 million over five years. The files are designed to ensure that banks do not unwittingly act as conduits for criminal funds.
HSBC's settlement comes a day after rival British bank Standard Chartered Plc agreed to a $327 million settlement with U.S. law enforcement agencies for sanctions violations, a pact that follows a $340 million settlement the bank reached with the New York bank regulator in August.
Such settlements have become commonplace. In what had been the largest settlement until this week, ING Bank NV in June agreed to pay $619 million to settle U.S. government allegations it violated sanctions against countries including Cuba and Iran.
Other banks that have reached settlements over sanctions violations are Switzerland's Credit Suisse Group, Britain's Lloyds Banking Group and Barclays and ABN Amro Holding NV, a Dutch bank acquired by Royal Bank of Scotland Group Plc and a bank consortium in 2007.
In the United States, J.P. Morgan Chase, Wachovia Corp. and Citigroup Inc. have been cited for anti-money laundering lapses or sanctions violations.
HSBC's failings date to 2003, when the Federal Reserve Bank of New York and New York state regulators ordered it to better monitor suspicious money flows. In 2010, a consent order from the Comptroller of the Currency (OCC) ordered HSBC to review suspicious transactions. At the time, the OCC called HSBC's compliance program "ineffective".
In 2008, the U.S. Attorney in Wheeling, West Virginia, began investigating allegations that a local doctor used the bank to launder money from Medicare fraud.
Ultimately, that prosecutor's office came to believe the case was "the tip of the iceberg" in terms of suspicious transactions conducted through HSBC, according to documents reviewed by Reuters and reported earlier this year.
(Additional reporting by Lawrence White and Michael Flaherty in Hong Kong and Steve Slater in London; Editing by Peter Graff)
Related
Before You Go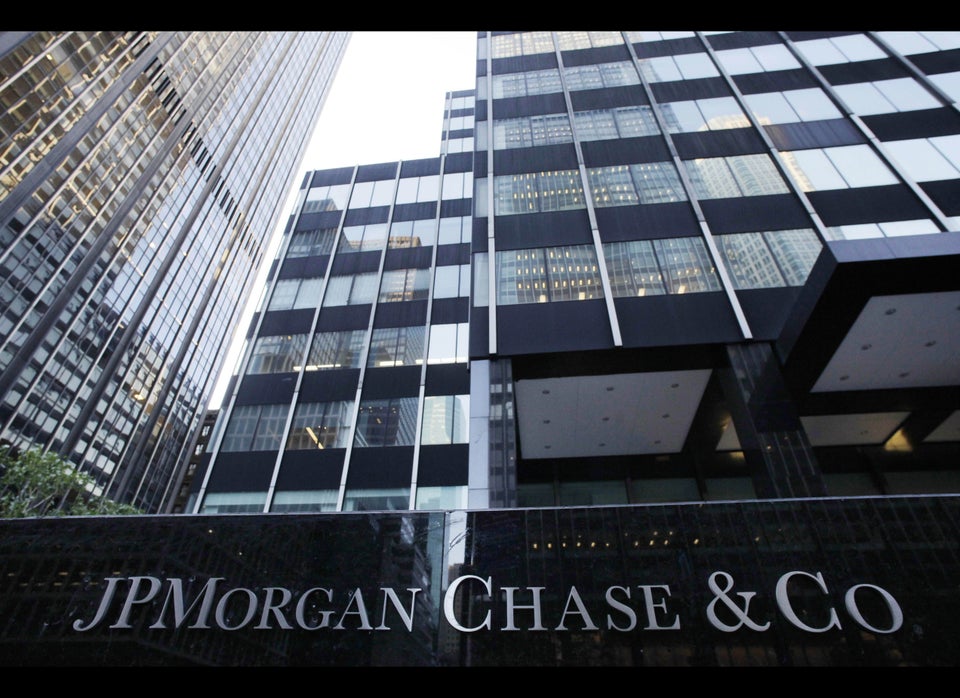 JPMorgan Whale Fail And Nine Other Big Bank Disasters
Popular in the Community