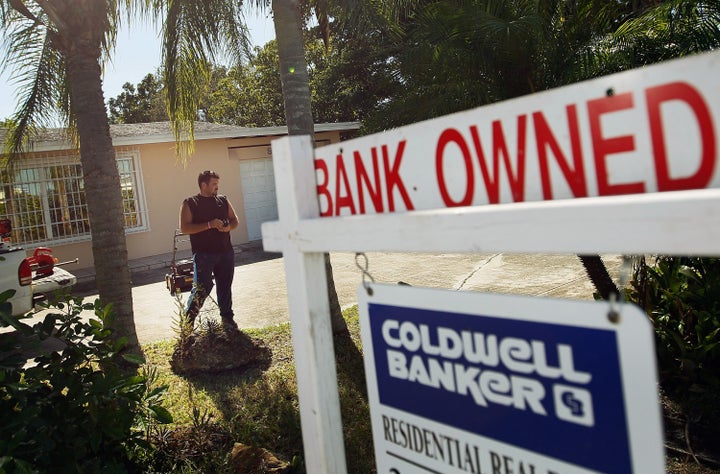 In the Nevada case, a judge ordered HSBC to pay a sanction after the bank was found to have been negotiating in bad faith with Emiliano Pasillas, a Reno homeowner seeking foreclosure mediation.
The amount of that sanction? Twenty-five hundred dollars plus mediation costs, which Pasillas's lawyer says "isn't even a slap on the wrist," according to the Reno Gazette-Journal. And Pasillas can't use any of that money to cover his legal expenses.
It's the latest example of how foreclosure mediation has disappointed some advocates of the program who see it as a way for homeowners to empower themselves. In Maryland, a surprisingly low number of homeowners -- fewer than 1,000, according to Mother Jones -- had sought help through the mediation process as of last May, and only 56 of them had actually managed to get their loans modified. And in Florida, the state just pulled the plug on its mandatory foreclosure mediation program last month, after a report showed that only 4 percent of eligible cases were successfully negotiated to a conclusion.
Some argue that because the mediation process slows down the pace of individual cases, it's one of the reasons that court systems across the country remain clogged with foreclosure cases.
Millions of properties have entered foreclosure but not yet reached the final stage, meaning that in the states where foreclosures are handled by the courts, many homeowners are hanging around in an uncomfortable state of limbo. Meanwhile, the foreclosed properties act as a heavy weight on local real estate values, dragging neighborhood prices down and damaging homeowner wealth.
The so-called "shadow inventory" of foreclosed homes that have yet to reach the market are keeping prices low nationwide, further delaying a meaningful recovery in the housing sector.
Though foreclosure mediation hasn't always benefited the homeowner, some regions have reported success using the program. In Philadelphia, for example, almost 85 percent of homeowners who met with mortgage lenders through a mediation program reported still being in their homes 18 months later.
Popular in the Community