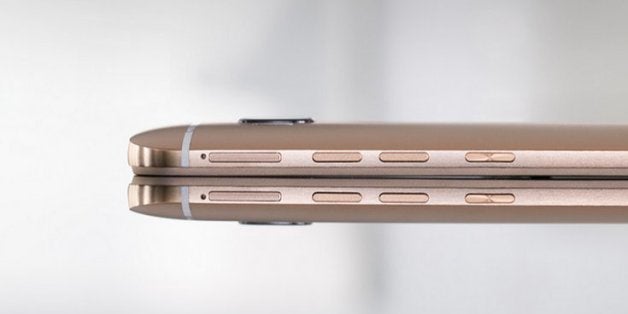 HTC needs a hit, but it may not find one in its upcoming Android device.
The next major phone from the Taiwanese company is the HTC One M9, a premium device intended to rival the iPhone and Samsung's upcoming Galaxy S6 phone. It's coming to the United States April 10, but reviews started to roll out this weekend. They've been lukewarm, praising the device overall but calling it a rehash of HTC's previous One phones.
HTC is losing marketshare, slipping to below 2 percent in 2014 from an all-time high of 10.7 percent in 2011, according to Forbes. That's dovetailed with a reduction in different units released: In 2011, HTC flooded the market with no fewer than 20 handsets ranging from the squat HTC Wildfire S to the comparatively sleek Rezound. Recently, it's emphasized far fewer devices. In the United States, the company is essentially focusing on the HTC One line (which has a base price of $499, $650 off contract) and the less expensive Desire family.
There's a lot riding on the M9. It's expected to fit better in a user's hand (compared to the slippery M8), boasts upgraded cameras, a brighter screen and a bevy of other tweaks. Let's see what critics are saying (all emphasis ours).
• "I've been trying to shake the feeling that I've seen this all before, that I've acted out this scenario already. But I can't. I've been living in smartphone déjà vu." -- Dan Seifert, The Verge
• "HTC says that the design of the M9 is a mashup of the best aspects of the M7 and the M8, and although that may be the case, it has resulted in a phone so familiar that you might mistake it for last year's model." -- Jacob Siegal, BGR
• "In most ways, we're still dealing with the same One DNA we always have, just peppered with a handful of modifications meant to make the whole thing feel more premium." -- Chris Velazco, Engadget
• "It's a smartphone for show, a fashion accessory, a 5-inch slab of metal that's practically jewelry. This smartphone be pretty. What it isn't—design-wise—is new, exciting or meaningfully different." -- Darren Orf, Gizmodo
• "While you'd expect the move to a higher megapixel count to equate to a much better experience than found in the M8, we are sad to say this isn't the case. This is largely because the way the phone processes picture data is about the same as before, and that's not a very good thing." -- Joshua Vergara, Android Authority
• "The good news is that the M9 captures photos very quickly, letting you capture fast-moving action without missing a beat. ... If only the images themselves were any good." -- Brandon Russell, TechnoBuffalo
• "Just like the M8, the M9 is easily one of the best Android smartphones out there, and just like the M8, it's still not one of the most exciting – it is totally competent, however." -- Ben Woods, The Next Web