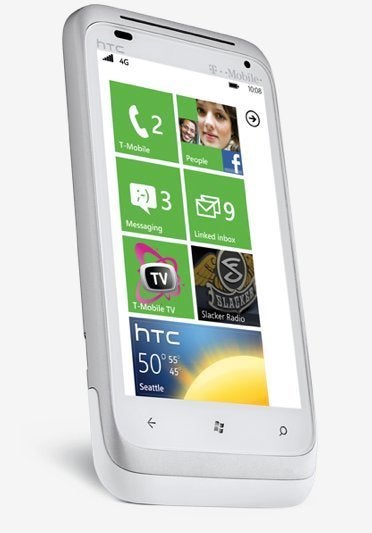 THE CAPTAIN GADGET 5-PARAGRAPH REVIEW OF:
The HTC Radar 4G From T-Mobile
(1.) Too many new smartphones try to mimic that elongated black-box look of the iPhone; the HTC Radar 4G, mercifully, does not. Available exclusively on T-Mobile (and what a shame it is that customers on other networks don't have the option to try it), the Radar is a sleek, silver-on-white eye-catcher of a phone. A small part of its visual appeal is Windows Mango, the beautiful operating system still unfamiliar to most everyone who doesn't work for Microsoft. The Radar doesn't look like all the other chocolate bar smartphones, which means more attention for the person who pulls it out of his or her pocket. Let us hold up the Radar as proof that handset manufacturers can still draw up a smartphone that is not a flattened black brick. Let us also hold it up as proof that it is possible to get a nice, attractive, functional smartphone for $99.
(2.) The Radar is light in the hand -- it almost feels fragile or empty-ish on the insides, to its minor detriment -- and rounded-smooth on the corners. It is a palpably well-built phone, front and back. The only physical buttons are a lock-screen button on top of the phone (same positioning as the iPhone's), a long volume bar on the right side and a Microsoft-mandated camera button below that. The screen never really showed the smudge of my fingerprints, though the white face-plate did catch mysterious small black smudges, probably from the dyes of my clothes, on occasion. One minor point of hardware annoyance: The lock-screen button, on the top right of the phone like the iPhone's lock-screen button, was recessed too far inwards, making it more difficult than it should have been to lock/unlock/power off. Pop it out on the second-gen, HTC.
(3.) Performance-wise, the Radar is zippy-quick. Perhaps it is due to the physical weight of the phone, but the Radar emits an illusion of sprightliness and instantaneous reaction-time. Of all the Windows phones I've used, the Radar feels fastest (specs comparisons of processors would indicate otherwise, but I trust my eye). Mango is still Mango (review here): an attractive mobile operating system that is comparatively lacking in apps but is cutting-edge in design, terrific for communication across several platforms (Facebook, SMS, Twitter and more) and an early-adopter's dream (get this hipster OS before it goes mainstream!). The Radar 4G comes with Slacker Radio, T-Mobile TV and a few other "entertainment apps" that you will most likely replace, ignore and/or abandon.
(4.) Camera-loading time is solid, if not great; camera quality is also solid, if not just okay. There's a front-facing camera, too, a nice add-on for a cheap phone. No complaints about call quality, SMS delivery or data downloads or uploads; T-Mobile's "4G," though not the faster of the two HSPA+ networks the carrier offers, offered quick speeds throughout New York City. Battery life was somewhere approaching excellent -- I was often able to go two days of heavy use and constant push email without plugging in.
(5.) The main draw of the HTC Radar, however, is its outward design. It's one of my favorites of the year, and I was relieved to find that the design was not let down by the smartphone's actual performance. Function follows form here; both are noteworthy and commendable, especially at $100. For a smartphone shopper on a budget (and -- sigh -- on T-Mobile) the Radar is one of your best choices. If HTC can free it from the T-Mo trap, it could have a cross-network superstar. I suppose the Radar retains some of its beauty in its scarcity or unavailability, however; perhaps it's better that it remains exclusively on T-Mobile.
HTC RADAR 4G SPECS

Cost: $99 with two-year contract
Carriers: T-Mobile
Operating System: Windows 7.5 ("Mango")
Network: T-Mobile 4G (HSPA+ 14.4)
Display: 3.7-inch
Weight: 4.8 ounces
CPU: 1 GHz single-core
Memory: 512MB RAM
Storage: 8GB internal; no card slot
Camera: 5MP rear-facing with flash; front-facing VGA (less than 1MP)
Charger: Micro USB
Battery Life (stated): 10 hour talk time on 2G; 8 hour talk time on 3G
Calling all HuffPost superfans!
Sign up for membership to become a founding member and help shape HuffPost's next chapter