Have you ever wondered why hotels put a chocolate on your pillow?
Have you ever been lucky enough to stay in a really nice hotel? If so, you were likely nicely surprised by a wrapped mint, chocolate, or chocolate mint, cleanly set on the pillow upon your arrival. It's a nice, small gesture, and it had to start somewhere. In fact, it didn't start all that long ago.
Sometime in the early 1950s, actor Cary Grant was staying at the luxurious Mayfair Hotel in downtown St. Louis. He was a frequent guest and booked the penthouse suite, and he had a woman who was meeting him there. (At the time, Grant was married to this third wife, actress Betsy Drake.) As the story goes, the woman arrived at the suite before Grant did, and found that he had laid a trail of chocolates. It started in the sitting room, ran into the bedroom, across the bed, and onto the pillow, sort of a seductive "Hansel and Gretel" breadcrumb trail." (A letter was also left on the bed, although its contents, along with the identity of the woman, and if the chocolates, uh, worked, remain undisclosed.)
The Mayfair's manager heard about the chocolate gambit, likely because a hotel staffer had to procure the chocolates and lay them out. The manager liked the idea so much that he made a chocolate on the pillow upon arrival one of the hotel's many standard amenities.
Hundreds of hotels adopted the gesture, although the Mayfair discontinued the act a few years back. But when the hotel was sold and became the Magnolia Hotel St. Louis last August, management restored the tradition, with chocolates from St. Louis chocolatier Bissinger's.
Every room gets a chocolate on the pillow, particularly the 18 floor's "Cary Grant Suite."
The article above is reprinted from Portable Press, the publisher of Uncle John's Bathroom Readers. Looking for more amazing facts and good laughs? Check out the latest Uncle John's Bathroom Reader® titles at bathroomreader.com.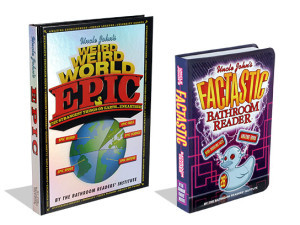 Related