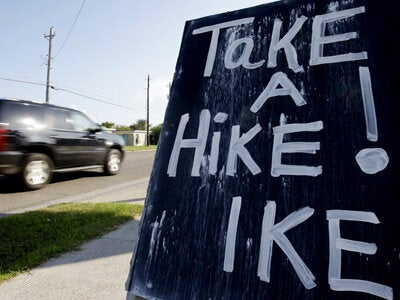 People in Terrebonne Parish, Louisiana are beginning to feel the effects of Hurricane Ike. This is a dangerous situation, as most residents are without power and do not realize the current situation. Email reports coming in from award winning blues singer, Tab Benoit, reports that, "The Levee's are beginning to breach in Houma, LA. "
"The tide is higher at this point then it was for Hurricane Rita and when the wind blows from the south more water will follow. 100,000 people in Terrebonne Parish could flood."
There is only the local channel, HTV in Houma, which is covering the situation in real time.
With high tide yet to come later this afternoon, south winds, and levees already being topped, the situation is critical, according to residents' reports on HTV. There is a current overtopping storm surge on a ten foot levee and residents are trying to get word out to the national guard to fly sandbags into the area near the Montagut Levee.
Commentator: "This is a sad,sad day for Terrebonne Parish. It looks like Niagra Falls. Please leave. Please leave."
"This is the day we feared."
Report from the Houma Courier At 11:30 AM Friday:
The situation in Montegut, Pointe-aux-Chenes, Dulac and other bayou communities is beginning to look like Rita, or worse, said Windell Curole, interim regional levee director for Terrebonne and Lafourche.
"The water is very high in some areas much like Rita, and a height in some areas that we've never seen before," Curole said.
Hundreds of yards of levee in Montegut and Pointe-aux-Chenes are being overtopped, and if it continues officials expect significant levee failures in those areas.
Terrebonne levee officials confirmed the breech in the Montegut levee this morning, saying that it would be impossible to sandbag the levee by hand or by air.
Residents in these areas are warned to get out.
Levee breaches have already been reported in Montegut between Boudreaux Canal and the Bayou Terrebonne floodgate, but Curole said the breach is "not a total failure yet." But if water continues to rise he expects multiple failures of the levee.
Overtopping has also been reported in Dulac, and Curole said he's also heard of levee overtopping problems beginning in Chauvin.

Related
Popular in the Community