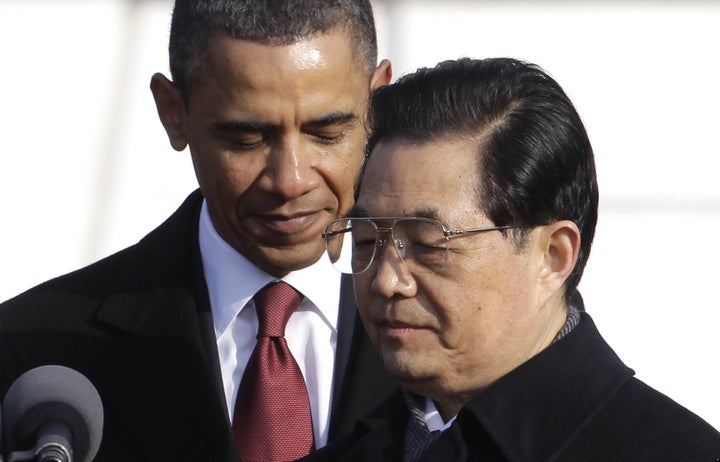 (AP) WASHINGTON — In a rare concession on a highly sensitive issue, Chinese President Hu Jintao used his White House visit on Wednesday to acknowledge "a lot still needs to be done" to improve human rights in his nation accused of repressing its people. President Barack Obama pushed China to adopt fundamental freedoms but assured Hu the U.S. considers the communist nation a friend and vital economic partner.
Hu's comments met with immediate skepticism from human rights advocates, who dismissed them as words backed by no real history of action. Hu contended his country has "made enormous progress" but provided no specifics.
Still, his remarks seemed to hearten and surprise U.S. officials, coming during an elaborate visit that centered on boosting trade and trust between the world's two largest economies.
More broadly, Hu and Obama sought to show off a more mature and respectful relationship, not the one often defined by disputes over currency, sovereignty and freedoms. Hu said he wanted even closer contact with Obama; Obama sought again to embrace China's rise, and the two men shared some unexpected laughs.
The Chinese president was treated lavishly, granted the honor of the third state dinner of Obama's presidency. He was welcomed in the morning to the sounds of military bands and the smiles of children on the South Lawn; he was capping the evening at a black-tie White House gala of jazz musicians and all-American food.
Eager to show progress, particularly with the unemployment weighing down his country, Obama said the nations sealed business deals that would mean $45 billion in U.S. exports and create roughly 235,000 jobs. The package included moves by China to expand U.S. investment and curtail theft of intellectual property.
China's human rights record is poor and worsening, with abuses ranging from censorship to illegal detention of dissidents to executions without due process, according to the U.S. government. In a packed news conference - one designed to underscore the freedom of speech on Obama's home turf - Hu was pressed to defend his country's treatment of its people. He initially did not answer, saying he never heard the question translated, although the White House said that it was.
When prodded a second time, Hu defended his country's promotion of human rights. But then he added that China is enduring challenges as it develops and "a lot still needs to be done in China in terms of human rights." He said China stood to gain from other countries' input, saying: "We're also willing to learn."
Click here for more info, or scroll down for additional updates.
Related
Popular in the Community