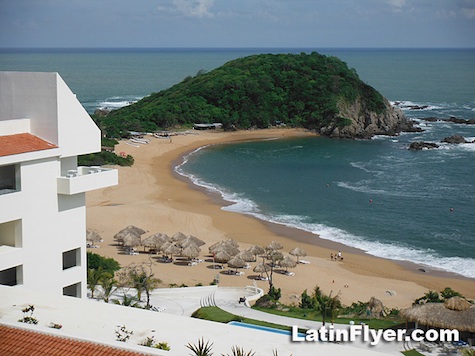 Rooms with a view: Secrets Huatulco Resort & Spa in Huatulco, Mexico.
Looking for a warm winter getaway but not into giant-sized beach resorts? Consider Huatulco, a tourism hotspot on Mexico's Pacific coast where a string of scenic bays serves as the backdrop for lovely hotels, exciting activities and picturesque attractions. It's much less developed than Cancun or Los Cabos, but with many of the same luxuries and amenities. During my recent visit, I came up with these five reasons to check out one of Mexico's lesser-known beach destinations.
1. The Ambiance. Unlike larger resort cities in Mexico
2. The Charming Downtown. Huatulco's tiny center is laid back and fun to walk around. Don't miss La Crucecita, a church where the colorfully painted interior includes a 65-foot image of the Virgin of Guadalupe. We had excellent tamales at a restaurant called El Sabor de Oaxaca and also stopped at a shop called La Reliquía, where we munched on grasshoppers (served with cheese and salsa atop a nacho chip -- although they were also good with just a bit of salt and lime on top) and washed it all down with mescal, a distilled alcoholic beverage made from the maguey plant.
3. The Beautiful Bays. Take a boat ride to fully enjoy the gorgeous, unspoiled bays of Huatulco. We gazed at a natural blowhole that spewed water near a towering lighthouse, peeped at a pair of mating sea turtles shamelessly bobbing in the water and tried snorkeling near the beach where the movie Y Tu Mamá También was filmed (unfortunately, Gael García Bernal wasn't there during my visit). On the way back, we stopped for delicious, fresh seafood at Camaron Gigante, where we gorged ourselves on lobster, homemade guacamole and pico de gallo, ceviche and pineapple-stuffed with giant shrimp and creamy sauce.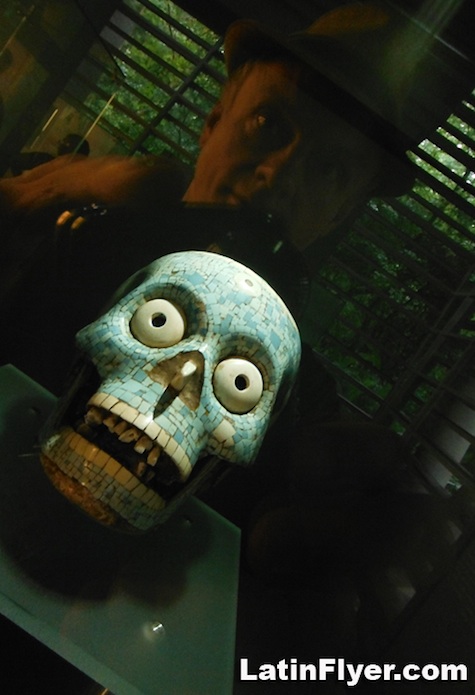 Ancient history: a colorful skull at the Copalita Eco-Archeological Park in Huatulco.
4. The Ruins. Copalita Eco-Archeological Park is the site of the ancient city of Copatitlan, which dates back more than 2,000 years. Easily accessible with stone-paved walking trails and complemented by a small but very interesting museum (which opened less than two years ago), Copalita provides an interesting glimpse into the region's pre-Hispanic heritage.
5. The Hotels. Huatulco may be less developed than Mexico's more famous vacation destinations, but it nevertheless has a good variety of hotels. The newest all-inclusive is Secrets Huatulco Resort & Spa, an adults-only property with gorgeous views, elegant restaurants and a huge, hilltop spa. I also checked into Dreams Huatulco Resort & Spa, a family-friendly all-inclusive with good pools, children's programs and lots of dining options.
Related