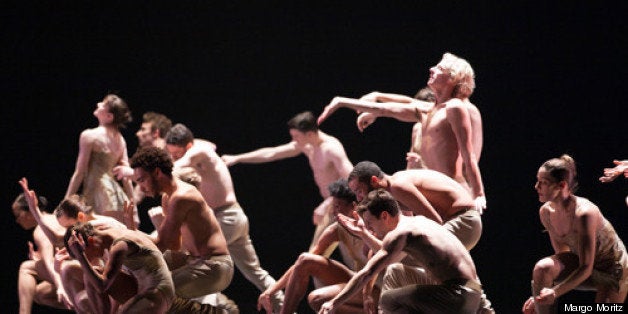 You could definitely say that Penny Saunders and Pablo Piantino have had a front row seat for the making of some of the most important choreography of the last decade, except that if you did, it would actually be a pretty serious understatement. In fact, it's quite possible that neither of them has ever even been in a front row seat, because between them, they've spent seventeen years in rehearsal studios and on stage with Hubbard Street Dance Chicago, watching some of the world's most admired choreographers make dances.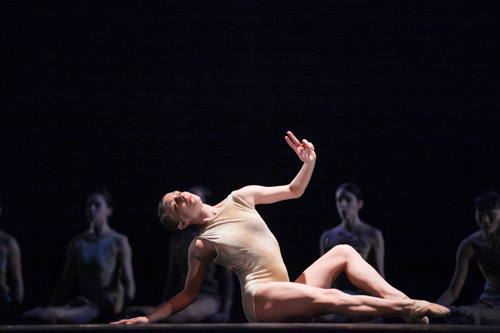 Hubbard Street Dancer Kellie Epperheimer in AZIMUTH by Alonzo King
with, from left: Jacqueline Burnett, Ashley Jackson, Ana Lopez and Yujin Kim.
Photo by Margo Moritz
Even that underestimates their experience, and the depth of their perspective; before joining Hubbard Street, Piantino danced with the Colón Theatre Ballet Company and the San Francisco Ballet, Saunders with The American Repertory Ballet, Ballet Arizona and the Cedar Lake Ensemble, not counting some very prestigious guest appearances. They've seen, and been seen in, a lot of great dance performances, constructed by great choreographers and great dance companies, so with Hubbard Street Dance Chicago and Alonzo King LINES Ballet undertaking an almost unbelievably ambitious new dance project, their perspective on how it was all put together is bound to be priceless.
The idea behind the project was to combine the talents and creativity of Hubbard Street's dancers with those of the LINES Ballet dancers in a major new work by King. The very successful result, entitled AZIMUTH, premiered in February at Cal Performances' Zellerbach Hall in Berkeley; "A Recipe for Perfection" was the way Berkeleyside described it in the headline for Lou Fancher's story about the performance. Hubbard Street and LINES Ballet will perform AZIMUTH again, this time at the Dorothy Chandler Pavillion in Los Angeles June 21st through the 23rd. Each of the companies will also perform a work from their own repertoire, with LINES Ballet presenting King's Scheherazade and Hubbard Street performing Alejandro Cerrudo's Little Mortal Jump.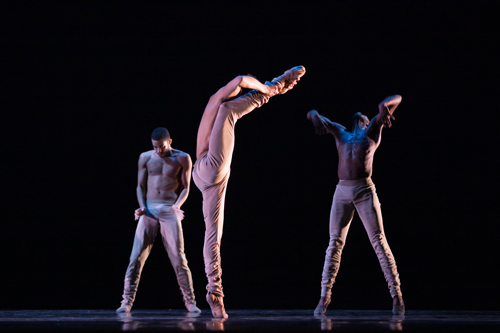 LINES Ballet Dancers Ricardo Zayas, Michael Montgomery and Keelan Whitmore
from left, in AZIMUTH by Alonzo King
Photo by Margo Moritz
Neither Piantino nor Saunders is exactly sure where it started, this idea of having two immensely respected Dance Companies perform together in the same work, made not for one or the other, but for both of them together. In any case, the idea first began to take practical shape with Alonzo King's Following the Subtle Current Upstream, which Hubbard Street brought into their repertoire in 2011. "Glenn Edgerton wanted the Hubbard Street dancers to dance existing choreography by Alonzo King, which created opportunities to embrace Alonzo's style and become familiar with his creative process" Saunders explains. "We were already aware that this part of the process was only the beginning of a much deeper partnership, and that this type of collaboration was rare in the dance world."
It's probably rare because it borders on the impossible. Dance Companies have different cultures, with different movement styles, different rehearsal routines and very different artistic ideas. In this case, they also happen to be two thousand miles away from each other. The practical reality of asking so many talented artists to not only work together, but to also be creative together, and then be able to move precisely with each other's interchanging movements seems like an improbable enterprise. Whether that occurred to anybody isn't clear either, and it doesn't really matter now, because somehow, they put it all together.
The process began methodically. "Initially, there was a lot of generation of movement vocabulary," Saunders says, "and other explorations, which became what you'll see in the finished production of AZIMUTH, happened in separate spaces at different times." What about the geography, though? They weren't even all in the same part of the continent, let alone the same dance. "Alonzo came to Chicago for a week to create new material with the Hubbard Street dancers," Saunders explains, " and then returned to San Francisco and the LINES Ballet dancers, who expounded our movement material in addition to creating their own."

Hubbard Street Dance Chicago and Alonzo King LINES Ballet
in AZIMUTH by Alonzo King
Photo by Margo Moritz
After establishing separate beginnings, the two Companies came together to begin the real process of making AZIMUTH as a single, cohesive artistic group. "We spent three weeks together at the Claire Trevor School of the Arts in Irvine, California with all of this raw content," Saunders says, "and assembled the bulk of what is now the completed piece. The first few days in Irvine were spent simply sharing material with one another, after which Alonzo 'mapped out' a structure for AZIMUTH, deciding what to keep and who would dance what, while we continued to create additional, new material as a 'supergroup'."
Although the Hubbard Street dancers were familiar with King from their work with him
on Following the Subtle Current Upstream, there was plenty to be learned. "It was interesting to see his dancers move to his movement," Piantino observes, especially because in AZIMUTH, there would be virtually no distinction between the two Companies, an ideal that must have required a multi-directional process of shared, mutual instruction. "Architecturally, the piece has only a few moments where the companies are not completely integrated," Saunders says. "Alonzo has done a beautiful job of weaving the two ensembles together, and the dancers do wonderful work breathing and moving as a single, cohesive entity."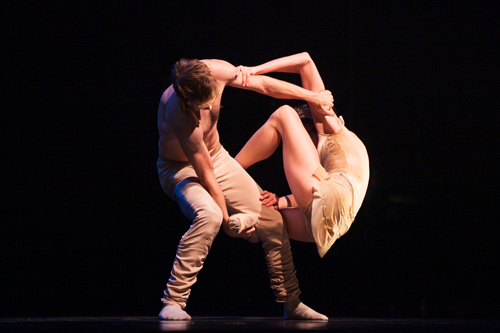 LINES Ballet Dancers Meredith Webster and David Harvey
in AZIMUTH by Alonzo King
Photo by Margo Moritz
Considering what immense artistry is required for a choreographer to work with the dancers of a single company, and for those dancers to integrate their individual inspiration and interrelated respect into a single performance, AZIMUTH is a profound accomplishment. Saunders and Piantino have seen a lot of successful achievements in the process of choreography, and in its performance, so it's especially enlightening that, for them, there is more than one dimension to the significance of the work.
As important and complex as Alonzo King's AZIMUTH may be as an artistic event, its most important qualities may be more personal and interpersonal, more individual in their artistic impact. "We truly enjoyed each other's company and ideas," Saunders says. "One great, lasting result of this project will be the friendships that were born during the creation of AZIMUTH."
Calling all HuffPost superfans!
Sign up for membership to become a founding member and help shape HuffPost's next chapter