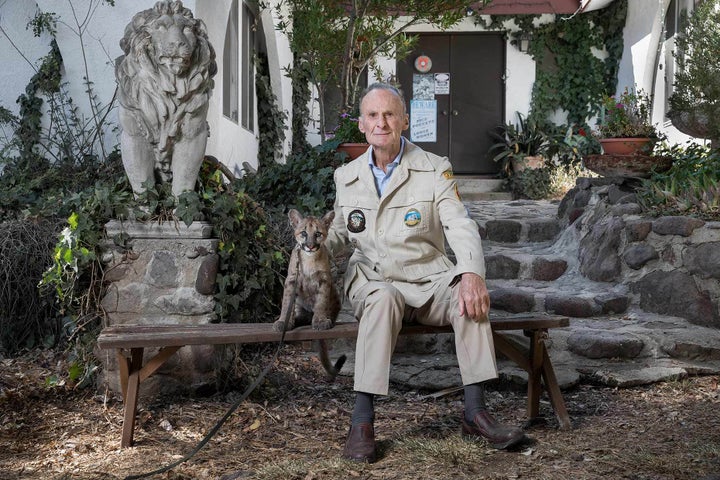 Hubert Geza Wells has a flair for the dramatic, which helps explain his unusually vivid life. Born in 1934 in Hungary — "the land of knights and wandering gypsies, Count Dracula, goulash and Zsa Zsa Gabor," he says — he was an avid reader as a child, favoring especially the Tarzan stories of Edgar Rice Burroughs. The tales instilled in him a lifelong love of Africa, and its animals. He thought he might one day hunt lions in the bush, but a trip as a youngster to a zoo in Budapest, during which he saw the big cats' ferocity up close for the first time, put paid to that notion.
No matter. He'd get to the lions eventually — but first he began training a falcon in rural Hungary, his childhood home amid the Soviet Union's occupation of their country after World War II. He captured a goshawk in the nearby forest, training it to follow him and respond to a sharp whistle. He called it Fulgar — Latin for lightning. "I have always been careful to pick distinguished names for my animals and birds," he says. "I would never call a lioness Elsa or a wolf Fang." He soon had to let it go, alas — Soviet rule was immiserating even his relatively well-to-do family, and he was unable to feed it properly.
In his late teens, Wells was introduced to filmmaking via a movie about an unusual friendship among two dogs and a falcon. Though he was an assistant to the director, he had his eye on the creatures from the beginning. He picked up the rudiments of animal handling from the film's resident trainer and was soon working directly with the dogs and bird — as well as two cheetahs who had been added to the menagerie.
After a brief stint as a freedom fighter against the Soviets, Wells defected to neighboring Austria. There, a Life magazine reporter he'd met suggested he take his animal-training skills to America, to which he emigrated in March 1957. Bouncing at first between New York and Florida, Wells developed a comical, almost Vaudevillian dog-and-leopard show. (Think Barnum & Bailey's famed Gunther Gebel-Williams was the first to use a live leopard as a "fur coat"? Wells did it long before — and has the clippings from, yes, Life magazine to prove it.)
His profile rising, Wells in 1964 was summoned by Disney to its studios in Burbank, California. He soon fell in with Jungleland USA, a private zoo and theme park that provided trainers and animals — lions and tigers and bears (oh my!), as well as any number of other exotic beasts — to Hollywood movie sets.
Wells's move west would prove permanent. He bought a home in the Santa Monica Mountains of Thousand Oaks, where Jungleland USA was located, and founded his own company, Animal Actors of Hollywood. He has provided creatures, he estimates, for "150 features, 200 TV shows and many commercials." Over the years his work has taken him to five continents, including, five times, his beloved Africa — and if you look hard enough, you can spot him in many of those productions, being dragged by a man-eating lion or chased by a rhino. His movie credits include, but not limited to Out of Africa, The Ghost and the Darkness, Born Free, Men in Black, Project X, Wolf, Lady Hawk and Clan of the Cave Bear. Even the notorious 1984 flop Sheena features his handiwork. Yet how many people have heard of him? Movies are a different business these days; CGI effects have replaced many of the live-creature stunts and effects he cooked up with regularity.
Now 83, he's able to look back fondly on a unique celluloid career as he motions to the extremely domesticated fauna by his front gate. "Lions don't roar anymore in my garden," he says, "but I still have two magnificent stone sentinels guarding my entrance. They're perfect: Kibor is on the right, exactly on his mark. Sudan is the kindest, but a tad sloppy. His right paw is off the platform."
Earlier this year, he published Lights, Camera, Lions: Memoirs of a Real-Life Dr. Doolittle, in which he recounts a life filled with adventure, loves found and lost, failures and successes — and more quadrupeds than he can possibly count. Which animal would he most like to have been? Wells — whose astrological sign is Leo, naturally — smiles impishly. "A big, black-maned lion," he exults, "living on the Serengeti plain with a harem of tawny lionesses."
Follow Hubert Geza Wells on Facebook (@hubertwellsstory) and via his forthcoming website, LightsCameraLions.com. Special thanks to Doree Sitterly, Barbara Gordon and the Monterey Zoo for providing Johnny, the mountain-lion cub pictured. For more information, please visit MontereyZoo.com.
Related
Popular in the Community