Developing valuable content is a key component of a successful CMO's inbound marketing strategy. That said, the real power, and the future of marketing, is about contextual intelligence and market segmentation and personalization of one. Brian Halligan is the CEO and co-founder of HubSpot, a senior lecturer at MIT and a two-time book author. Halligan believes that humans are changing the way they live, work, shop and learn. The more he witnessed email, cold calls and ads fail, the more he realized that people are sick of being marketing to and are quite clever at blocking it out. This led him and Dharmesh Shah to create HubSpot, a marketing software company aimed at transforming the way businesses market their product by offering a simple, modern platform that enables marketers to do modern marketing.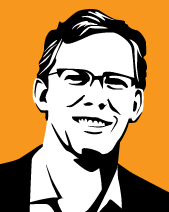 Brian Halligan - HubSpot CEO
I recently spoke with Halligan about the changing human behavior and the impact on marketing. Halligan shared his thesis of how inbound marketing needs to evolve to in order to reach today's consumers. He offers modern CMO's and marketers these 4 ways to market to people who are sick and tired of being marketed to:
1.Create compelling content - it's been said that content is king, and according to Halligan, marketing to today's consumers will be all about magnetizing them with compelling content that interests them. The idea is that instead of interrupting people, you create content that will pull them in. This new way of thinking about marketing is quite different than the traditional inbound marketing approach that relies on renting someone else's content - email list's, television airtime, ad space in magazines, etc. When you create your own content you have a permanent asset that permanently creates links and the cost of acquiring a customer in this way is much lower compared to traditional methods.
2.Put it into context - If content is king, context is God. The famous line from wine marketing master Gary Vaynerchuk was spoken during his keynote speech at HubSpot's Inbound 12 conference and as a CMO I couldn't agree more. It turns out Halligan loves the line too. The technical definition of context is the circumstances and facts that surround a situation. Or to put it more simply, context is the right content at the right time on the right channel. If the contextual element is missing, regardless of the content quality, your message is not going to be read, shared or discussed.
Marketing needs to use content to pull people in and then context to relate to them, engage them and pull them through the funnel.
Halligan says that someone who visits a website for the first time gets a certain experience, but with context a regular visitor gets a very different, personalized experience. In an Inc. blog, Halligan refers to Pandora, Netflix, and Amazon who take it to another level by creating "segments of one": micro-segments that target each customer uniquely, allowing the companies to convert visitors into long-term, high-value customers at very high rates. He advises us that you have to be writing the answers to the questions consumers have before they ask them and this type of segmenting can help with that.
"Just as every app in the B2C world is being transformed by context (such as Nest and Waze) we are trying to enable B2B businesses by breathing context in," says Halligan. One way HubSpot is doing this is by enabling their customers to distinguish between existing customers and prospects in their tweet streams. In addition, Halligan says that being a social business plays an important role in arming the front line employees with as much information as possible so they have context when engaging customers.
"Marketing success today is more about the width of your brain then the width of your wallet." - @bhalligan
3.Go beyond marketing automation - Halligan says that marketing automation is great if it is applying context to your emails, but marketers need to get broader and embrace the new stuff like Google, blogs and social media. He warns that it cannot be just about email, which as time goes on will become a harder way to reach people. Marketers who are human, authentic and create content that people really care about will thrive.
Halligan says that collecting all the customer interactions - through your website, social media, blog, salespeople, etc. - and then using this data to deliver a personalized experience is much less an invasion of privacy (or "creepy" as my co-host Michael Krigsman puts it) then buying a list and spamming it to death. "It's a mistake when marketers spend too much time and energy on getting a list and pounding it with emails and automating those emails, and do not spend enough time on how to expand that list and pull people in in a much more effective way," says Halligan. People come into the funnel and take all different types of paths, and companies need to get good at tracking that to see which paths work best. That metadata surrounding your contacts is what will allow you to create very fine segments which will allow you to nurture your prospects with helpful, timely emails and helpful, timely Web content that will dramatically improve your customer conversion ratios.
According to Halligan, to take marketing automation and leverage is up further into the big changes around social, search and contextualization is the big shift going on and marketers need to lean in heavily on these new technologies.
"The real tear in the fabric of the marketing universe is when people go beyond marketing automation in email and create content, get active in social and get good at SEO." - Brian Halligan
4.Create leverage for your marketing department with social - CEO.com recently published their 2nd annual Social CEO Report which examines the social networking presence of each of the Fortune 500 CEOs. Their findings were surprising: Most notably, 68% of CEOs have absolutely no presence on any of the major social networks and a paltry 5.6% (28) of the Fortune 500 CEOs are on Twitter.
Like so many of the CEOs we talk to, Halligan thinks it is critical for CEOs to be on social media and especially to be on Twitter. If you take the whole marketing side away, Halligan likes Twitter because it provides a useful way for him to consume information; but aside from his personal use he says that it is an unbelievable marketing tool. If a CEO is not on Twitter it sends a red flag to consumers, who want to be assured that they will be able to reach a CEO directly should product issues come up. He says that just showing up on Twitter sends a signal of transparency that is important in today's economy. Halligan shares how he uses Twitter to follow all his customers and leads and he finds that it is a great way to spread the word about his brand and create leverage for his marketing department.
Halligan concludes by advising marketers to start rethinking marketing and turning themselves into publishers of great content. Once they attract consumers to their website they need to rethink their website to be a living, breathing vehicle that can use context to create life-long customers. Halligan also believes that website ownership should shift out of IT and into the lines of business - marketing.
You can watch the full interview with Brian Halligan here. Please join me and Michael Krigsman of Asuret every Friday at 3PM as we host CXOTalk - connecting with thought leaders and innovative executives who are pushing the boundaries within their companies and their fields.
Related
Popular in the Community