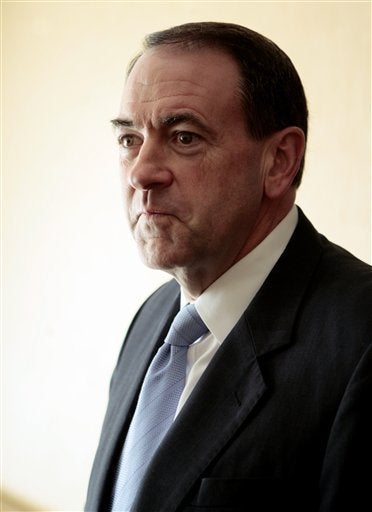 GOP presidential candidate Mike Huckabee has disavowed the underhanded tactic of "push-polling" -- using computerized phone calls to spread negative information about rival candidates -- saying the practice "violates the spirit of the campaign."
But it appears that the former Arkansas governor does not mind others doing the dirty work for him.
New Hampshire blogs and internet message boards are buzzing with reports of automated phone calls that praise Huckabee, while attempting to sully his rivals.
Patrick Davis, the executive director of Common Sense Issues, confirmed to The Huffington Post that his group is behind the New Hampshire push-polling calls which are targeted at a broad group of voters statewide.
"Our group is completely independent of the Huckabee campaign," Davis, a political consultant based in Colorado Springs, said. "We are running an independent effort."
But Davis' group has also set up a website - TrustHuckabee.com - and has conducted similar push-polling efforts touting Huckabee in Iowa.
Over the weekend, rival GOP candidate John McCain complained that he was being targeted by push-polls orchestrated by Davis' group which the Arizona senator described as a nonprofit "supporter of Huckabee's soft money."
Public protests by McCain and others prompted the Huckabee camp to disavow the practice. In a statement released by his campaign, Huckabee said that he wished the practice would stop.
"We don't want this kind of campaigning because it violates the spirit of our campaign," Huckabee said. "I don't want to become President because I disabled the other candidates, I want to become President because I am the best candidate."
A spokeswoman for the Huckabee campaign did not respond to requests for comment about the New Hampshire calls, which were first reported by Mike Caulfield, an editor at the Blue Hampshire blog, and a contributor to Huffington Post's OffTheBus. Caulfield asked his readers Tuesday to report any push poll calls they receive to the OffTheBus Polling Project.
Michael Ladam, a Keene, N.H. resident who received one of the calls on Tuesday, said that it began by asking voters whether he planned to vote in the Republican primary, and whether he was concerned about pro-life issues.
When Ladam continued with the phone poll and indicated he would be willing to support former New York City Mayor Rudy Giuliani, he said the questions suddenly took a negative turn.
"Then they asked the classic 'if you had heard that Rudolph Giuliani had taken strong pro-abortion stands on issues, would that make you less likely to vote for him?'" Ladam said.
The New Hampshire attorney general's office recently opened a probe into similar allegations that Mitt Romney was being targeted by push-polls but no findings have yet been released.
REAL LIFE. REAL NEWS. REAL VOICES.
Help us tell more of the stories that matter from voices that too often remain unheard.