Two GOP presidential candidates, former Sen. Rick Santorum (Pa.) and former Arkansas Gov. Mike Huckabee, said Sunday that it was up to South Carolina to decide whether to remove the Confederate flag outside its Capitol, declining to weigh in on how the state should act.
Huckabee, who in 2008 told South Carolina voters that "you don't like people from outside the state coming in and telling you what to do with your flag," stood by his remarks, suggesting Republicans were being "baited" to respond to an issue that wasn't of national concern.
"If the state government of South Carolina wishes to address an issue in their state, that's fine," he told NBC's Chuck Todd. "But, Chuck, if you can point me to an article and section of the Constitution in which a United States president ought to weigh in on what states use as symbols, then please refresh my memory on that."
"For those of us running for president, everyone's being baited with this question as if that has anything to do whatsoever with running for president," he continued. "My position is, it most certainly does not. As president you're focused on the economy, keeping America safe ... I don't think they want us to weigh in on every little issue in all 50 states that might be an important issue to the people of that state, but not on the desk of the president."
Asked whether he's comfortable displaying the flag in public, he replied, "I don't personally display it anywhere, so it's not an issue for me."
Santorum gave a similar response.
"I take the position that the federal government really has no role in determining what the states are going to do," he told ABC's Martha Raddatz. "I don't think the federal government or federal candidates should be making decisions on everything and opining on everything. This is a decision that needs to be made here in South Carolina. Like everybody else, I have my opinion. But I think the opinion of people here in South Carolina and having them work through this difficulty is much more important than politicizing it."
"What is your opinion?" Raddatz asked.
"Well, again, it's -- my opinion is that we should let the people of South Carolina go through the process of making this decision," Santorum said.
While former Florida Gov. Jeb Bush and former presidential contender Mitt Romney have called for the flag to be removed, many other prominent Republicans, including former Hewlett-Packard CEO Carly Fiorina, Sen. Ted Cruz (Texas) and Wisconsin Gov. Scott Walker, have also said the issue is best left to the state.
One South Carolina legislator said Sunday that he hoped the memory of the shooting this week at a historic black church in Charleston would be enough to spark bipartisan support there for a bill to move the flag off the Capitol grounds and into a museum. "It takes the senators and the representatives of the state of South Carolina," state Rep. Carl Anderson (D) told Raddatz on "This Week," when asked if Bush's and Romney's calls for the flag to be taken down would make a difference.
Former South Carolina state Rep. Bakari Sellers, sitting next to Anderson, agreed. "Our good friend Clementa Pinckney is going to be lying in state in the rotunda of the state building, 30 yards away from the Confederate flag as it will fly high and wave with the slightest hint of wind," he said. "That banner, that flag, it may not have killed Clementa, but it gave his shooter, and others like him, a banner under which to justify their actions. And to me, that may be worse."
Sen. Tim Scott (R-S.C.), the state's first African-American to be elected to the Senate, said he'd committed to not taking a personal position on the flag debate until after funerals for the victims were held, but intended to be a part of that conversation.
"There's no doubt that South Carolina has a rich and provocative history, and that flag is a part of the history. For some that flag represents that history. And for so many others it represents pain and oppression," Scott said Sunday on "Face the Nation."
"I'm looking forward to our state leaders getting together and having a robust conversation after the funerals about what's the next step," he added.
Before You Go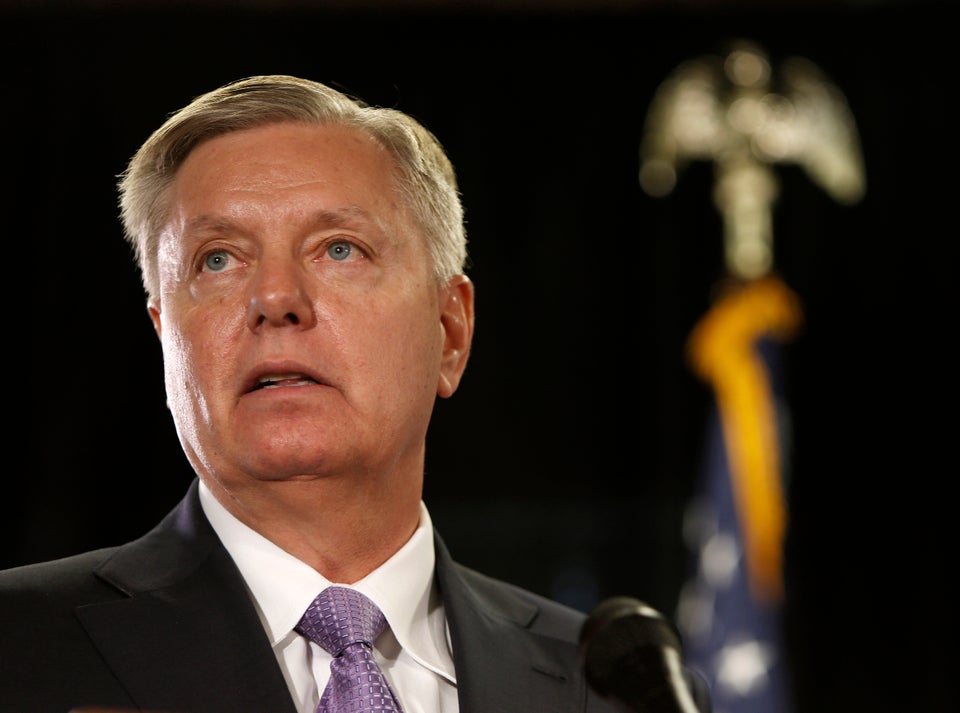 Politicians On Charleston Shooting
Popular in the Community