Video produced by Lindsey Gomez, article written by Ali Stratton.
DES MOINES, Iowa -- To many, the stage for the Iowa caucuses is already set. The most recent polls show Trump with the highest support, at 32 percent, with Cruz trailing him by seven points at 25 percent.
But two candidates are forecasting a "big surprise" for Monday night, the night Iowa voters gather to pick their candidates.

Minutes after the so-called undercard Republican debate ended in downtown Des Moines Thursday, former Arkansas Gov. Mike Huckabee and former Pennsylvania Sen. Rick Santorum both say they are still viable and have a chance at winning the Iowa caucuses. Huckabee and Santorum were pushed to the earlier debate after national polls showed a lack of support for the two.
"I think that we'll surprise you guys on Monday night; I did it eight years ago, Rick Santorum did it 4 years ago, we'll do it Monday," said Huckabee after Thursday night's debate.
Coincidentally, both candidates have already previously won the Iowa caucus.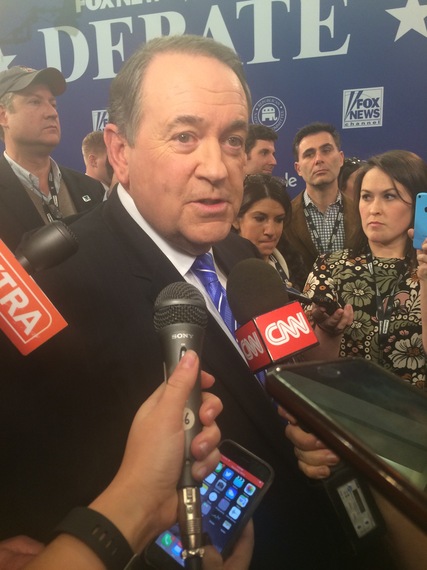 Former Arkansas Gov. Mike Huckabee answers question from the press in the spin room after Thursday night's Fox News Republican debate. Ali Stratton/Huffington Post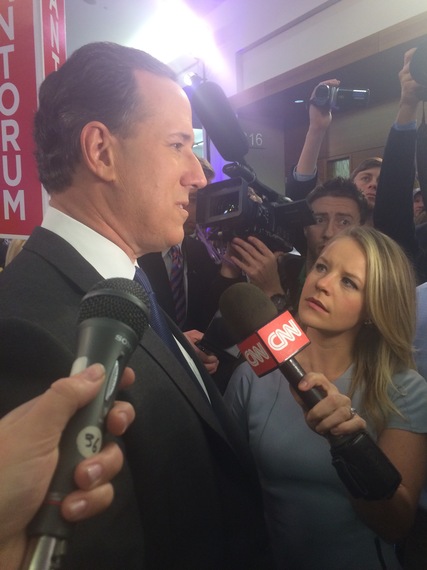 Former Pennsylvania Sen. Rick Santorum answers questions from the press in the spin room after Thursday night's Fox News Republican debate. Ali Stratton/Huffington Post
The question arises of what has changed from the time these candidates won the caucuses to now, as they were placed in the bottom four contenders in Thursday's debate.
Both have answers as to why they aren't performing as well as they have in years past.
Santorum said polls are his biggest barrier, and that they have created an unfair playing field, one that he hopes Iowans will change with their votes come Monday.
"Caucuses are historically very unreliable," Santorum said after the debate Thursday. "The biggest polling firm in North America isn't doing political polling anymore because they say its unreliable," he said, referring to the Gallup organization.
Santorum added that poor performance in the polls can cause voters to lose faith in and doubt the electability of a candidate.
"Last time, numbers popped just a little bit at the end and people said, 'Oh I like him but we're not sure he can win,'" he said. "Why aren't they sure that he can win? Because no one ever talks about Rick Santorum."
The first time voters will be involved in the process will be Monday night, Huckabee pointed out.
"So far all it's been is pollsters and pundits. Let's let the voters of Iowa give us a real sense of direction for the future," he said.
The former Arkansas governor said the biggest reason for his place on the "undercard" debate stage is his lack of airtime and lack of money to spend.
"Why don't you give me as much airtime on Fox News as you've given Donald Trump in the past year and I would be leading in the polls..." he said. "I don't have the same kind of money to blow it up and I have to depend on a media that presents it all fairly."
Trump left Iowa Thursday night for New Hampshire and said he doesn't plan to return before Monday's caucuses.
Despite individual theories of why each candidate didn't made it to the main debate stage, the two seem to have formed a camaraderie over formerly winning the Iowa caucuses and now being unpopular in the polls.
"There are two candidates in this race who have a record of actually acting and legislating and leading and taking the bullets for their pro-life positions...and that's Rick Santorum and Mike Huckabee," Santorum said.
Both Huckabee and Santorum maintain stringent platforms on abortion and gay marriage.
In the days leading up to caucus night, both candidates plan to continue campaigning, and neither appears to be discouraged.
Huckabee said he anticipates doing well in subsequent primary elections, including states of the SEC primary.
Santorum said he will seize the days leading up to Feb. 1 as an opportunity to gain more votes and that he has a "strong track record of flipping people to (his) side."
"We expect to do exceptionally well...we expect to surprise people here," Santorum said. "We absolutely feel some momentum out there and I think we're going to jump ahead...how far? We'll wait and see."
Calling all HuffPost superfans!
Sign up for membership to become a founding member and help shape HuffPost's next chapter