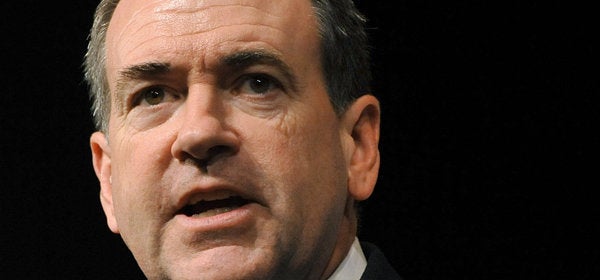 Time magazine reports that in his new book, Do The Right Thing: Inside the Movement That's Bringing Common Sense Back to America, Mike Huckabee settles some old scores.
Former Arkansas governor Mike Huckabee is not the sort of politician who likes to bite his tongue. But that's just what he has found himself doing over eight months since he ended his surprising and colorful presidential campaign.

What does he think is wrong with the Republican Party? What does he think of his former primary rivals? What is the best direction for the conservative movement? To each question, he answered only in broad strokes, refusing to get too specific or pointed. He was writing a book, he would say. It will come out after the election. He will "name names." Just wait and see.

On Tuesday, that book will arrive on store shelves, and in terms of payback, it will not disappoint.
Huckabee writes that the former Massachusetts governor's record was "anything but conservative until he changed the light bulbs in his chandelier in time to run for president." He notes that Romney declined to make a phone call of congratulations after Huckabee beat the oddsmakers to win the Iowa caucuses, "which we took as a sign of total disrespect." He mocks Romney for suggesting, during one debate, more investment in high-yield stocks as a solution to economic woes. "Let them eat stocks!" Huckabee jokes.
"Fred Thompson never did grasp the dynamics of the race or the country, and his amazingly lackluster campaign reflected just how disconnected he was with the people, despite the anticipation and expectation that greeted his candidacy," Huckabee writes.

Conservative Christian Leader Gary Bauer:
[Had] an "ever-changing reason to deny me his support." Of one private meeting with Bauer, Huckabee says, "it was like playing Whac-a-Mole at the arcade -- whatever issue I addressed, another one surfaced as a 'problem' that made my candidacy unacceptable." He accuses Bauer of putting issue of national security before bedrock social issues like the sanctity of life and traditional marriage.
Huckabee speaks to Hagee by phone before the McCain endorsement, while the former Arkansas governor is preparing for a spot on Saturday Night Live. "I asked if he had prayed about this and believed this was what the Lord wanted him to do," Huckabee writes of his conversation with Hagee. "I didn't get a straight answer."

"I don't take issue with what they believe, but the smugness with which they believe it," writes Huckabee, who raised some taxes as a governor and cut other deals with his state's Democratic legislature. "Faux-Cons aren't interested in spirited or thoughtful debate, because such an endeavor requires accountability for the logical conclusion of their argument."
Asked to respond, Romney spokesman Eric Fehrnstrom said Huckabee was acting small.

"This type of pettiness is beneath Mike Huckabee," Fehrnstrom. "If we're going to move the party forward, we need to offer more than personal recriminations. Unfortunately, in this book, Mike Huckabee is consumed with presumed slights, and he seems more interested in settling scores than in bringing people together."
Calling all HuffPost superfans!
Sign up for membership to become a founding member and help shape HuffPost's next chapter