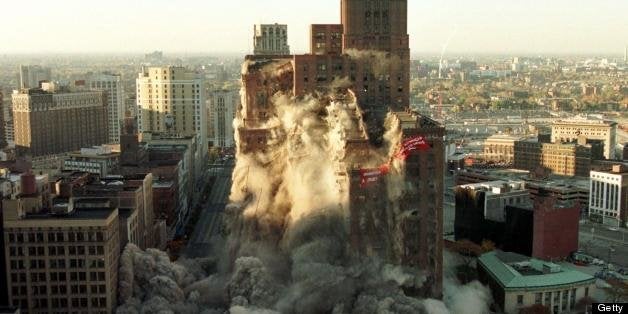 The iconic Hudson's department store in Detroit closed 30 years ago, and its demolition 15 years late left one more open space in the heart of the city. But developer Dan Gilbert is thinking ahead to a vibrant downtown, where the site could be developed with retail and more.
"One of the things that was wonderful about Hudson's is how alive it was," said Reed Kroloff, director of the Cranbrook Academy of Art and advisor on the competition. "It was the living center of the city. What you want to take its place is something equally lively."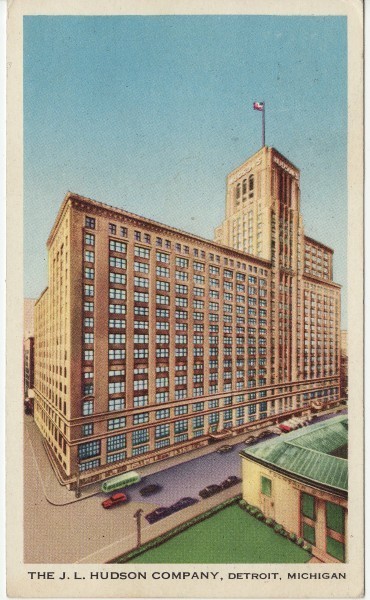 The Hudson's department store as shown on a 1950s postcard. Image via Wikimedia Commons.
The plans aren't meant to be enacted as-is, but rather, will stimulate ideas for development of the Hudson's site. However, a development plan could be in the works in the future -- according to the Detroit Free Press, Gilbert, chairman of Rock Ventures, would invest at least $75 million.
The department store, which was the second-largest in the United States, opened in 1911. According to Historic Detroit, it was imploded on Oct. 24, 1998, at 5:45 p.m., the store's closing time. The building housed about 1,200 corporate employees until 1990 when the company was sold. Now, it's home to a city-owned underground parking lot.
The contest's jurors will select first, second and third place winners, each who will be awarded a cash prize. The top three winners of the public vote will also receive awards. Over the past weekend, more than 1,000 people visited the open house at Somerset Collection CityLoft to see the contest submissions and vote for their favorite.
Below, look at the Hudson's building of the past, its demolition, and the current vacant space -- which might change in the near future. Have any photos of Hudson's from your (or your parents', or grandparents') good old days? Add them below!
CORRECTION: An earlier version of this story incorrectly stated the date of the Hudson's demolition in Detroit. The date was Oct. 24, 1998.
PHOTO GALLERY
Detroit's Landmark Hudson's Building: Past And Present Of 'The Big Store'
Calling all HuffPost superfans!
Sign up for membership to become a founding member and help shape HuffPost's next chapter