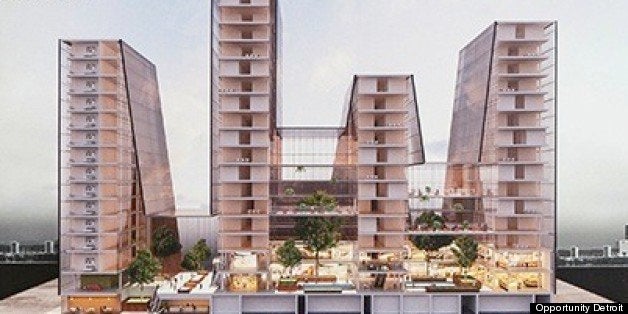 When one of Detroit's most iconic landmarks was reduced to rubble 15 years ago, an open stretch of land was left where the 25-story Hudson's department store had once stood on Woodward Avenue downtown. But that site might not be empty for long.
On Wednesday, Rock Ventures announced the winners of an ideas contest to redesign the site. "MINICITY Detroit" by Davide Marchetti and Erin Pellegrino of Rome won the juried $15,000 award of the "Redesigning Detroit: A New Vision for an Iconic Site" competition. "Hudson's Quarter" by Emilie M. Rottman and James G. Ramil of D.C. won the public vote, an award of $2,500.
Reed Kroloff, director of the Cranbrook Academy of Art and advisor on the competition, said the size, history and central location of the Hudson's site offered a one-of-a-kind opportunity for development.

"You couldn't ask for a more exciting piece of property to redevelop, and one that can have such a profound impact on how Detroit feels about itself and sees itself," Kroloff said.
(Scroll down for photos of Hudson's then, now and the winning designs that could impact its future.)
The contest received nearly 200 entries from 22 states and 22 countries, with architectural fantasies ranging from a one-story building to a skyscraper, designs reminiscent of the original department store, energy-efficient design, a concert venue and more.
The visionary plans aren't meant to be enacted as-is; rather, they will hopefully stimulate ideas for a rebirth of the Hudson's site. But development plan could be in the works in the future -- according to the Detroit Free Press, Dan Gilbert, chairman of Rock Ventures, would invest at least $75 million.
"One of the things that was wonderful about Hudson's is how alive it was," Kroloff said. "It was the living center of the city. What you want to take its place is something equally lively."
The department store, which was the second-largest in the United States, opened in 1911 and closed in 1983. The site is now home to a city-owned underground parking garage.
Design submissions had to incorporate ground-floor retail for the 92,421 square-foot site, but the requirements for the contest were purposely loose, Kroloff said.
The contest had five jurors with expertise in architecture and and urban planning, including Rip Rapson, president and CEO of the Kresge Foundation in Detroit, and Toni Griffin, an architecture professor but also spent several years working on the long-term Detroit Future City plan. Their top pick received a $10,000 prize, second place was awarded $5,000 and third received $2,500.
Over the past weekend, more than 1,000 people visited the open house at Somerset Collection CityLoft to see the contest submissions and vote for their favorites.
"I think it's important for the public to be able to participate in any large scale process to the extent it's possible," Kroloff said. "We all share this environment, and when we're given the opportunity to participate in shaping it, we should grab it."
The public's top picks received $2,500, $1,000 and $500 for first, second and third place prizes. Surprisingly, the jurors' top picks, as well as 10 honorable mention selections, were entirely different than the three community favorites.
"The Hudson's Department Store was once the crown jewel of downtown Detroit, and these interesting designs are displaying the possibilities of what can certainly once again grace the skyline of Detroit," Gilbert said in a statement. "By tapping into the talents of some of the most creative individuals from around the globe, we have the opportunity to create a signature project that captures the passion, grit and revival of our great American city."
PHOTO GALLERY
Detroit Hudson's Site, Past, Present And Possible Future
REAL LIFE. REAL NEWS. REAL VOICES.
Help us tell more of the stories that matter from voices that too often remain unheard.