But the host of KCET's "California's Gold" was much too beloved to go silently into the night. Since Howser's death was announced Jan. 7, the tributes from fans, friends and admirers have been pouring in from all corners of California.
On Sunday evening came a tribute from "The Simpsons" -- a simple placard at the end of the episode "A Test Before Trying" that reads, "In memory of Huell Howser. Friend of The Simpsons and Friend of California."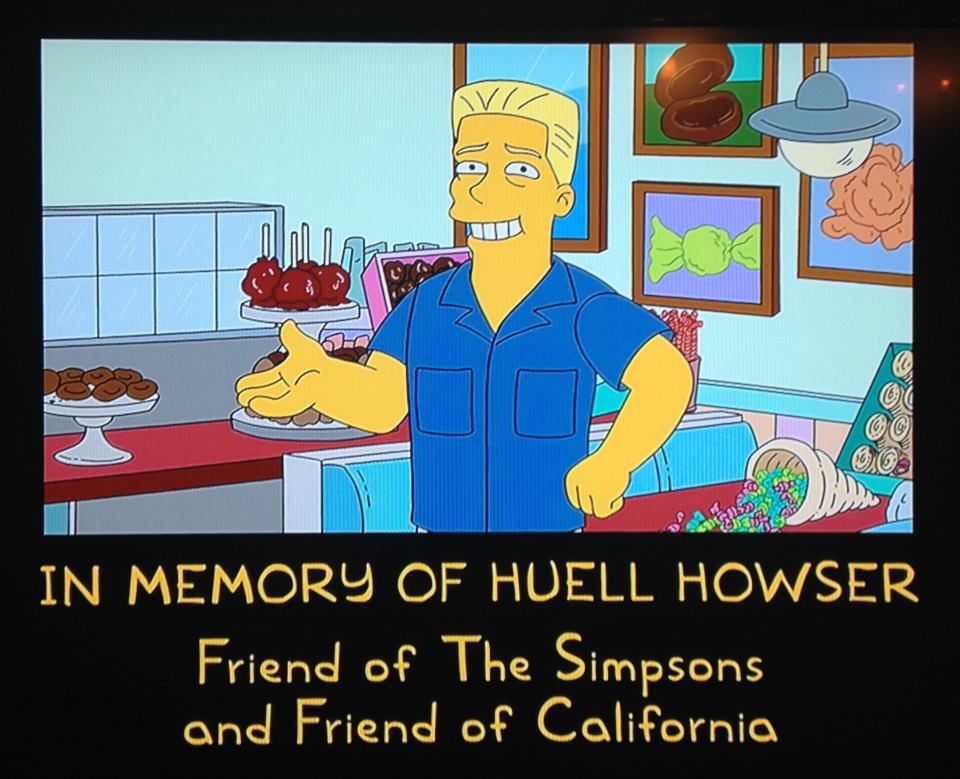 "Simpsons" creator Matt Groening is a long-time fan of Howser's California travel show, and Sunday's memorial is actually the fourth time the show has paid tribute to the folksy host. The first was in a 2005 episode called "There's Something About Marrying." Show writers created a character named "Howell Huser," an undercover TV reporter who names Springfield "THE WORST TOWN EVER."
Then in 2009, Howser played himself in the episode "O Brother, Where Bart Thou?" where he takes a tour of a candy factory.
Finally, Groening created a special clip for Howser for his 25th anniversary with KCET.
"Any time I come across an episode, I have to watch," Groening told KPCC Off-Ramp in an interview last year. "He's beloved. And people like to say that, 'yeah, he's beloved.' But he's even more beloved than that."
In addition to being immortalized on the yellow screen, Howser will also be remembered during a "Sunset Salute" service at Griffith Observatory Tuesday. Superfan Robert DaGasta has also created an "It's All For Huell" card project where fans can record their memories of the host.
Howser died at the age of 67 early Jan. 7, 2013 after a two-year battle with cancer. He was the long-time host of KCET's "California's Gold," a travel show that celebrated the Golden State's history, achievements and people. His life's work has been donated to Chapman University in Orange, Calif., where it will be displayed for all to see.
Related
Popular in the Community