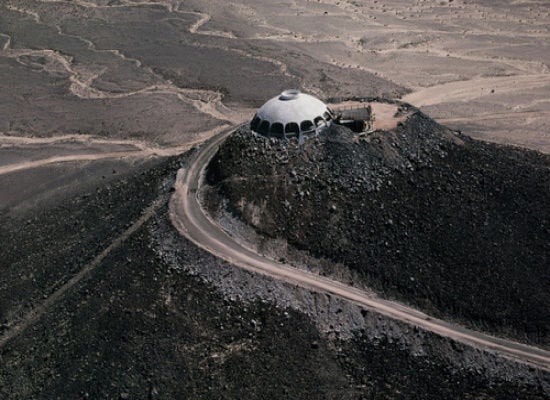 Only Huell Howser could have lived on a spaceship atop a volcanic cone in California.
The space-age retreat, which was constructed in 1968, resembles a flying saucer and looks out over a 60-acre property. It has two bedrooms and two bathrooms, and is located in the desert between Los Angeles, Calif. and Las Vegas, Nev. Curbed LA has more on the home's history:
Originally commissioned by aircraft-mechanics genius Vard Wallace as a personal retreat, the home was designed by prolific and versatile Southern California architect Harold Bissner, Jr. and completed in 1968. The inspiration? San Onofre Nuclear Generating Station, a nuclear plant in northwestern San Diego county.
Howser listed the home in 2009 for $750,000 but eventually donated the entire thing to Chapman University in Orange, Calif. in April 2012. At the time, university President Jim Doti recalled to the campus newspaper that Howser would "much rather gift it to Chapman than sell it," and was happy to donate it once Doti suggested the idea to him.
In addition to his house, Howser also gave all of his "California's Gold" tapes, books about California and money for school scholarships to the university. Upon Howser's death this week, friend and producer Ryan Morris remarked to The Huffington Post that Chapman was the closest thing the broadcaster had to next of kin.
"He loved California so very much, and above all he loved people: their life stories, their interests, their passions," said Doti to the Associated Press after Howser's death. "And, of course, people adored him with equal intensity."
Popular in the Community