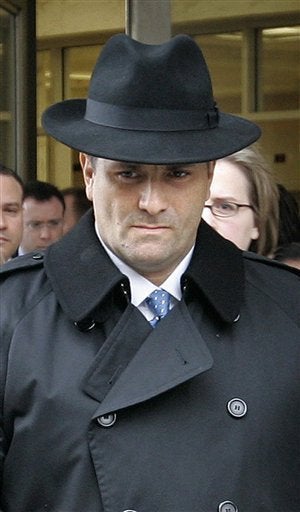 There is a new film coming out this fall that you shouldn't miss. It's called Casino Jack, starring the incomparable Kevin Spacey as disgraced lobbyist Jack Abramoff. It is making its debut at the Toronto International Film Festival on September 16th. If you don't know the story; Abramoff was a lobbyist who got a bit carried away with himself and began doing things that were shady, to put it mildly. He was tried and convicted of mail fraud for sending a phony money wire transfer, a felony, and spent the last 2 and 1/2 years in jail. He just got out about a month ago. As I write this he is living in a halfway house and working at Tov's Pizzeria, a kosher pizza joint, in Maryland where he is making between $7.50 and $10.00 per hour.
The George Hickenlooper film covers the ups and downs of this amazing character, brilliantly played by Kevin Spacey. We watch as Abramoff goes from egocentric, but decent, lobbyist; to egomaniacal crazy greed monger. He defrauds Indian tribes of millions, while pocketing amazing amounts of money for himself and his partner, Scanlon (played extremely well by Barry Pepper). He does business with a sleazy conman (Jon Lovitz) all in the interests of building his own empire.
On the one hand, Abramoff is an observant Jew with a wife and 5 children who only wants the best for his family. We watch his ego grow as he decides he wants to build a Jewish school and then own his own chain of kosher restaurants. Scanlon is clearly out for himself, and just wants the best house ever. Lovitz, whose performance is a revelation, is clearly sleazy and only wants money. Everyone else close to these characters is collateral damage. Abramoff's wife, played by Kelly Preston, stands by him dutifully. Scanlon's girlfriend, played by Rachel LeFevre, finds out that Scanlon was cheating on her and is the one who turned Scanlon and Abramoff into the FBI.
The story is true. Hickenlooper did exhaustive research to try and bring the story to life with as much detail as possible. He met with Abramoff in prison, interviewed all those associated who would talk to him, reviewed hours and hours of footage of the case and read everything he could about all involved. The result is 108 minutes of sheer brilliance. Everything about this film; from the script, written by Norman Snider, to the editing, beautifully executed by Sydney Pollack's editor William Steinkamp, to the music, by Jonathan Goldsmith, to the acting, is perfect.
Hickenlooper exposes the underbelly of lobbying and dirty politics. We see what goes on behind the scenes in graphic detail. Hickenlooper said, "We need the lobbyists because without them nothing would get done. They tell the politicians how to vote."
I asked him if Abramoff was ever diagnosed with a mental illness. Hickenlooper said, "Not at all. It's the culture in Washington that is mentally ill." To me, as a psychotherapist, I'd say that Abramoff has a personality disorder. If that is what it takes to be successful in Washington, it's a little scary!
When asked if he was afraid of getting sued, Hickenlooper said, "Not at all. I get sued all the time." This is fearlessness in action, in my opinion.
Spacey is amazing as Abramoff. I predict Oscar buzz and big things for this film. Go see it when it comes out. It's entertaining and a recent history lesson, all in one.
Popular in the Community