Nick Drake once sang, "Time has told me, you're a rare rare find." And time can have that effect on art: revealing over-looked masterpieces and consigning once popular works to the ash heap. Just look at this week's releases on DVD.

Billy Wilder's corrosive 1951 drama Ace in the Hole (Criterion; $39.95) was a huge commercial flop when it came out -- especially since it was bracketed by his Oscar-winning triumph Sunset Boulevard and the hit comedy-drama Stalag 17. Wilder and swaggering lead actor Kirk Douglas couldn't get America to cotton to this acidic tale of a down and out reporter who manipulates a tragic accident to kick-start his career. But nothing ages better than cynicism. Today, its clear-eyed dissection of a media frenzy is hilarious and not even remotely exaggerated.

And time has given some much-needed perspective to 1984's Red Dawn (MGM; $19.98). It was morning in Ronald Reagan's America when this escapist tale about high school kids defeating the invading Russians was a modest hit. But critics frantically feared writer-director John Milius's fantasy starring C. Thomas Howell and Patrick Swayze might actually inspire World War III by inflaming jingoism. In fact, the Russians -- seen parachuting onto a small town school's football field in the iconic opening scene -- could just as easily have been aliens or Vikings. The important fact for our heroes was not the nature of the enemy but their own bravery. They wanted to play with guns and die bravely, not debate SALT II.

The passage of time also lets us look anew at World War II. We can find nuances and ugly truths that had to be avoided when the fighting was fierce. Foyle's War -- perhaps the best British mystery series since Prime Suspect -- has spent four seasons tackling the UK home front. In Foyle's War IV (Acorn; $59.99) you'll find marvelous explorations of resentment against the Yanks, secret testing of chemical weapons, black market alcohol and other details overlooked in cheerier remembrances. It's all wrapped up in fine mysteries pierced by the cool intellect of Foyle, embodied by the brilliantly low key Michael Kitchens.

And time was when people considered Esther Williams a classy, upscale bit of entertainment, thanks to her water ballets and absurd storylines. Now instead of just ignoring the silly films found in Esther Williams Vol 1 (Warner Bros.; $49.98), enough time has passed so that flicks like Neptune's Daughter (1949) and Dangerous When Wet (1953) have traveled from middlebrow to forgettable to delightfully kitschy.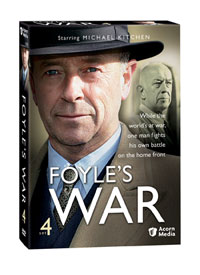 Time has also been kind, in a way, to Space Ghost and Dino-Boy: The Complete Series (Turner Home Entertainment; $26.98). A series that once languished in obscurity has been re-contextualized by the larky animated talk show that Space Ghost "hosted" for years on Cartoon Network (beginning in 1994), making this notably stiff original series from 1966 seem retroactively hip.

And if Sandra Bullock isn't careful, a few more movies like the confused time-loop thriller Premonition (Sony; $28.95) and people will be wondering how she could have once been pegged as the next Julia Roberts.

Popular in the Community