In this week's issue, Kim Bhasin and Julee Wilson go behind the scenes at Barneys, speaking to insiders who describe a deep-seated culture of racism at the luxury department store chain.

Two highly-publicized cases of alleged racial discrimination in recent months have put an unsavory spotlight on Barneys -- but as Kim and Julee find, it's a problem that's goes deeper, and has been around for some time.
"It's elitism -- racial profiling is just one expression of that elitism," said former Wall Street Journal reporter Johnnie Roberts, who said he was falsely accused of stealing a tie at Barneys 23 years ago.
Current and former Barneys salespeople spoke candidly about a culture of racial profiling at the store.

One former employee relayed conversations she overheard between Barneys workers: "'Their card is probably not going to go through,' they'd say. 'I don't know why they come in here and want to try stuff on that they know they're not going to buy.'" A veteran employee at the Madison Avenue store said, "If you're black and come in with an entourage, you won't be followed because they'll be like 'Oh, that's somebody famous.' But if you come in by yourself or with one other person, then you're going to be followed."

And as security expert J.R. Roberts told Kim and Julee, this type of profiling is not only racist, it's also inefficient, since actual shoplifters can slip under the radar when stores focus on skin color rather than behavior.

Elsewhere in the issue, Catherine Pearson sheds light on a rarely discussed issue among women: secondary infertility. According to estimates by the National Center for Health Statistics, more than 3 million women in America who have one child have trouble getting pregnant a second time.
With no clear explanation for the problem, many women are left feeling stuck. "They are not 'infertile' in the way that people struggling to have a first baby are, and yet there is some thing -- often unknown -- preventing them from becoming parents again," Catherine writes.
Catherine also looks at an emotional side effect of parents struggling with secondary infertility: feelings of guilt for wanting a second child when they already have one. Therapists who treat patients dealing with secondary infertility say outsiders can see it as a "selfish obsession."
Finally, as part of our continuing focus on The Third Metric, we enumerate the surprising ways your smartphone may be harming your health.
Check out the cover, and a timelapse video showing the making of it below: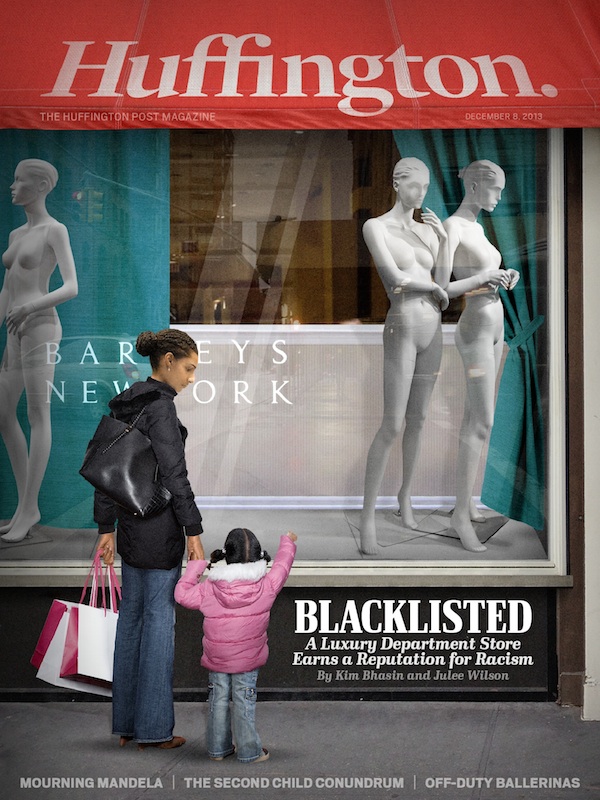 Photo-illustration by Trendy Magic (Troy Dunham & Wendy George)
This story appears in Issue 78 of our weekly iPad magazine, Huffington, available Friday, Dec. 6in the iTunes App store.
Calling all HuffPost superfans!
Sign up for membership to become a founding member and help shape HuffPost's next chapter