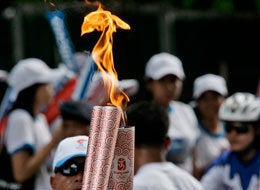 As the Chinese government begins its pre-Olympics media crackdown, the Huffington Post appears to be the latest victim in a recent wave of Internet censorship. A HuffPost reader in Shanghai reported Tuesday that when she attempted to connect to the site, an error page all too familiar to Net users in China loaded instead. The page says there is an "error" -- the same "error" that has accompanied the loading of BBC News, CBC News, Wikipedia, YouTube, and all other sites deemed "sensitive" that have been blocked periodically in recent years. Numerous other sources in Shanghai, Beijing and Guangzhou confirmed that as of early Friday morning in China, HuffPost remains blocked on the mainland.
Chinese officials never explain, or even announce, when or why they block and unblock certain sites. However, Internet censorship has historically coincided with either major national events such as Communist Party meetings, or times of political unrest, like the riots earlier this year in Tibet. When citizen-produced videos and photographs emerged from Tibet in March, China restricted YouTube and some user-driven photo sites. The 2008 Beijing Olympics, a mere seven weeks away, serves as China's newest reason, and best yet, to tighten the reins on news, opinion, images and video from outside that appears on the Web.
Earlier this week, many sites that are part of the MTV Networks were taken offline in mainland China, including ComedyCentral.com, parts of VH1's site, Nick.com and the individual sites for The Daily Show and the Colbert Report. As one China-based blogger explained to HuffPost, "It seems to be an IP (Internet protocol) block rather than a site-specific block. Only those MTV-owned sites hosted on a particular server seem to be affected. Others, including MTV.com and MTVChina.com, not on the same server, are still accessible." With the block of a server, as opposed to an individual site, one cannot be certain which of the sites was targeted by Chinese censors. The blogger went on to say, "It's impossible to know what the exact reason for blocking these sites is, but it still amounts to censorship, and cuts Chinese netizens' access to quality programming otherwise unavailable in China."
As for America's "Internet newspaper," the Huffington Post, all it takes is one news story, blog post, photo or even a comment to set off the alarms in China's Ministry of Information.
With the Olympics quickly approaching, China's government seems to be controlling the flow of information as tightly as ever and in doing so, reneging on its promise to the International Olympic Committee back in 2001. During the selection process for the 2008 Summer Games, Beijing vowed to espouse new ideals of democracy and human rights, adopting the motto "New Beijing, Great Olympics."
The Olympics might be "great" yet. But what is "new" in Beijing, like the inability to access the Huffington Post, the Daily Show or Colbert, isn't so "great" for Olympic organizers, human rights groups or even your average web user in China. Glen Wong, an American fashion designer currently in south China for work said Thursday, "I love coming to China, but it becomes stressful never knowing what sites are or aren't blocked, where I'll be able to get my news, watch video or whatever else."
As Wong put it, "China ain't the same without my HuffPost."
Popular in the Community