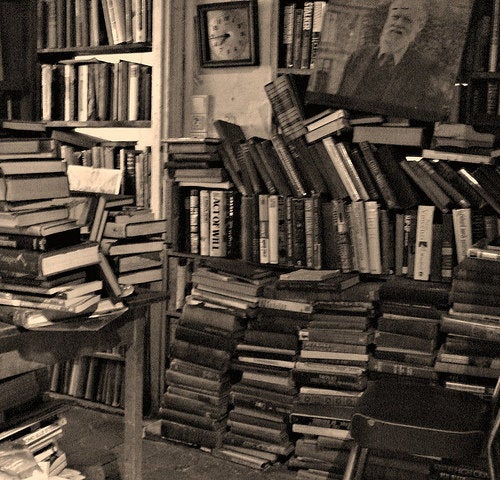 1.Orhan Pamuk, The Museum of Innocence (Knopf). This is Pamuk's most domestic, most realist, most elegiac, and most emotional novel so far, shedding indispensable light on his previous monumental efforts such as Snow (2004), My Name Is Red (2001), and The Black Book (1994). Kemal Basmaci is the scion of a wealthy Istanbul family who falls in love with his "distant relation" Fusun, despite being engaged to the attractive and educated Sibel. In Istanbul, the city of pervasive melancholy, Kemal's pure happiness is not for the faint-hearted. Our notions of love and happiness are insufferably permeated by the banality of mainstream thought; Pamuk offers us a lost way of thinking about these things. Kemal may be Pamuk's most endearing hero yet, whose yearning points to an emotional state that utterly transcends the overworked East-West or modernity-tradition split. We will be changed by this book.
2.Eric Miles Williamson, Welcome to Oakland: A Novel (Raw Dog Screaming). Williamson may be the greatest living chronicler of American working-class life; Carolyn Chute comes to mind too, but Williamson's vision is more devastating, more angry, more restless, more unable to let sleeping dogs lie. In East Bay Grease (1999), the PEN/Hemingway finalist, we met young T-Bird Murphy struggling against the elements in a poor white family in Oakland, California; in the new novel T-Bird is an adult, up against the same brutalities of the poor neighborhood, though at last he starts finding his feet--even if those feet are planted for a long while in a garbage dump. Here are lyrical-apocalyptic passages Nathanael West might admire and envy. Williamson is at his rawest, most energetic, most brutally honest yet.
3.H. M. Naqvi, Home Boy (Crown). Three carefree, young Pakistani men--Chuck (Shehzad), Jimbo (Jamshed Khan), and AC (Ali Chaudhry)--think New York is theirs in the days just before 9/11. Of course their lives fall apart, and of course things can never be put together again. Home Boy is a superior contribution to the genre, its compassionate humor saving it from easy judgment. Naqvi's prose is evocative of Nabokov, in its immense energy; the vitality of the language reflects the immigrant's resourcefulness in standing up to the nightmares of bureaucratic rectitude. The prose creates a new life, an expressiveness not always available to the native-born lazily deploying the proprietary language. It is interesting that both Torsten Krol and H. M. Naqvi have hit on parallel formulas to take down the insanity of America in the present decade, and have left such a treasure trove of illuminating language.
4.Torsten Krol, Callisto (Harper Perennial). This is not the kind of book haughty critics like to recognize as the best of the best, but this sharpest of satires of post-9/11 America has a good chance of being recognized in later years for having utterly penetrated our transparent, false, slimy zeitgeist. Who is Torstel Krol? Man, woman, beast, American, Eskimo, Martian, no one knows. He is certainly one of us, though he can never be one of us. He does understand Middle America with the acuteness of a Sinclair Lewis, and his inspiration for Odell Deefus, the doofus who gets caught in Homeland Security paranoia in Callisto, Kansas, comes straight from Jonathan Swift's vein. It is also one of the funniest books in years. To understand how America stepped on an irrevocable path of decline, read no further.
5.Christopher Miller, The Cardboard Universe: A Guide to the World of Phoebus K. Dank (Harper Perennial). Most literary biographies are a sham. Biographers' parasitical nature has always been subject to mockery, and rightly so, for biographers rarely lend new insight to an author's books; they tend to detract rather than add. The greater the writer, the less need there is of biography. Borrowing from the life of Philip K. Dick, Miller has composed the year's funniest book, as we try to figure out which of his biographers actually killed Dank--which becomes a reflection on how biographers are vampires feeding on our lust for voyeurism and judgmentalism. After reading The Cardboard Universe, it becomes difficult to take any literary biography seriously--most fall within the realm of what Joyce Carol Oates has described as biographies of pathology.
6.Walter Kirn, Lost in the Meritocracy: The Undereducation of an Overachiever (Doubleday). A quarter-century after Allan Bloom and E. D. Hirsch hacked away at what should be the content of our education, and after an equal amount of time of relentless culture wars, the academy is in resplendent shambles, unable for a moment to reflect on its true condition. Using his own leap from the Minnesota backwaters to Princeton dilettante, Kirn shows, better than any recent book, how our educational system is perverted from beginning to end by the wrong signals, the wrong measurements, the wrong incentives, and the wrong rewards. When the history of American decline is completed, the corruption of our educational institutions--to prevent original and real thinking--will be a large part of it. Kirn's is one idealist's stirring recollection of what it took to awaken himself from the sloth imposed by the Ivy League's bureaucratic-meritocracy.
7.Ha Jin, A Good Fall: Stories (Pantheon). This may be Ha Jin's best work yet, his stories often ascending to the mystical penumbra we expect of Singer, Malamud, or O'Connor. Ha Jin has moved away from writing about life in communist China--from which he is now more than a quarter century removed--to the lives of immigrant Chinese in the U.S. His novel, A Free Life (2007), was an epic contribution to immigrant fiction, compressing, in Nan's experience, at least three generations of immigrant evolution. The stories in A Good Fall again explore the high price of freedom--a price, in the end, cheaper than any of its alternatives. Ha Jin is equally good as a novelist and a short story writer; unlike many other fiction writers who abandon the story once they become successful novelists, Ha Jin hasn't done so, and it is because stories still allow him to get to the heart of the matter in a more piercing manner.
8.Dave Eggers, Zeitoun (McSweeney's). Among the more remarkable literary transformations is this one, from Eggers the uber-ironic chronicler of his generation's inability to feel seriously about anything, in A Heartbreaking Work of Staggering Genius, to the Orwell-like work of reportage in the newest book--nary a trace of irony or relativism here. In his tale of the eponymous Syrian immigrant, a prosperous building contractor who stayed behind after Hurricane Katrina to watch his properties but got arrested by paranoid officers, Eggers uses techniques of imaginative nonfiction to great effectiveness. The devices always remain in the service of the dramatic rendering of Zeitoun's impossible situation. That we have such transparent tales of "disappearance" (a la the old Latin American tyrannies) to report, and that Eggers's self-consciousness has disappeared in this miasma, should tell us all we need to know about the state of our democracy.
9.Paul Starobin, After America: Narratives for the Next Global Age (Penguin). This is the best of the After America books, more relevant than Fareed Zakaria's optimistic tome of a couple of years ago, which has been made obsolete after the economic collapse. Whereas Zakaria, with the immigrant's confidence, expects his adopted homeland to mend its ways and return to what made it great (returning to open immigration policies, for instance), Starobin is more accepting of the fact that America's days of hegemony, or even dominance, are unquestionably over, to be replaced by a new set of global power arrangements. All of the potential outcomes Starobin discusses--a new hegemon like China, the bipolar or multipolar world, the rise of city-states, world government--seem more exciting than the current leisurely death of the reigning hegemon. The future has never looked so promising!
10.Melissa Kwasny, Reading Novalis in Montana (Milkweed). Much of the innovative poetry written in America is published not by the big houses, but by independent presses like Milkweed, and its many smaller siblings. Too often, our poetry is obscure, willfully ignorant of realities beyond the immediate self, and pathetic in its complaint, narcissism, and soullessness. Moreover, the language tends to be prosaic, when it's not self-consciously experimental. Kwasny falls into none of these traps; she writes romantic-environmental poetry of a high order, communing with nature in a language that never sells itself short. Can we imagine ourselves, gluttonous twenty-first century Americans, in a better relationship with nature? Can we see ourselves beyond artificial separations between the animate and the inanimate, between the sensate and the inert? Kwasny shows how, as she refuses to back down under the pressure of material degradation.
Daniyal Mueenuddin, In Other Rooms, Other Wonders (Norton). Of the prominent Pakistani writers emerging on the scene--Azhar Abidi, Ali Sethi, Kamila Shamsie, all of whom have also published outstanding new books this year--Mueenuddin may well be the best prose stylist.
Oscar Casares, Amigoland (Little Brown). After Brownsville (2002), which appears now to have been one of the most important story collections of the decade, Casares has certainly not disappointed, by following up with a luminescent tale of a ninety-one-year-old nursing home resident, Don Fidencio, who fights his way to a sort of freedom along the Texas-Mexico border.
Franz Wright, Wheeling Motel (Knopf). Franz Wright is superficially judged as a poet of mental illness, or religious belief; how wrong, and how reductionist! This may be his best poetry book yet, accessible and at the same time rewarding of multiple readings.
Steve Hely, How I Became a Famous Novelist (Grove Atlantic). The fatuousness of the New York publishing industry is the target of this penetrating satire, as Pete Tarslaw sets out to write the biggest best-seller of them all, The Tornado Ashes Club.
Kazim Ali, Bright Felon (Wesleyan). Whither confessionalism, at this late stage? Ali, in a sharp departure from his previous books, puts all on the line, risks a lot, and does it with an intensely moral take on the self.
Chloe Aridjis, The Book of Clouds (Grove Atlantic). Hitler lives on in modern Berlin. Perhaps. Certainly Berlin's buildings and monuments have other lives, underground lives, which Aridjis's narrator, a Mexican immigrant to the city, finds herself shadowed/swallowed by.
Yoko Tawada, The Naked Eye (New Directions). What Aridjis does for Berlin, Tawada does for Paris; her young Vietnamese heroine--stateless in the true sense of the word--compulsively watches Catherine Deneuve movies, as every Orientalist trope implodes around her.
Michael Faber, The Fire Gospel (Canongate). What if an authentic fifth gospel were to be discovered and brought to light? Would we recognize the novelty of the timeless wisdom, or would we treat it as we do just another trashy memoir or cliched self-help book?
Chimamanda Ngozie Adichie, The Thing Around Your Neck (Knopf). Adichie writes stories of aspiring Nigerians caught in their own country's political turbulence, and of Nigerian immigrants in the U.S. At no time does she cheat us of the truth; with this collection, she sets the bar very high for what we may expect of her in the future.
Morris Dickstein, Dancing in the Dark: A Cultural History of the Great Depression (Norton). Dickstein, one of our most eloquent cultural critics, holds that the movies, art, poetry, theater, and fiction of the 1930s were not quite as escapist as, and had much greater aesthetic merit than, we have believed so far.
Chris Hedges, Empire of Illusion: The End of Literacy and the Triumph of Spectacle (Basic). This is Hedges's darkest, and best, book yet, as he shows how every realm of our lives, private and public, has been saturated with unreality, therefore making rational governance impossible. This has much in common with Kirn's book, and takes Barbara Ehrenreich's new book on false optimism to its logical conclusion.
Related
Popular in the Community