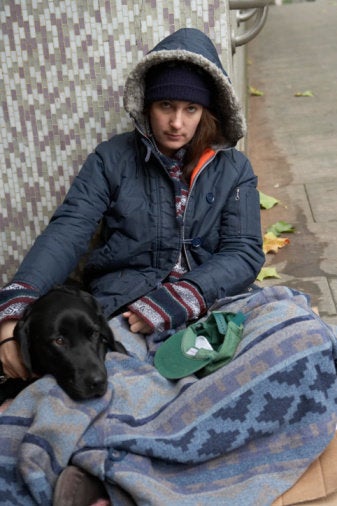 I recently returned from Pittsburgh, where on Friday, May 4, I keynoted the Homeless Children's Education Fund's "Summit III: Impact of Poverty on Learning & Brain Development for Children & Youth Experiencing Homelessness."
HCEF brought together individuals on the front lines at shelters and school systems, those crafting the policies, those researching the solution, and those children who are formerly homeless and whose voices are too often left out of the conversation. The summit was a model for connecting the dots of research, policy and practice, with everyone coming from different perspectives, but sharing the same goal.
In Pennsylvania, HCEF has joined with U.S. Attorney David J. Hickton, and together they have made addressing the needs of homeless children a priority, shifting the conversation to rightly define childhood poverty and homelessness as a civil rights struggle.
As Hickton told me, it costs a million dollars to prosecute a murder case for just one gang member, so paying attention to the needs of poor and homeless children early on pays dividends in the long-run.
Hickton describes homeless youth as "invisible children," a sentiment I find all-too-accurate. Because we thankfully don't often see homeless children sleeping on park benches, their plight is too frequently ignored.
The challenges facing children in Pittsburgh are problems we see in our research throughout the United States.
In 2010, there were 31,386 homeless children in Pennsylvania. To put this number in context, that is more than the entire University of Pittsburgh student body.
Some of these homeless families are living in shelters. Many more are in motels, and doubled up, living two or more families in an overcrowded apartment. This instability would make it hard for anyone to learn.
And though the nation is technically in recovery, the numbers of homeless children have risen. In Pennsylvania, there was a 46 percent increase in the number of children and youth experiencing homelessness from the 2008-09 school year to the 2009-10 school year.
The Institute for Children, Poverty, and Homelessness report "Intergenerational Disparities Experienced by Homeless Black Families," released this year, showed the disproportionate number of homeless black families in shelter. In Pittsburgh, between 2005 and 2009 black homeless families made up 56.3 percent of residents in family homeless shelters even though they only accounted for 12 percent of the city's population. One of the chief reasons is educational disparity.
And these educational outcomes, for people of all races, are influenced from a young age. Poor and homeless children are exposed to toxic stress and trauma that impacts brain development.
Children only get one chance at childhood. For homeless children, these are wasted opportunities.
If housing were the key to this problem, then this battle would be much easier to fight. And while affordable housing is part of the puzzle, it is only one piece. Most homeless families face a multifaceted set of problems and thus require a multi-pronged solution. These children -- and their parents -- need help achieving educational goals and access to services to enable them to succeed.
This help must come from all sectors. For youth in shelters, their "home" for many months, the shelter is an ideal place for afterschool programs and day care. For those in school -- 58 percent of all homeless children in Pennsylvania -- it is not enough to identify and enroll them. They must be succeeding academically. This is the work of the entire community.
The good news is that in Pittsburgh and throughout Alleghany County, HCEF has inspired a coalition that includes Hickton and many other passionate stakeholders. Sadly, in most of the country, this community-wide buy-in has not yet happened.
If we are going to break the cycle of homelessness, it begins with the children, and when children's futures are at stake, we know what needs to be done. We all know what needs to be done.
Related
Popular in the Community