NEW YORK -- Huffington Post senior military correspondent David Wood has spent decades covering war, watching as wounded combat troops are loaded onto medical evacuation helicopters and, he said, "go off in a cloud of dust." But after their sacrifice on the battlefield, Wood said, "you never know what happened to them."
So for eight months this past year, Wood reported extensively on the lives of severely wounded veterans and their families in "Beyond the Battlefield", a 10-part series awarded Monday with the Pulitzer Prize in National Reporting. Wood's Pulitzer marks the first win for the seven-year-old Huffington Post and a milestone in the influential Pulitzer committee's recognition of online-only news organizations.
"We are delighted and deeply honored by the award, which recognizes both David's exemplary piece of purposeful journalism and HuffPost's commitment to original reporting that affects both the national conversation and the lives of real people," said Arianna Huffington, president and editor-in-chief of the Huffington Post Media Group. "From the beginning, one of the core pillars of HuffPost's editorial philosophy has been to use narrative and storytelling to put flesh and blood on data and statistics, and to help bear witness to the struggles faced by millions of Americans. We are very grateful to have won for this series, the culmination of David Wood's long career as a military correspondent, and an affirmation that great journalism is thriving on the Web."
Wood, 66, began his journalism career in 1970 as an editor for the Pioneer Press chain in Illinois. In 1977, he started covering guerrilla wars in Africa as Time magazine's Nairobi bureau chief, later reporting on the military, national security and foreign affairs for the now-shuttered Washington Star, Los Angeles Times, Newhouse News Service, Baltimore Sun and AOL's PoliticsDaily site. Wood, who was previously a Pulitzer finalist, has covered conflicts in Europe, Africa, Asia, the Middle East and Central America. Most recently, he has made several trips to the front in Iraq and Afghanistan.
Shortly after joining The Huffington Post in early 2011, Wood began having discussions with executive editor Timothy O'Brien about the "Beyond the Battlefield" series."
Early in the reporting process, Wood said, he wasn't quite sure how to approach veterans wounded on the battlefield. "One of the first things I learned is that these young men and women who are severely wounded want you to notice them and want you to ask what happened," Wood said.
Indeed, Wood said, veterans "want to tell their story because they view their wounds as medals of honor, symbols of their sacrifice."
He began reporting the series in March for publication in October, with an ebook following in December that compiled its original stories and added new chapters. During that time, Wood spoke with numerous veterans and their families, often being passed along directly to another family within the tight-knit community. "They're all connected and it's really interesting, and I just feel so, so proud that they accepted me into their community and let me tell their stories," Wood said.
Wood said that "telling their stories just became a huge mission of honor for me."
O'Brien praised Wood's dedication to telling the stories of veterans and their families.

"This Pulitzer is a recognition of decades of dedicated, courageous work by David Wood, and of the great insight and sensitivity he's brought to the plight of severely wounded soldiers and the very human tragedy of modern warfare," O'Brien said. "We're also grateful that the Pulitzer committee recognized that great, hard-won journalism can thrive and flourish on the web."
Some media watchers said the Pulitzer committee's recognition of The Huffington Post represents a milestone for the organization and digital news outlets in general.
Rem Rieder, editor of the American Journalism Review, said the award is "quite a benchmark in the evolution of The Huffington Post, which early on, had plenty of aggregation and plenty of opinion and no original reporting." He specifically praised the hiring of Wood, saying that it's "terrific that there are emerging newish outlets where not only talented young reporters, but experienced older reporters, have the chance to showcase ambitious work."
"I think it's very healthy to see the Pulitzers have moved, albeit slowly, from a solely print focus," Rieder said. "The world has changed dramatically. There's an awful lot of exciting developments with digital news operations."
In recent years, the Pulitzer board has bestowed honors on newer outlets, such as ProPublica, a nonprofit newsroom that often teams up with established news organizations, and PolitiFact, a project of the Tampa Bay Times. Politico, a five-year-old newspaper and web site, took home its first Pulitzer prize Monday for Matt Wuerker's editorial cartoons. Still, a win in national reporting by an online-only news site is a departure from the typical list of legacy news outlets who clean up at the Pulitzers year after year.
NYU professor Jay Rosen said in an email that "today's news will be read as a symbolic crossing point," but noted that "it is just further along on a trajectory that began several years back when the Huffington Post started hiring reporters," along with "brand name journalists" like Dan Froomkin (Washington Post), Howard Fineman (Newsweek), and Peter Goodman and O'Brien (The New York Times). "The Pulitzer may say 'welcome to the club,' but the bid for membership started a while ago," he said.
"At the same time, the legacy media companies started doing many of the things the Huffington Post was good at," Rosen added. "They put far greater emphasis on technology, blogging, commenting, sharing. So while it's tempting to see the Huffington Post's Pulitzer as a 'big win for new media,' or something like that, the real story is that these organizations -- the Huffington Post, the New York Times, the Washington Post--are becoming more like each other. Old media and new media are increasingly antiquated terms."
Wood, who spent most of his career in what would be dubbed "old media," said he's found the "sense of energy" in the Huffington Post newsroom to be "so palpable and so infectious." For "Beyond the Battlefield," Wood said he's "never had as much support and encouragement and professional editing along the way."
But Wood didn't leave out the talented reporters and editors he's worked with over a four-decade career. "In a sense," he said, "this award is a culmination of a lot of experience and a lot of good people along the way."
Related
Before You Go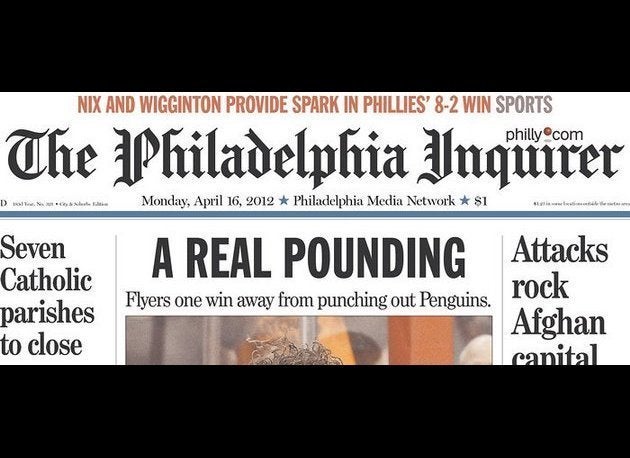 Pulitzer Prizes 2012
Popular in the Community