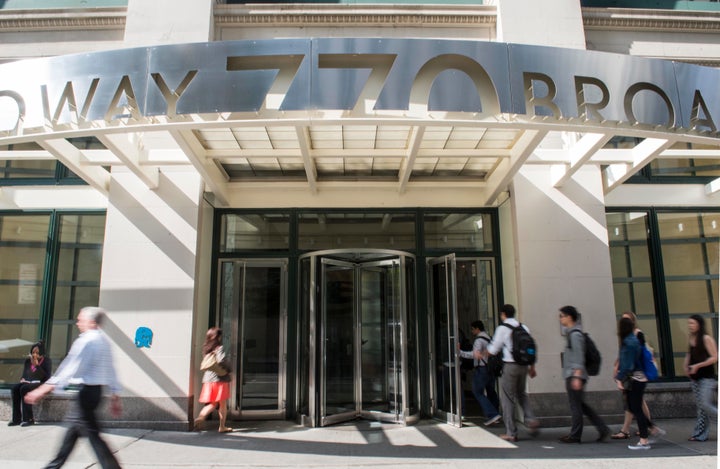 NEW YORK ― The Huffington Post ratified its first union contract Monday, becoming the largest digital news site to collectively bargain amid a series of newsroom organizing drives.
Huffington Post management voluntarily recognized the employees' union nearly a year ago. The site is represented by the Writers Guild of America, East, which has also worked with Vice, Gizmodo Media Group (formerly Gawker), Salon, Fusion, The Root and ThinkProgress.
Though the yearlong contract negotiations appeared to stall last month, with some employees voicing frustration on social media, the two sides recently came to an agreement that generated near unanimous support.
For more than 200 employees covered by the union, there will be across-the-board raises of at least 3 percent. However, some staffers could see increases as high as $10,000 to $20,000 over the course of the three-year contract, which puts in place new minimum salaries for newsroom job titles.
The contract features new language ensuring editorial independence and enhancing newsroom diversity, along with specific provisions regarding comp time, discipline, dismissal and severance in the event of layoffs. Management has agreed to pay employees two months' severance, plus an additional week's pay for each year of service.
"When we decided to unionize at HuffPost, we had a lot of concerns we wanted to tackle: editorial autonomy, newsroom diversity, fair and transparent pay, and job security," The Huffington Post Bargaining Committee said in a statement. "We're happy to say we've achieved a contract that addresses all that and more."
"This agreement is going to improve the lives of many of our peers, and make HuffPost an even better place to do great journalism," the committee continued. "It shows what a newsroom can accomplish when it decides to come together and bargain collectively. We're grateful to the company for working with us toward such a strong and fair first contract."
HuffPost CEO Jared Grusd praised staff in a statement on the agreement.
"Our editorial and video staff have been instrumental in making The Huffington Post the groundbreaking news platform it is today and they are among our greatest assets," Grusd said. "We are very pleased to have worked collaboratively with the WGAE to have reached this agreement. We remain committed to providing growth opportunities for all of our talented and dedicated editorial and video staff to ensure The Huffington Post is the leading digital platform for news and information."
Lowell Peterson, executive director of the Writers Guild of America, East, said in a statement that "this landmark agreement demonstrates that collective bargaining works."
"Our large and engaged negotiating committee worked tirelessly to communicate the real concerns of WGAE-represented employees, and the company's bargaining team was respectful and responsive," Peterson said. "We are building a strong movement of digital journalists in perilous times. The writers, editors and producers at The Huffington Post have achieved real gains by unionizing, and there are now 500 digital journalists covered by WGAE-negotiated contracts."
Support HuffPost
The Stakes Have Never Been Higher
Related
Popular in the Community