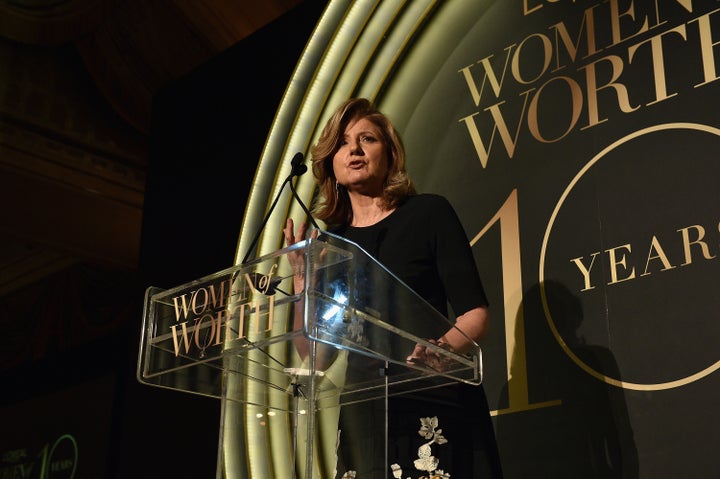 NEW YORK -- The Huffington Post's management has voluntarily recognized its employees' union, making the digital media outlet the largest ever to organize.
"I am delighted to let you know that we have reached an agreement with the Writers Guild of America, East (WGAE) to proceed to voluntary recognition by counting signed union cards," Arianna Huffington, president and editor-in-chief of The Huffington Post, said in an email to staff.
"Assuming a majority, we will recognize the union," she continued. "We look forward to a great relationship with our union as we work together to take The Huffington Post to new heights across the world."
HuffPost employees, represented by the Writers Guild of America, East, sought recognition from management in December after announcing that a majority of editorial staffers had signed union cards signaling their support.
When negotiations over eligibility began, management said dozens of positions were not eligible for union recognition because of their seniority and supervisory duties. Union organizers fought to include many members of that group, and failed to secure eligibility for just six out of those they were trying to include.
The agreement does not include HuffPost fellows, paid staffers whose fellowships typically last around six months. The bargaining unit going forward will consist of 262 employees, after 25 staffers were recently let go as part of a reorganization of the company's video operation.
"The Huffington Post establishes a critical mass of support for collective bargaining in digital media," WGAE Executive Director Lowell Peterson said in a statement. "This movement empowers the people who write, edit and produce content to build sustainable careers doing work they care about."
"As digital media continues to transform the way information is shared and stories are told, it is essential that content creators have their concerns about the workplace -- and about the work itself -- be heard and addressed by management. The WGAE is very pleased to work closely with The Huffington Post's dedicated and talented editorial staff at this historic moment," he said.
In a separate statement, HuffPost's organizing committee said unionization of the editorial staff "is another example of our newsroom practicing what we preach."
"Our campaign to win union recognition has united us in many ways," the committee continued. "We've come together as a community across regions, departments, and positions to work towards a shared vision. The challenges and many steps in this process have brought us together and reaffirmed our commitment to bargaining a strong and fair contract. As we've stated from the very beginning, we're proud to call ourselves HuffPosters, which is why we look forward to continuing to advocate for each other, our workplace, and our profession."
HuffPost employees began organizing last year amid a string of union efforts in digital media, which, unlike legacy print or TV outlets, had little history of organizing.
Since spring 2015, WGAE has led union drives at Gawker, Salon, ThinkProgress and Vice Media. Another union, NewsGuild-CWA, helped organize The Guardian U.S. and digital staffers at Al Jazeera America (which announced Tuesday it would cease broadcasting in the coming months). Only the management of Al Jazeera America did not voluntarily recognize the union, leading to a full newsroom vote.
Related
Popular in the Community