In this week's issue, against the backdrop of the Trayvon Martin case, the decision weakening the Voting Rights Act, and Detroit's bankruptcy, Howard Fineman looks at how far we still are from true equality for African-Americans.
We hear from many leaders in the black community, including Maryland Congressman Elijah Cummings, who, as Howard puts it, "has lived and seen the best -- and the worst -- of what this country means, offers and does to a black man." Rep. Cummings takes us from his experiences of childhood racism in South Baltimore all the way to his mother's recent encounter with the first black president ("She called him 'son'!"). It's a story that reflects just how far America has come, but also how far we have to go.
Fifty years after Dr. Martin Luther King Jr. stood on the steps of the Lincoln Memorial and declared that African-Americans were "still not free," Howard cites devastating statistics on everything from healthcare and education to poverty and incarceration rates. As Rev. Jesse Jackson puts it, "We have LeBron. We have Jay Z. We have Barack Obama. But that is not a random sample. What matters is the undercurrent, and it's pulling our people down."
Asked what Dr. King would think if he were alive today, Rev. Jackson postulates, "he would say that we are freer but less equal."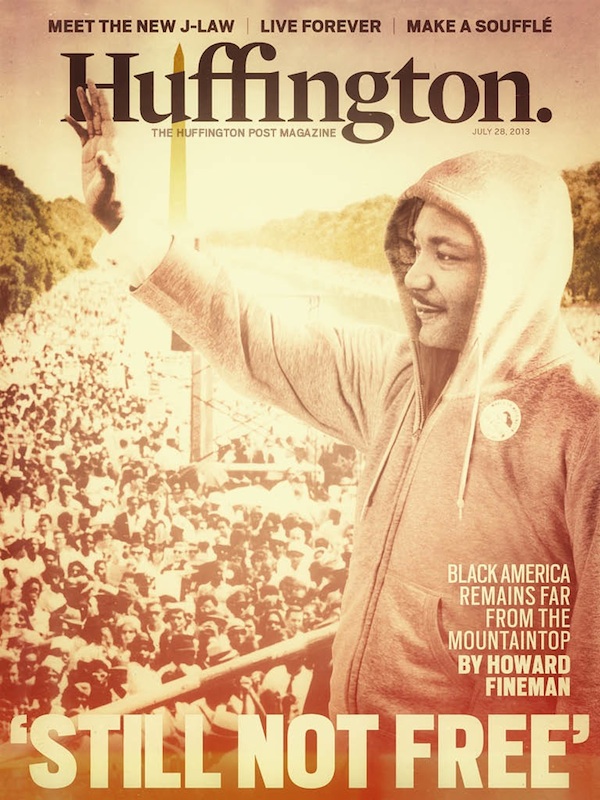 Elsewhere in the issue, Gerry Smith looks at the underground market for smartphones. He introduces us to Jerry Deaven, an agent from the Department of Homeland Security, who explores the phenomenon of companies and stores paying cash for used smartphones, no questions asked, and turning a blind eye to the fact that many of the devices are stolen. "You can walk right into one of these storefronts and sell all the phones at once and walk out with $20,000," Deaven says. Gerry explores the web of crime and complicity, from the thieves and con-artists to the bulk purchasers and retail outlets that function as marketplaces for illegal, and sometimes violent, activity.
Finally, since sleep is a major editorial priority here, we've tapped into the expertise of our readers, asking the HuffPost Travel community to vote on the best hotel bed they've ever spent the night in. The result is a list of the 26 most spectacular hotel beds to add to your sleep bucket list -- from Atlantic City to Scotland.
This story appears in Issue 59 of our weekly iPad magazine, Huffington, in the iTunes App store, available Friday, July 26.
Calling all HuffPost superfans!
Sign up for membership to become a founding member and help shape HuffPost's next chapter