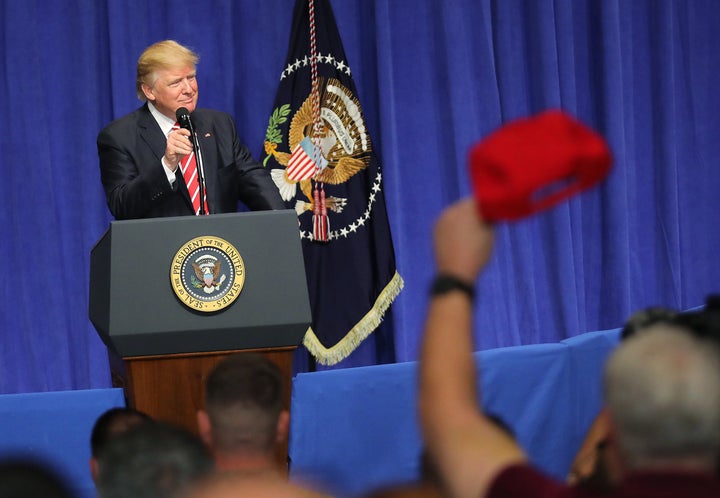 Approval ratings for Donald Trump are split down partisan lines. Support for his travel ban seems to depend on the survey. And the president's Supreme Court nominee gets positive ratings, even though Americans are split on whether the pick should have been his. This is HuffPollster for Tuesday, February 7, 2017.
VIEWS OF DONALD TRUMP'S PRESIDENCY ARE DEEPLY POLARIZED - HuffPost Pollster's aggregate gives President Trump a 43 percent approval rating, with about 50 percent disapproving. With the exception of Rasmussen, surveys conducted to date this month all show his ratings underwater. Views, however, are deeply polarized -- on average, 86 percent of Republicans approve, compared to just 9 percent of Democrats about 41 percent of independents. (For comparison, Barack Obama's early approval ratings were also polarized, but not yet to the same extent ― in February 2009, he stood at around 89 percent among Democrats, 30 percent with Republicans, and independents just below 60 percent.) [Trump approval chart]
Republicans are overwhelmingly happy with Trump's actions as president - Emily Guskin: "While surveys show Trump's policies draw mixed reviews from the public overall, almost every one wins majority support from Republicans. What Trump may be reacting to then is that everyone he talks ― aka loyal supporters ― seem to love his proposals even though polling shows them with middling support….Take Trump's controversial ban on immigration from seven majority-Muslim countries. Polls show support for Trump's proposal ranging from small majority support to small majority opposition, suggesting the public is roughly divided on the policy. But even in the poll showing the most negative appraisal, Republicans are overwhelmingly supportive….Broadly speaking, Trump's slew of executive orders doesn't seem to have had a major impact on his overall job approval ratings, though this is little comfort given that he entered office with historically low marks and heavy partisan polarization. Gallup found an average of 43 percent of adults approving of Trump in interviews ending Sunday. Just 8 percent of Democrats and 41 percent of independents approve of the 45th president, but among Republicans 86 percent say he is doing a good job." [WashPost]
Are surveys accurately gauging Trump's popularity? - Steven Shepard: "Traditional phone polls that use live interviewers — including some of the most trusted polls in politics and media — report limited support for Trump and the controversial executive orders he's signed. But automated phone and Internet-based surveys tell a different story...It's reigniting the campaign debate over whether pollsters are accurately measuring Trump's popularity — or the breadth of support for his policies. The White House is already seizing on the issue, and forcefully pushing back against the early narrative that the president is suffering from historically bad polling numbers….the president's first two weeks in the White House raise questions about whether Trump is better viewed than traditional measures indicate — and whether the hard edge of some of his provocative stances and statements will make it difficult to accurately gauge his support right up until his likely reelection bid in 2020." [Politico]
Trump's sensitivity about his ratings makes polling a potential pressure point - Natalie Jackson: "In an interview with RealClearPolitics, White House press secretary Sean Spicer revealed that Trump consumes polling information with gusto, sometimes telling his advisers about the data before they see it themselves. That means Americans have a direct avenue to getting their voices heard by the president. Answering a phone call or an email to respond to poll questions is more important now than ever ― it might be the quickest way to have your opinion heard in the Oval Office." [HuffPost]
HERE'S WHAT THE LATEST POLLS SAY ABOUT THE TRAVEL BAN - Eight surveys on Donald Trump's recent immigration-related executive order show differing levels of public support, but most find a plurality of Americans in opposition. Strikingly, all five of the surveys showing the most support were conducted online or using automated phone calls, while the three finding the least support all used live phone interviewers.
Last Friday's HuffPollster talked about some of the factors that can lead to variability in issue polling, including question wording ― such as whether a survey mentions Trump's name, or uses the word "ban" ― and mode effects ― such as social desirability bias, the idea that Americans may be more likely to express an unpopular position anonymously than they are to a live interviewer.
But there are also other, more prosaic, possible differences that have more to do with the construction of the surveys themselves. These factors that don't necessarily lend themselves to a particular outcome, but can certainly have an effect. One poll, for instance, may ask whether someone favors or opposes a proposal, while another asks whether they agree or disagree. One poll may give the option for respondents to say they agree strongly or other somewhat, while another won't ask about intensity.
And there's another difference that could help to explain the noticeable gap between modes. While some pollsters, especially those using online or automated surveys, explicitly give respondents the option to say they're not sure about a question, others, especially those using live interviewers, will accept that response only when it's volunteered.
In the case of the travel ban, if the variance between live and online/automated polls were caused by respondents' unwillingness to express support non-anonymously, we'd expect higher approval for the ban in polls conducted using the latter method. But with more surveys in, that doesn't necessarily seem to be the case. With two outlier polls ― Rasmussen and Gallup ― excepted, each survey puts approval between 45 percent and 48 percent. Instead, the bigger difference is in the percentage who disapprove, which tends to be lowest among survey that offer respondents an explicit option to say they're uncertain. That raises another possibility for the variance: respondents who are inclined to say they aren't sure, but who, if pushed, come down against the idea.
TRUMP'S SCOTUS PICK DRAWS POSITIVE RATINGS - HuffPollster: "Americans have a generally positive first impression of Neil Gorsuch, Donald Trump's nominee to fill the Supreme Court vacancy left by Justice Antonin Scalia, a new HuffPost/YouGov poll finds. But they're split on whether the choice should have been Trump's to begin with. Forty percent of Americans approve of the choice of Gorsuch and 28 percent disapprove, with the remaining 32 percent unsure. Among those who approve, 58 percent say it's mostly because they think Gorsuch would be a good Supreme Court justice, and one-third say it's because they trust Trump to nominate someone who'd do a good job. Sixty-six percent of those who disapprove say it's because they don't trust Trump to make a good decision, while 28 percent say their disapproval is specifically about Gorsuch himself….Americans are about evenly split on which president should have had the opportunity to choose the next Supreme Court justice, the HuffPost/YouGov survey found, with 41 percent saying Obama should have had the chance to replace Scalia, and 40 percent saying the choice should be Trump's." [HuffPost]
HUFFPOLLSTER VIA EMAIL! - You can receive this daily update every weekday morning via email! Just click here, enter your email address, and click "sign up." That's all there is to it (and you can unsubscribe anytime).
TUESDAY'S 'OUTLIERS' - Links to the best of news at the intersection of polling, politics and political data:
-Stephen Wolf maps out the 23 Republican-held districts that voted for Hillary Clinton. [Daily Kos (D)]
-A new Angus Reid survey finds Americans aren't ready to give up on NAFTA or the UN. [Angus Reid]
-S. Erdem Aytaç, Susan Stokes and Eli Rau find that protestors are more likely to vote than most Americans. [WashPost]
-Gregory A. Smith reviews Americans' reluctance to see churches choosing sides in elections. [Pew]
-Martha C. White writes that Trump's policies are likely to disproportionately hurt his supporters. [NBC]
-Stefan Wojcik, Ryan Kennedy and David Lazer give the Socialist Party little chance of winning in the upcoming French election. [WashPost]
-The former head of the now defunct Field Poll is named polling director at UC Berkeley's Institute of Governmental Studies. [Sacramento Bee]
Popular in the Community