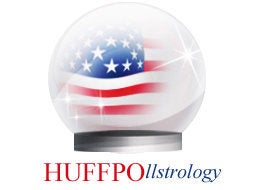 Polls have come to dominate the media's horse race coverage of political campaigns. Pundits and reporters constantly use them to tell us who's hot and who's not -- but skip over the fact that plummeting response rates and variables like undecided voters and margins of error and often render these polls useless as anything other than lightweight diversions on par with horoscopes and political betting lines. Our HuffPollstrology chart helps keep you up to date on the latest poll results, along with the latest horoscope predictions, and the latest online political betting lines - and will hopefully help the polling junkies in the media keep polls in the proper perspective.
October 26, 1947
It's very likely that your circle of friends and acquaintances has extended greatly in the last couple of years. You might now be invited to an event that will bring you closer to someone who is only just been introduced to your circle. At a different level entirely, good news from an insurance company or that is in some way linked to a complicated financial issue, could give you something else to celebrate.
August 4, 1961
Most signs are likely to be turned on by new fashion styles and artistic designs over the next few days. For you, the impact of Art that's at the cutting edge could be great. Your love-life could receive an extra boost - which may be linked to the person who introduces you to this magical, artistic expression that clearly comes straight from the heart. Whether this is music, film, photography or dance, it seems you'll end the day on a high.
August 29, 1936
It shouldn't be too hard to get your voice heard. Indeed, what you have to say about the style of a presentation could have particular impact. The finishing touches you give to a presentation might make all the difference. Matters to do with the home and property are once again high priority. True, it could be that you're overwhelmed by the enormity of a project. It's as likely, however, that you'll be enthralled by someone's imagination and the potential to make an area look a hundred times better.
August 4, 1961
There is encouragement for your emotions, dear Leo, reminding you that it is OK to be you. You may feel more centered than usual, giving you the courage to stand up for yourself and say the things you must to the people who need to hear them. It is quite possible that there have been arguments and disagreements in the world of love and romance lately, but things should subside now, thanks to today's feeling of calm and serenity. Perhaps you have gained greater insight on why there has been tension. Share this with the person you have been arguing with.
August 29, 1936
You may have that dreaded feeling that you really need to get down to work, dear Virgo, yet something seems to be standing square in the face of your progress. Perhaps you feel as if you are at a four-way stop sign with three other cars, and everyone is anxious to go first. You can't all go at once, yet no one knows whose turn it is. Instead of putting the pedal to the metal, ease into the intersection slowly and signal to others what your intentions are.
October 26, 1947
It may feel as if something or someone is trying to hold you back from moving ahead with your ambitious goals and aggressive nature, dear Scorpio. At first you may be resentful of this ball and chain that is attached to your ankle, but on closer examination, you will see that this hindrance is actually a help. For now it is serving as an important reminder to slow down, and do more thinking and planning before taking action.
74 degrees (F), 20% chance of rain. Winds NNW at 10 to 15 mph.


81 degrees (F), 20% chance of rain. Winds NE at 10 to 15 mph.


69 degrees (F), 10% chance of rain. Winds ENE at 5 to 10 mph.



63 degrees (F), 60% chance of rain. Winds W at 10 to 15 mph.

The Democratic nomination results are based on combined data from May 19-21, 2008. For results based on this sample of 1,251 Democratic and Democratic-leaning voters, the maximum margin of sampling error is +/-3 percentage points.
The general election results are based on combined data from May 17-21, 2008. For results based on this sample of 4,446 registered voters, the maximum margin of sampling error is +/-2 percentage points.