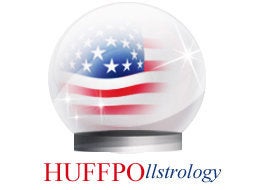 Polls have come to dominate the media's horse race coverage of political campaigns. Pundits and reporters constantly use them to tell us who's hot and who's not -- but skip over the fact that plummeting response rates and variables like undecided voters and margins of error and often render these polls useless as anything other than lightweight diversions on par with horoscopes and political betting lines. Our HuffPollstrology chart helps keep you up to date on the latest poll results, along with the latest horoscope predictions, and the latest online political betting lines - and will hopefully help the polling junkies in the media keep polls in the proper perspective.
Democratic nomination

43%
SCORPIO
October 26, 1947
You could find yourself caught up in a whirlwind. Perhaps because it's near the end of the month, or because a decision needs to be made by tomorrow, your opinion on the best use of time and resources could be important to a few people. The snag is in all this is that your nerves could be run ragged. It's just possible that there will be a response to a communication you sent some weeks ago and that this will add to pressure.

8.3%
51%
LEO
August 4, 1961
Before the day is over, you could find it easy to tell a group of people exactly what you think and why. Whereas sometimes your reasoning is obscure, that's unlikely to be the case now. A partnership with someone from a very different background to your own may be changing. You may be asked to give attention to one of their family traditions.

91.4%
Mccain vs obama in the General election

44%
VIRGO
August 29, 1936
Contracts, lawyers, post-school learning and a question of ethics could all be on your agenda. Even if travelling, you could be making notes on each of these issues and determining how best to ensure that before your birthday, certain matters are attended to fully. A property theme continues. It's perhaps this that could lead you to the offices of a lawyer and possibly to assess routes to and from a school or university.

37.6%

47%
LEO
August 4, 1961
Don't be so nosy about other people's affairs today, dear Leo. If you were meant to be included in the conversation, you would have been invited. Being suspicious of other people's actions and motives will only cause them to lose their trust in you. Don't go that route. Keep your abrasive and critical thoughts to yourself. Perfection is a hot topic in your mind. Realize that the only person you have control over in this department is yourself.

57.0%
Mccain vs clinton in the General election

45%
VIRGO
August 29, 1936
Other people may have some seriously opposing opinions with regard to how things should be done. Be prepared for battle, dear Virgo, because others are likely to have sharp and hurtful tongues. The key to finding solutions that will work for everyone is compromise. Realize that the best solution is probably the one that neither party has thought of on their own. Work together to come up with the best situation for everyone involved.

37.6%

48%
SCORPIO
October 26, 1947
An unexpected opportunity to take a short trip may present itself to you today, dear Scorpio. Hop on that boat or train and see where it ends up. If you have no real excuse to take off and travel, make one up. You don't really need one anyway. The point is: it is time to get away from your current surroundings and explore other ways of living. If the time is not right for you to get out and travel, at least make a plan now for a trip later on.

5.8%
weather report
East
Washington, DC
69 degrees (F), 20% chance of rain. Winds NNE at 10 to 20 mph.


south
Little Rock, AR
81 degrees (F), 50% chance of rain. Winds NNE at 5 to 10 mph.


midwest
Chicago, IL
61 degrees (F), 10% chance of rain. Winds ENE at 10 to 15 mph.


west
Bozeman, MT

70 degrees (F),30% chance of rain. Winds SE at 10 to 15 mph.

---
The Democratic nomination results are based on combined data from May 23-25, 2008. For results based on this sample of 1,261 Democratic and Democratic-leaning voters, the maximum margin of sampling error is +/-3 percentage points.
The general election results are based on combined data from May 21-25, 2008. For results based on this sample of 4,417 registered voters, the maximum margin of sampling error is +/-2 percentage points.
Calling all HuffPost superfans!
Sign up for membership to become a founding member and help shape HuffPost's next chapter