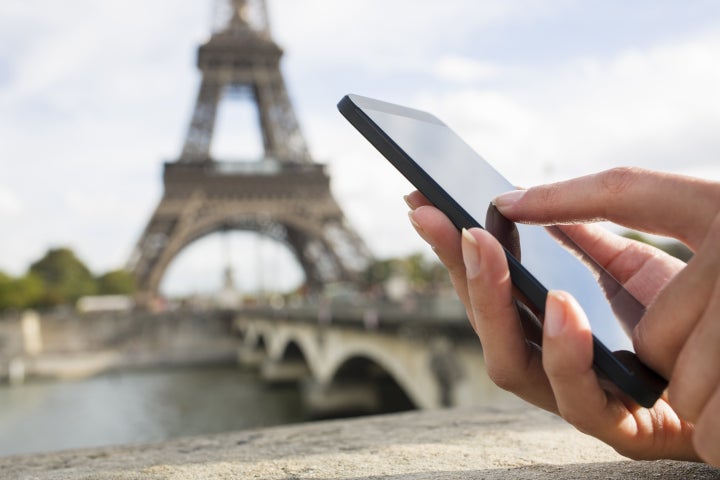 How often have you gotten an "out of office" auto-response from a co-worker or a client, only to receive an actual response 15 minutes later?
At many companies, this behavior has become the norm rather than the exception. These days, that out-of-office reply doesn't mean much. Nearly half of U.S. employees check their work email at least once a day during their vacation time.
Huffington Post editor-in-chief Arianna Huffington has long told employees that they are not expected to respond to email after hours, on the weekends and during vacation. And yet, she says, she's continued to see emails popping up moments after the out-of-office reply.
"As soon as we see the number '1' appear on our mail app icon, or an alert flash across the top of our screen, most of us -- myself very much included -- can't help but respond," Huffington said.
But what if we never see the email in the first place? After Huffington read about a policy at the German car company Daimler that gave employees the option to have any emails received during vacation automatically deleted, she was inspired to implement a similar policy for her own employees.
In June, HuffPost's tech team created a tool that automatically deletes or archives any messages received for the duration of the time an employee has an out-of-office responder in place. Employees have the option of setting up the tool when they go on vacation.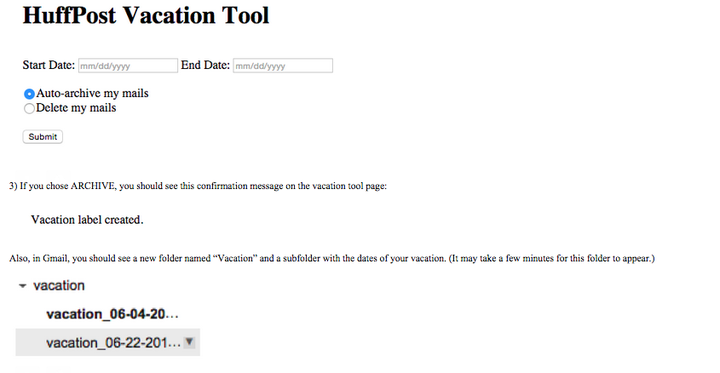 "The science is in on what most people already intuitively know -- we perform better, we think better and we make better decisions when we're refreshed and well-rested," Huffington said. "Whether we're traveling abroad or trying to unwind in the neighborhood park, if we're constantly checking our work email, we're not really vacating from the daily grind."
No rest for the weary
Our downtime is increasingly encroached upon by work stress and 24/7 connectivity, and work email is arguably our most insidious tech habit.
A 2013 survey found that more than 80 percent of employees in the U.S. check their email while not at work, and a third of employees usually respond to emails within 15 minutes. In a study published last year, occupational psychologists found that this type of fixation on work email can contribute to physical and mental burnout.
Research has even shown that up to 80 percent of people experience "email apnea" -- a tendency to hold one's breath or engage in shallow breathing while checking or sending emails.
"This cumulative compromised breathing puts us in a chronic fight-or-flight state," digital culture researcher Linda Stone told HuffPost. "When we're in this state, we are more likely to have the thought patterns, 'What do I have to lose? What might I miss? Can I keep up? Am I out of touch? Am I needed?'"
This type of chronic stress makes the need for tech-free vacation time all the more urgent.
"People often don't use their vacation time to vacation, and many don't take vacations at all," Stone explained. "Our bodies and our lives have seasons and rhythms just as nature does. Winter, spring, summer, fall. Vacation, sleep, rest are a 'season.'"
Adopting an "always-on" lifestyle and ignoring these natural rhythms of work and rest comes at a cost, both for an individual's well-being and productivity, and for a company's bottom line.
But when we do take the time to unplug, the results can be nothing short of transformative.
Unplug your phone, free your mind
A group of neuroscientists recently observed 35 CEOs and entrepreneurs while they underwent a digital detox in the Moroccan desert, and found that going device-free improved the subjects' quality of sleep, social interactions and memory. Many of the participants described the detox as a "life-changing experience," and said they wanted to incorporate elements of unplugging into their everyday lives.
As Stone explained, "If a person gives him or herself even one full day of vacation -- that is, one full day of not getting online and instead, resting, playing and moving -- the desire to get online will diminish."
"Using the tool made me realize how addicted I am to my email," said HuffPost Photo Editor Damon Scheleur, who recently set up the email deletion tool while on vacation. "It took me a while to appreciate it because of the fear of not being in the loop anymore, but then it was a huge weight off my shoulders. It allowed me to pay more attention to my kids."
Editorial Director Danny Shea added, "It's nice when you're taking time off and you can really unplug, but the real power is coming back and not having to go through 10 days' worth of email ... and knowing that you can focus on what you need to focus on."
Still not convinced? A 2012 study found that people's stress levels dropped significantly over a five-day period when they didn't check email.
"Just sent this post to my manager who went on vacation today with her family (she hasn't had a vacation in a while and has had a very tough month) and has been sending emails all day!" one Instagram commenter said in response to Huffington's post about her detox.
"The bottom line is that we all need downtime," Huffington said. "We all need time to unplug, recharge, to not just survive and succeed, but thrive."
Related
Popular in the Community