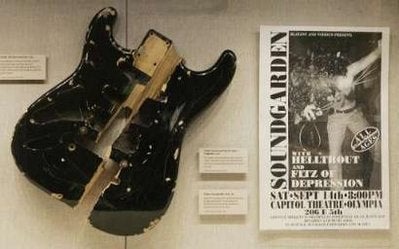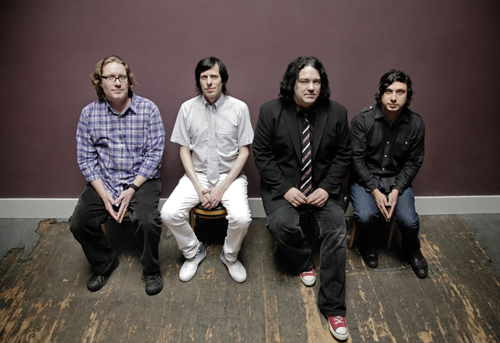 (The Posies, L-R: Matt Harris, Ken Stringfellow, Jon Auer, Darius Minwalla. Photo by Christine Taylor)
The Posies, who for more than two decades have staked their claim as one of the finest power-pop bands in the world, have announced the upcoming release of their first new album in five years. Blood/Candy, recorded in Spain and their hometown of Seattle, will be released by Rykodisc on September 28, coinciding with a European tour that begins the same day and which will be followed by shows in America and Canada.
The Posies -- led by founding members Jon Auer and Ken Stringfellow -- released their first record when they were both still in their teens. In the early '90s, they gained a weird notoriety for being one of the few bands from Seattle who weren't playing grunge. What they were playing was an extraordinary combination of styles, with crunchy power chords, the harmonies of the Hollies, and songwriting that could simultaneously evoke the Beatles and Husker Du. Though they never really broke through commercially, they had several alternative and rock radio hits including "Dream All Day," "Golden Blunders" and "Solar Sister." And listening to their records today, they sound a lot less dated than the vast majority of their plaid-clad contemporaries.
Auer and Stringfellow decided to put an end to the Posies in 1998, but it was one of the least successful breakups in rock history. The two reunited for an acoustic tour in 2000; an EP and in 2001, and a studio album, Every Kind Of Light, in 2005; along with hundreds of live shows along the way. Most recently, they've been touring to commemorate the anniversary of their classic 1993 album, Frosting On The Beater. Drummer Darius Minwalla and bassist Matt Harris have been in the fold since 2001, making this the longest-lasting Posies lineup.
Both Auer and Stringfellow have ridiculously active schedules outside the Posies, working with countless artists (among them R.E.M., the Minus 5, Bob Mould, the Disciplines, John Wesley Harding and William Shatner) as musicians and producers, along with maintaining active solo careers. They were also full-fledged members of the revived Big Star from 1993 until founder Alex Chilton's death earlier this year. Which, in a nutshell, is why it's been five years since the last Posies record. As Auer puts it, "We had so many things on our respective plates -- I mean, all four of us, really -- with different bands and traveling and recording and doing things other than Posies. You know, it's just amazing how fast time goes by. I don't think we expected that we'd take a five year break, but that's just kind of what happened."
The idea for a new album came about during the Frosting On The Beater anniversary tour in 2008, and according to Stringfellow, a meeting with Rykodisc in '09 really set the wheels in motion. "They were enthusiastic enough to say, 'Hey, we should really make this happen, and soon.' And we were like, 'Sounds like a great idea.' Starting last year, we had the idea to start recording by this spring, knowing that we had to write some songs."
Blood/Candy is the first Posies album for which Auer and Stringfellow actually wrote material in advance of the recording sessions since Amazing Disgrace in 1996. "One of the things I was hoping to do on this record," says Auer, "was go back to the idea of Ken and me writing most of the songs, versus the last recording we did, where we kind of cobbled things together in the studio with everyone. I just felt like we needed to have that time to prepare and actually sit down and write." As a result, Stringfellow says, "I would say that I feel the songs on this one a bit deeper... there's stuff from way down in there that I think gives it a little more soul."
The Posies first got together in April to rehearse the new material in Seattle. They debuted all 12 songs at a local gig before heading off to Spain for the bulk of the recording, which took place in a whirlwind two-week session. Over the next few months they mixed and edited over the Internet and on the fly while keeping other commitments everywhere from France to Ecuador, before reconvening in Seattle to add some final touches. Jon Auer notes, "We crammed a couple of years of actual work into about two months."
The final product, however, doesn't sound rushed in the slightest. In fact, it's a dense, intricate work -- you'll hear things on the tenth listen that you didn't notice on the first. As Auer puts it, "I think it's a bit more science fiction-sounding than any of our other records. Where some of our other records maybe have a more straight-ahead or classic sound, I think that if you pay attention, you're going to hear a lot of little bleeps and little noises." Stringfellow adds, "We'd layered on top of layers on top of layers when we slammed everything down in Spain."
When they started planning Blood/Candy, Jon and Ken talked about making a "classic" Posies-sounding record, and sure enough, plenty of the songs that have that vibe -- uptempo guitar-based rockers with infectious hooks, hummable melodies and dark, melancholy undertones. It's the kind of stuff that makes power-pop fans' eyes roll into the back of their heads while they softly gurgle with ecstasy. But a good chunk of the record ventures into previously uncharted-by-the-Posies waters. Much of Blood/Candy sports a broadened palette of instrumentation and writing that it's hard to imagine their early-'90s selves pulling off. Ken Stringfellow admits as much. "We can't stuff the genie back in the bottle. We've done so many other things, traveled so much, worked with so many different people, that it's hard not to let the broad array of our interests be reflected back in what we're doing. It would seem very limiting. I think that's how we've managed to keep our band going forward."
Auer adds, "I think this record definitely has the Posies sound, but I think we really went for it. This is easily our most sophisticated record musically.... It's nice when a band like us that could be categorized as old dogs, perhaps, we're still able to come up with new tricks, too. That's important to me."
And that's what makes Blood/Candy such an amazing album. The Posies aren't trying to return to the halcyon days of 1993, but they're also not denying that their classic sound is part of their musical DNA. Depending on how you want to hear it, it's a brilliant return to form or a daring move forward. As far as I'm concerned, it's both.
Here's the track listing for Blood/Candy:
Plastic Paperbacks
The Glitter Prize
Licenses To Hide
So Caroline
Take Care Of Yourself
Cleopatra Street
For The Ashes
Accidental Architecture
She's Coming Down Again!
Notion 99
Holiday Hours
Enewetak
The Posies' North American tour dates have yet to be finalized, but these are the dates and venues for their European tour:
Sept. 28: Sala Stereo (Murcia, Spain)
Sept. 30: Heineken (Madrid, Spain)
Oct. 1: Wah Wah (Valencia, Spain)
Oct. 2: Apolo 2 (Barcelona, Spain)
Oct. 4: Divan du Monde (Paris, France)
Oct. 5: Garage (London, UK)
Oct. 6: Trix (Antwerp, Belgium)
Oct. 7: Botanique Orangerie (Brussels, Belgium)
Oct. 8: Kazerne Fonck (Liege, Belgium)
Oct. 9: Melkweg Sugar Factory (Amsterdam, Holland)
Oct. 10: Vera (Groningen, Holland)
Oct. 12: Tivoli de Helling, (Utrecht, Holland)
Oct. 13: Gleis 22 (Munster, Germany)
Oct. 14: Comet Club (Berlin, Germany)
Oct. 15: Silber Club (Hamburg, Germany)
Oct. 17: Inkonst (Malmo, Sweden)
Oct. 19: Debaser Slussen (Stockholm, Sweden)
Oct. 20: Sticky Fingers (Gothenburg, Sweden)
Oct. 21: John Dee (Oslo, Norway)
Oct. 22: Kvarteret (Bergen, Norway)
Oct. 23: Blaest (Trondheim, Norway)
Oct. 25: Tavastia (Helsinki, Finland)
Oct. 26: Klubi (Turku, Finland)
The Posies' live shows are thrilling, high-decibel affairs that emphasize the power in their power-pop without forsaking the melodies and harmonies. If you've never seen them in concert, don't miss this chance.
Popular in the Community