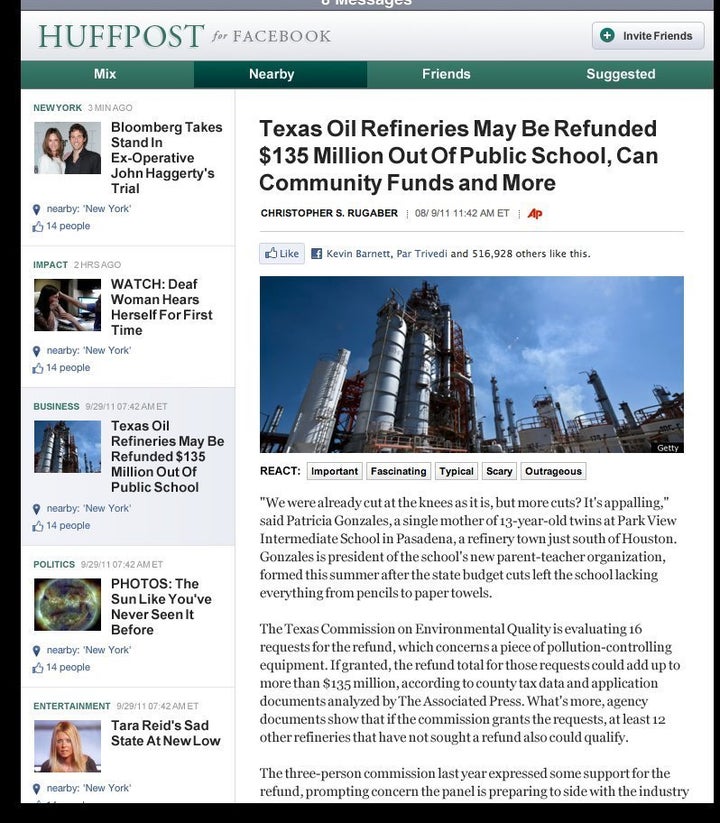 HuffPost has a long history of deep and innovative integration with Facebook. In 2009 we launched HuffPost Social News, which let Facebook users who are HuffPost fans share more easily with each other and follow their friends' activity across the site.

At the beginning of this year we challenged ourselves to build the next generation of this integration. We were inspired by Zynga, which radically changed the game industry by building from the ground up on Facebook's platform. How could this happen for news and media? -- we asked ourselves. We set off on a course to build an app on Facebook's platform that would provide social news from the ground up.

The end result: HuffPost for Facebook. We're launching the mobile version now with a desktop version soon to come. It's an app like no other on Facebook, instantly personalized as soon as you connect. It shows news articles your friends are reading, commenting on and liking, as well as stories not yet popular with your friends but that match your own interests. We've also enlisted Patch, with over 800 hyperlocal sites across America, to find local stories you'll care about, as well as stories and video from across the entire AOL Huffington Post Media Group.

This app is in line with a great defining characteristic of HuffPost, which is to combine technology and editorial together to engage our audience more deeply.

Over the years we've learned a tremendous amount by diving into machine learning and creating what we believe is the most sophisticated comments system on the web. We can not only find abusive comments in real time, but also the informative, the interesting, the funny and the insightful -- in real time.

We've learned to parse the stream of information from Facebook timelines, walls, shares and likes and do some very complex machine learning to find stories that you'll find interesting. It all comes to you through HuffPost for Facebook.

We've also created a new way for our community to better engage with each other by giving badges for strong participation, and then giving the best users the ability to give other members badges and so on.

In short, we are really very excited about this launch. It's the result of years of experimentation and building on success, and like everything we do, it will evolve constantly and rapidly as we learn from your reactions to it, your engagement with it, and your opinions.
To start using HuffPost For Facebook, get out a mobile device -- iPhone, iPad, Android or Blackberry -- and click this link here.
LOOK: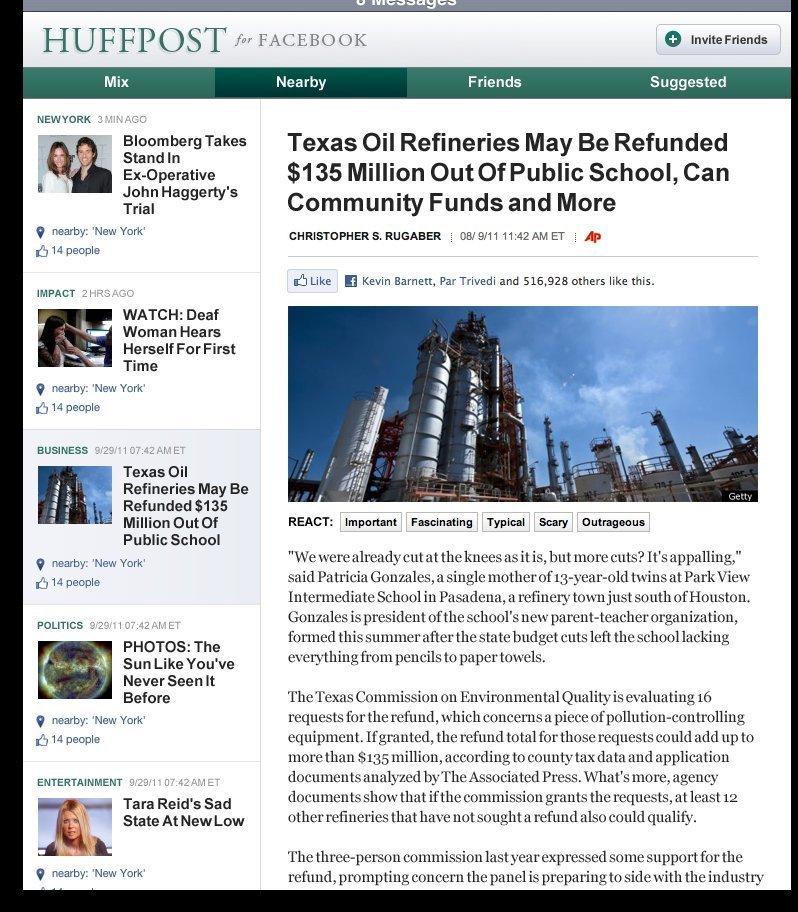 Popular in the Community