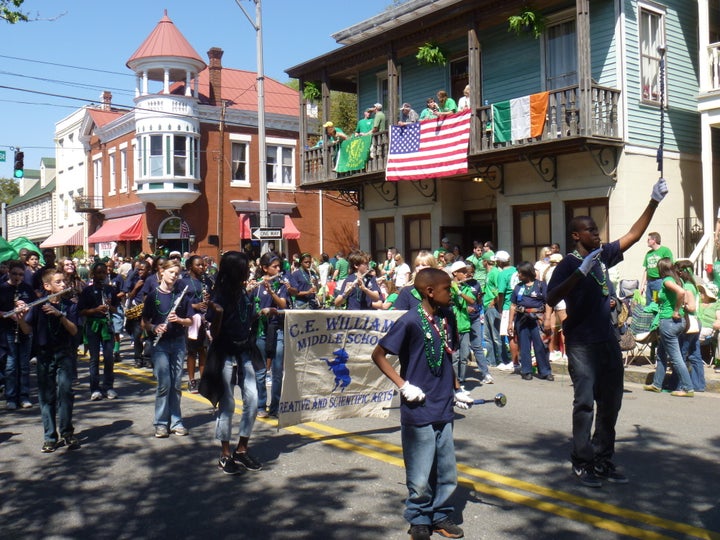 Braeden Kershner's life has always been defined by music.
Growing up in South Carolina, he started off playing the French Horn, quickly moved on to the flute, and by the end of high school, he could pretty much play every instrument in the orchestra. "At least a little bit," he told HuffPost. "I wasn't a virtuoso or anything."
Kersnher remembers adjusting his scrambled TV as a kid to watch the Boston Pops play their nationally televised July 4th concert. Their young, dynamic conductor, Keith Lockhart, always mesmerized him.
"Keith took that kind of music and made it fun for me," Kershner told HuffPost. "I really wanted to be like him."
One day in high school, the self-proclaimed "band nerd" saw an ad proclaiming any Boston Pops fan who donated $10,000 to the group could become a guest conductor for a night.
Almost immediately, Kershner remembers, he sprung into action. He took on eleven -- count 'em -- different jobs to try to raise the money himself. He mowed lawns, tutored, delivered pizzas and cleared tables at a restaurant. He held car washes and self-made contests. He busked with a saxophone on the street.
"The whole thing was so rewarding for me," Kershner said. "I would definitely do it all over again."
Though he only managed to raise $5,000, the Boston Pops heard about his story, and not only let him guest-conduct when they came to South Carolina, but also returned the money back to Braeden to use for his college education.
After that experience, Kershner was all set to attend the Vandercook College of Music in Chicago, but found himself sidetracked when a friend asked him to tag along to a local military recruitment center.
"The Marines totally snagged me," Kershner recalled. "I went into all the recruiting spaces –- navy guys, army guys, they all gave me informational pamphlets. But the Marine guys shrugged me off. They said, 'you can't handle this.' So that makes any adolescent guy go, 'yes I can.'"
Kershner served in the Marines for 4 years, stationed all around the United States. He was never sent overseas. When he left, he opened a t-shirt shop in a local South Carolina mall. He wasn't sure what exactly he wanted to do, but he missed music every day, and knew he wanted to get back into it.
So Kershner used that Boston Pops money and headed off to Southern Wesleyan University, where he earned a degree in music education. When he returned to South Carolina, he started teaching band at Stall High School, where he quickly became a favorite of the students. He even started a extracurricular mariachi band at the school, raising $1,500 for the hard-to-find instruments (how much is it for a vihuela, again?).
Today, Kershner is a new father, living with his wife, Leah, and teaching at C.E Williams Middle School in the Charleston County School District. When he conducts, he closes his eyes and feels endlessly fortunate that he's able to do what he loves every single day.
"I'm going to retire doing this," Kershner said. "To watch the kids dress up for their first recital, see the look in their eyes when they play their instruments -- it's amazing. I hope you get as much satisfaction out of your job as I do."
Calling all HuffPost superfans!
Sign up for membership to become a founding member and help shape HuffPost's next chapter