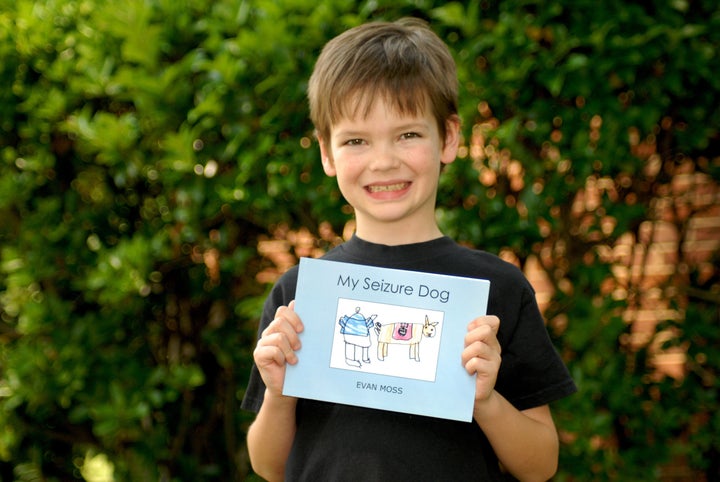 Evan Moss's story is one of those inspirational stories that makes one stop what he or she is doing and marvel at the strength of will some children display.
Evan started having seizures within his first month of life. By the time he was 4-years-old, he was having 300-400 seizures a month. Every day, the normal activities of a toddler would be interrupted about 10-15 times by epileptic seizures.
At the time, his parents Lisa and Rob Moss made the difficult decision for Evan to undergo brain surgery. "I remember thinking, we're making this decision for another person, and he can't even have any say in it," Lisa told The Huffington Post. Evan left the hospital seizure-free, and enjoyed a two-year respite from seizures.
That good fortune would prove not to last. Now, Evan is 7 and suffers from about 3-4 seizures a month. "He seems to be on a cycle where roughly every 8 to 10 or 12 days, he has a seizure. They always happen in his sleep, and last a long time," Lisa said. "They start very quietly, and we can usually tell because he sleeps in between my husband and I, and one of us always has one hand on him."
In an attempt to provide Evan with more security and independence, the Moss family has embarked on an ambitious project. They asked Evan if he wanted to write a book that could help them fundraise the $13,000 needed to get a seizure dog that would come alert Evan's parents if he was having a seizure.
Evan always enjoyed writing, Lisa said. His favorite activity in school was the "writing center," where students were handed pieces of paper stapled together into makeshift books. "By the end of the year, we had a stack of Evan's books about 9 inches high," she said.
As part of the extensive process of applying for a seizure dog, the organization tries to ensure that the student actually wants a dog. They ask for a letter or drawing from the child, and Lisa said Evan was eager to write a book instead.
Once Lisa and Rob showed the book to family members, an idea came to her. She scanned the drawings and typed up the text -- which Evan had written himself -- into a word document and eventually self-published the book on Create Space, a web publishing outlet owned by Amazon.
The end product, "My Seizure Dog," is a cute book that could do well as a gift for parents and children looking for inspiration. Younger children could read the book as a window into a life of a peer that's facing serious struggles, and parents will likely feel their heartstrings tugged by Evan's sincerity and willingness to take his fundraising and health into his own hands.
Lisa says when most people have seizures, the episodes resolve on their own or they come out of them relatively quickly and have to recover. But in Evan's case, he doesn't come out of them on his own. "After a seizure lasts 5 minutes or longer, it's considered dangerous and that's when medical attention becomes necessary. Evan's always last longer than 5 minutes, so we're constantly administering emergency medication -- sometimes two doses."
The seizures Evan experienced prior to surgery were quick and relatively low-key. He wouldn't lose consciousness, and Lisa says that sometimes someone standing next to him wouldn't notice. The seizures he has now, however, are far more serious, and it's not uncommon for the Moss family to call 911.
"We have a very nice relationship with the EMTs that respond," Lisa said. "The crew has been here before and they understand what we're dealing with."
When asked if Evan understands his health issues, Lisa said that she thinks so. "Evan has a pretty good understanding of it, and we've also created a website to track Evan's seizure activity. I'm also on the board of directors for the National Epilepsy Foundation. As a result of these activities, we attend a lot of family conferences, walks and events, so he knows other kids have it and he's very open about it," she told The Huffington Post. She added, "He'll run right up to people with dogs and tell them, 'I'm getting a dog that will tell my parents when I have a seizure!'"
Evan's condition hasn't only affected his life. His father, Rob, is a photographer, but he's minimized his work in order to be with Evan as much as possible. Lisa, who was a photo editor at AOL for many years, says it's a hard balance for everyone in the family. "We joke that his 9-year-old sister, Aria, knows more about epilepsy than most adults," she said. "Sometimes I think I worry more about Aria than Evan, because we know what we're dealing with with Evan, but sometimes I worry more about Aria and how it's going to impact her, having lived this life with a sibling with a chronic medical condition. That's something we try really hard to balance, but I don't know if you ever really can."
"The first thing we do when we travel is go meet the local emergency response team and give them a heads-up," she added. "We've spent holidays in the hospital, birthdays in the hospital, and it changes a lot. These are things neither of them should have to deal with."
The family is holding on. Lisa sounds upbeat and determined on the phone, and reports that Evan is cheery -- especially after he recovers from a seizure. "He's in the absolute best mood you can imagine after he gets up after having slept off medication after a seizure," she said. "He feels like he's on top of the world. Rob and I will be a mess, but he's singing and walking through the house and getting some cereal."
"But there's a reason we're [fundraising and getting Evan a seizure dog]," she said. "Evan sleeps with us, and we're not sure how much longer that's going to be ok."
For now, they are parents sleeping half-awake, with one arm resting on their son, hoping he enjoys a night uninterrupted by a visit from paramedics.
WATCH: See Evan And His Family Tell His Story
Follow the Moss family on their blog. If you'd like to buy Evan's book, you can do so here. For general donations, please visit this page.
Calling all HuffPost superfans!
Sign up for membership to become a founding member and help shape HuffPost's next chapter