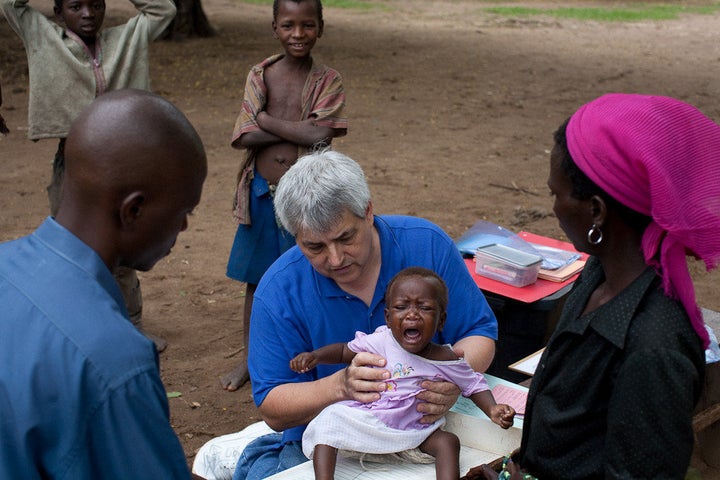 Though he now leads a major nonprofit organization dedicated to serving malnourished children in one of the world's most impoverished regions, Dr. Mark Manary insists he's more of a go-with-the-flow type of guy rather than someone who strategically thinks ahead.
"I'm not a person who makes life-long plans," the Washington University pediatrics professor, who has been working in Africa since 1985, told The Huffington Post. "I'm the type of person who tends to respond to what the biggest problem is rather than what I can bring to the table. I'm all about getting over and through the current roadblocks."
If Project Peanut Butter, Manary's Malawi-based organization, is indeed the result of spontaneous thought, perhaps many of us would also benefit from thinking more intuitively. Founded in 2005 by Manary and his wife, Mardi, Project Peanut Butter takes a unique approach to treating malnutrition in Malawi: rather than importing resources from abroad that require distribution in a facility, the organization's team creates a "Ready To Use Therapeutic Food" (RUTF) that can be served to children at home.
As the organization's name suggests, the RUTF used by Manary and his team is a high-calorie, peanut butter-like mixture of nuts, powdered milk, oil, sugar and additional vitamins and minerals called "chiponde." According to the doctor, the home therapy model quickly proved drastically more effective that previous efforts, with 80 percent of the treated children reaching their weight goal after just 12 weeks -- partly because it did not compromise a mother's ability to care for her family by forcing her to seek care away from her home and her community.
"Malawi is a place that typifies poverty," said Manary, who first visited the country in 1994 after stints in Zimbabwe. "These are kids who are looking at a two-thirds chance of dying… A home-based therapy made so much sense."
Still, Manary said he and his team faced significant challenges shortly after Project Peanut Butter's inception -- particularly when they announced plans to employ local Malawians to produce chiponde rather than having the food and other supplies flown in from outside sources. "Initially, the medical community thought we were reckless and dangerous," he recalled. "When we started, this was not embraced by anybody, and we met skepticism from a variety of corners. But in situations of chronic poverty, you're definitely going to get more mileage out of something you can embed in the local fabric."
Not only did producing chiponde locally cut costs, it also came with a special, if unexpected, benefit. "It became a local community endeavor," he said. "There was a certain amount of local pride [among Malawians] in being able to say, 'We treat malnutrition this way,' instead of 'they.'"
Now 55, the Michigan-born Manary, who now spends up to 11 months of his year in Africa and the remainder in St. Louis, says he always felt a draw toward humanitarian work. Still, he credits Mardi with suggesting the initial Africa move as a way to make a significant impact.
With Project Peanut Butter already a success in Malawi, Manary says he and his team are looking to expand their operations into Sierra Leone and Mali. A noble feat to be sure -- and yet the one who's the most modest is Manary himself. "A common question these days is, 'What do you like about this?' It's not that I like a problem more than others or I have a gift," he said. "My personal ambition is to fix malnutrition for kids in Africa, and I don't really have that type of opportunity in St. Louis."
For more information on Project Peanut Butter, click here.
Related
Popular in the Community