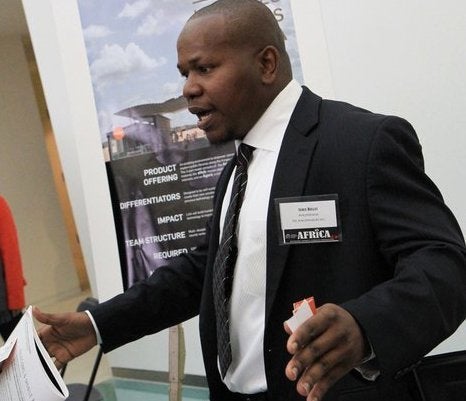 While speaking with Idris Bello and hearing about his numerous accomplishments, one begins to feel a bit lazy in comparison. Though he only just graduated from Rice University's business school, Bello has amassed a laundry list of awards and fellowships that barely fit on one page.
But for this self-proclaimed "Afropreneur," the grants and awards are only the tip of the iceberg. Bello has also been instrumental in creating a staggering number of organizations that aim to make Africa more self-sufficient, a goal he has had since he arrived in the U.S from Nigeria to attend the University of Houston in 2004.
There's the Next Cool Idea program, which funds unique proposals from Rice students and alumni, the Wennovation Hub, which supports West African startups and small businesses, and AfyaZima Africa, which Bello co-founded to provide sustainable health technologies for the developing world.
"I do a lot of things," Bello said, laughing as he acknowledged his hectic schedule. "But I'm lucky enough to have these opportunities, so I give back. You have to give back."
For Bello, who lost two of his siblings to health problems when he was very young, the chance to "give back" to Nigeria and the African people never used to be an option. From the moment he arrived in the U.S., he knew he'd be working toward that goal. But a recent project has hit especially close to home.
"My father was a university librarian," Bello said. "And I remember growing up he always said, 'Never get caught without a book.'"
When two Rice architecture students, David and Rachel Dewane, came to Bello with the idea for Libraries Across Africa, they weren't aware of the personal connection it had for him.
"They had no connection with Africa, no business experience, and they came over to the business school to look for people who might know how to do business in Africa," Bello said. "I knew what life was like at most of the libraries over there, [with] just one textbook for thousands of students in a reference section."
The goal of the program was simple: "empower individuals through access to information." By establishing low-cost infrastructure for libraries and connecting people directly with computer training, even the poorest communities can become more self-sustaining.
The team drummed up a plan and a mission statement, and took its proposal to business competitions across the country to try to raise the necessary funding.
"Right now, less than 10 percent of Africans have access to the internet," Bello said. "Africa's problems will not [be] solved by governments. There is a new wave of young men and women, and they will be enabled by more global networks."
Bello explained that there's not always an easily accessible location for young Africans to meet and discuss ideas, to utilize everything people in the U.S. take for granted on the Web. These libraries can also serve as their de facto "Starbucks," or their "FedEx Kinko's," as he put it. Africans need to become more self-sustaining, and should be fully aware of the world outside their own villages, he said.
"A lot of U.S. future enterprises depend on Africa," Bello said. "Many people don't realize that it is all intertwined -- good health, businesses, and education."
Bello is adamant that the last thing Africa needs is more monetary support. "Africa does not want aid anymore! Aid is great, you give aid, a very small percentage goes to the people, the rest goes somewhere else."
"People need to be independent," he said. "Africa is ready to solve their own problems."
Bello is also involved in a program that seeks to develop mobile apps for small businesses in Nigeria, and another that enables doctors to do lab tests in malaria-stricken communities without a stable power supply. And the Libraries Across Africa program just won a $10,000 grant from the Dell Social Innovation Competition.
"Africa needs support, they need partnership," Bello said. "We must empower them."
Watch a video about Libraries Across Africa's mission below:
Related
Popular in the Community