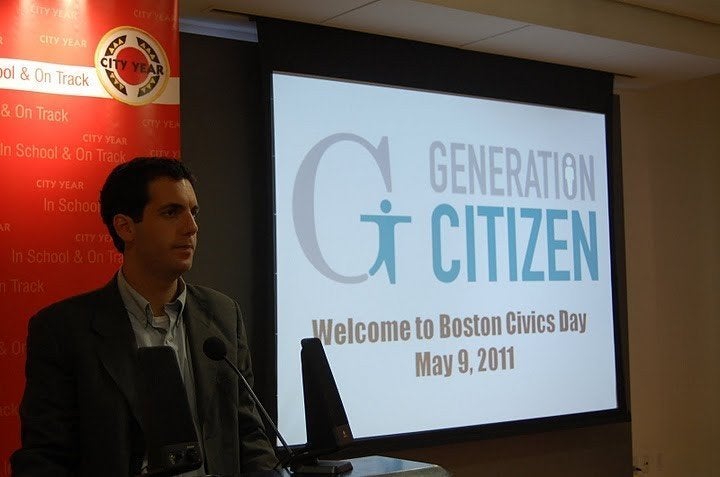 A passion for both activism and global affairs came naturally to Scott Warren, who lived throughout Latin America and Africa growing up. Finding like-minded peers who were equally as interested as he was in the political process, however, was more of a challenge.
Warren's hope of engaging young adults in civic affairs is what partly inspired Generation Citizen, an organization which aims to "expand democratic participation among youth populations that have been historically under-represented or excluded from the political process," according to its website. Founded in 2008, Generation Citizen hopes to encourage high school students -- specifically those in low-income, inner city classrooms -- to be not only more aware of the issues in each of their respective communities, but also more inspired to make a difference.
"If you look at the political debate in this country right now, it's nowhere near as rich or as informed as it should be," says Warren, Generation Citizen's executive director and recent graduate of Brown University who now resides in New York. "There are a lot of debates in this country that go on without everyone at the table...and I just sought a way to figure out how to get more young people involved in that process."
Warren co-conceived the project in 2008 when, along with a team of Brown volunteers, he began to implement what he describes as an "action civics" curriculum to students in four high schools in downtown Providence, R.I. Schools were chosen if more than 50 percent of their student bodies received free or reduced lunch -- a typical indicator of poverty, Warren says-- and the program began having students investigate and stage mock debates on local issues including gang violence, public transportation, nutrition and teen pregnancy.

Take a look at photos of Generation Citizen events, and then scroll down to keep reading:
PHOTO GALLERY
Generation Citizen
"These were young people who had, until then, never been told that their voices matter," says Warren, who previously served as the National Student Director of STAND, a national student anti-genocide coalition during his days at Brown. "They were not as invested as they could've been in their schooling because they didn't think their voices matter."
Though Warren and his team encountered more than their share of challenges along the way -- "Not every classroom works amazingly, and the way the curriculum works, mindsets don't change overnight," he says-- the idea turned out to be a hit, and Generation Citizen's expanded group of college-age mentors now work with over 100 students in Providence, Boston and New York. The program will continue to grow in the coming year with programs in each of New York's five boroughs, Warren says.
And Generation Citzen's impact has already gone beyond the classroom -- one group of Providence students recently organized a successful campaign to get a state representative to introduce a legislation that allowed residents to include food bank donations as a tax write-off.
And last year, Warren was rewarded for his efforts with an Echoing Green Fellowship, which recognized Generation Citizen as one of the 20 most promising social entrepreneurial organizations in the world.
Still, Warren has even larger plans for Generation Citizen, which include taking the organization to a national level. "This is a national problem and we see ourselves as a national solution," he says. "There are always going to be some students who are sitting in the back of a classroom and texting -- and those are the most important for us to reach."
For more information on Generation Citizen, click here.
Calling all HuffPost superfans!
Sign up for membership to become a founding member and help shape HuffPost's next chapter