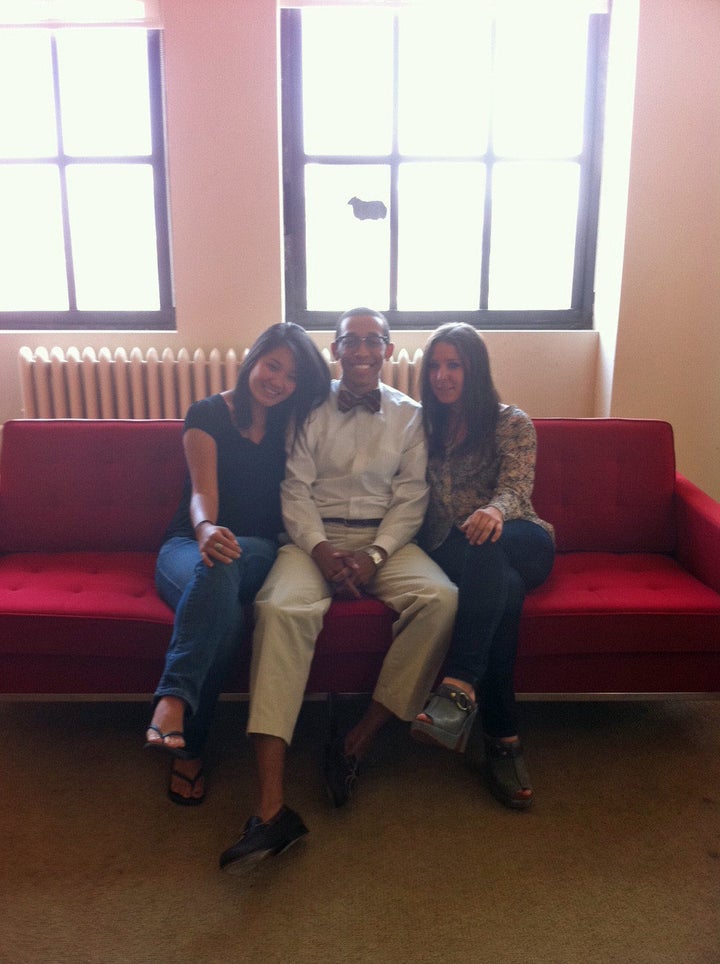 If typical internship activities include filing and making coffee, Stephanie Krivitzky's 10 weeks with the BBH Barn were anything but orthodox.
The 22-year-old native of Montclair, N.J., dreamed up The Social Tattoo Project with fellow interns Jenn Huang and Haywood Watkins III. The three were tasked with a very brief mission: "Change perception famously."
"We wanted to focus on changing perception, because we figured if we had a good idea we'd become famous anyway," Krivitzky told The Huffington Post. They decided to focus on apathy and the expiration of empathy. Noticing that issues that remained pressing, such as the humanitarian crisis unfolding in Haiti, were no longer a part of the American consciousness, they set about finding a way to create a sense of permanent concern. The first five topics they chose to center on were the aftermath of Haiti's earthquake, the Japan earthquake and tsunami, the Norway bombings, human trafficking and poverty.
Once the topics were chosen, the group sought out volunteers who would agree to get a tattoo that they had never seen. The tattoos would serve as a permanent mark of empathy for the victims of the five crises.
If you're thinking it's an odd idea, you're not alone. "We're shocked because this is such a crazy social experiment," Krivitzky said. "I can't believe people want to get tattoos they don't know the content of."
She said BBH, a leading advertising agency, created the internship as a way to grow new ideas and provide younger workers familiarity with the agency while providing a breath of fresh air for the rest of the employees.
The Social Tattoo Project has inked five people, the themes of which were selected via voting on Twitter when followers would use hashtags to vote for a subject and the most popular subject would be the focus of the next tattoo. These tattoos cost them the entirety of their $1,000 budget from BBH. Sacred Tattoo in New York City provided the group with a 50 percent discount, which Krivitzky said saved the project.
The most interesting volunteer story, Krivitzky said, was that of Ulises, a martial arts instructor from Harlem who was selected -- unbeknowest to him -- to receive a tattoo commemorating the shootings in Norway. "The first three volunteers were super happy and excited and the trend they wanted to win did, but when it came to the fourth, we didn't tell [Ulises] the topic until we got to the shop."
That's when things got interesting. It turned out that Ulises didn't know anything about the shootings at a kids' camp and bombing in Norway. "His first reaction was a bit of shock and nerves -- the first thing he said was 'I don't even have my own flag on my body,'" Krivitzky told The Huffington Post. "We thought we might have our first dropout, but he decided to commit and while he was getting the tattoo he projected the tragedy on his own life, imagining what it would be like if someone opened fire in his own classroom."
Watching Ulises get his tattoo convinced the team that they had a good idea. "He went from no knowledge of the tragedy to an ambassador for it -- and that's exactly what we were trying to do," Krivitzky said.
Though the internship is over, the three aren't letting The Social Tattoo Project die. "We have over 30 people who want to commit and volunteer for this and pay for their own tattoos," Krivitzky said. "It's a great way to represent the visual concerns of a larger community, so we don't need to really do it ourselves. It was always our intention that it would go from being a project to a social movement, and I'd say we're already on our way there."
Popular in the Community