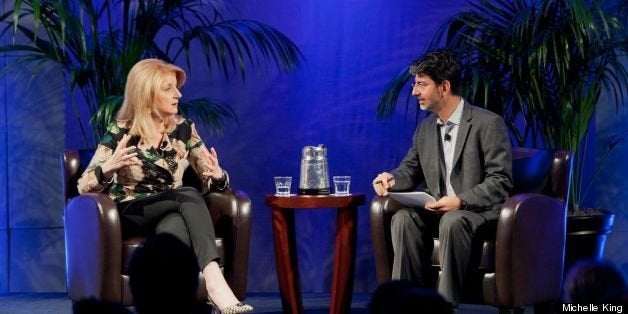 NEW YORK CITY AND HONOLULU - May 29, 2013 – The Huffington Post and Honolulu Civil Beat today announced a partnership to create HuffPost Hawaii, a site that will bring together the resources of The Huffington Post and CivilBeat.com. The new site, expected to launch this fall, will give a global audience access to the wonders of one of the world's most famous destinations and the authentic community of Hawaii, including its Aloha spirit. The site will explore Hawaii as an oasis for unplugging and recharging. It will also offer Hawaii residents local news and perspectives, along with Pulitzer Prize-winning national and international coverage.

Arianna Huffington, chair, president, and editor-in-chief of The Huffington Post Media Group, joined Pierre Omidyar, publisher and CEO of Civil Beat to make the announcement.

"When we look at Hawaii not just as a postcard, but as a community and a home, we see a split-screen," said Arianna Huffington. "On one hand, Hawaii is one of the world's major tourist destinations. Nearly 8 million travelers visited last year, a huge increase from the lean years of the recession. At the same time, with tourism dominating the economy, there's also a need to diversify and bring more higher-paying jobs to the state. HuffPost Hawaii will be telling the stories on both sides of the screen, spotlighting what is working and what isn't, and inviting Hawaii locals to tell the stories in their own voices."
Civil Beat will expand to manage the new HuffPost Hawaii site, while continuing to run CivilBeat.com as a standalone local news site.
"The Huffington Post is a perfect match for Civil Beat. They will bring new content to local readers through HuffPost Hawaii while we will focus even more deeply on what we started three years ago at CivilBeat.com - public affairs and investigative journalism," said Omidyar. "Our mission of creating a vibrant civic square and bringing more international and national perspectives aligns well with the Huffington Post's vision. At HuffPost Hawaii we will work together to provide a platform for ongoing conversation among those who live in and care about Hawaii, visitors, and the world, with the islands' distinctive voice at the center."
The Huffington Post will use all the tools of its multimedia platform to tell the most important stories about Hawaii and -- just as important -- help people in Hawaii share their experiences. Readers can expect a range of features, from slideshows of Hawaii beaches, guides to local attractions, and reporting on the state's schools and robust military community to blog posts from local residents on politics, food, fashion, sports, religion and more. HuffPost Hawaii follows the launch, earlier this month, of HuffPost Japan, and the new site will benefit from a partnership with our Japanese editorial team at a time when Japanese tourism to Hawaii is on the rise.

About Honolulu Civil Beat
Honolulu Civil Beat is Hawaii's largest news organization dedicated exclusively to civic affairs journalism. CivilBeat.com is where you can learn about, understand, debate and discover the important issues facing our community. CivilBeat.com was launched in May 2010 and has now expanded to include a partnership with The Huffington Post to create HuffPost Hawaii (launching fall 2013). Civil Beat was co-founded by Pierre Omidyar and Randy Ching. Omidyar serves as publisher and CEO of Civil Beat, and is an entrepreneur, philanthropist, and technologist best known as the founder and chairman of eBay. To learn more about Civil Beat, please visit civilbeat.com.
About The Huffington Post
The Huffington Post is a Pulitzer Prize-winning source of breaking news, features, and entertainment, as well as a highly engaged community for opinion and conversation. The Huffington Post has 75 million monthly unique visitors from across the globe (comScore April, 2013) posting over eight million comments each month. The site has over 40,000 bloggers -- from politicians, students and celebrities to academics, parents and policy experts -- who contribute in real-time on the subjects they are most passionate about. The Huffington Post has editions in the UK, Canada, Quebec, France, Spain, Italy and Japan.
Related
Popular in the Community