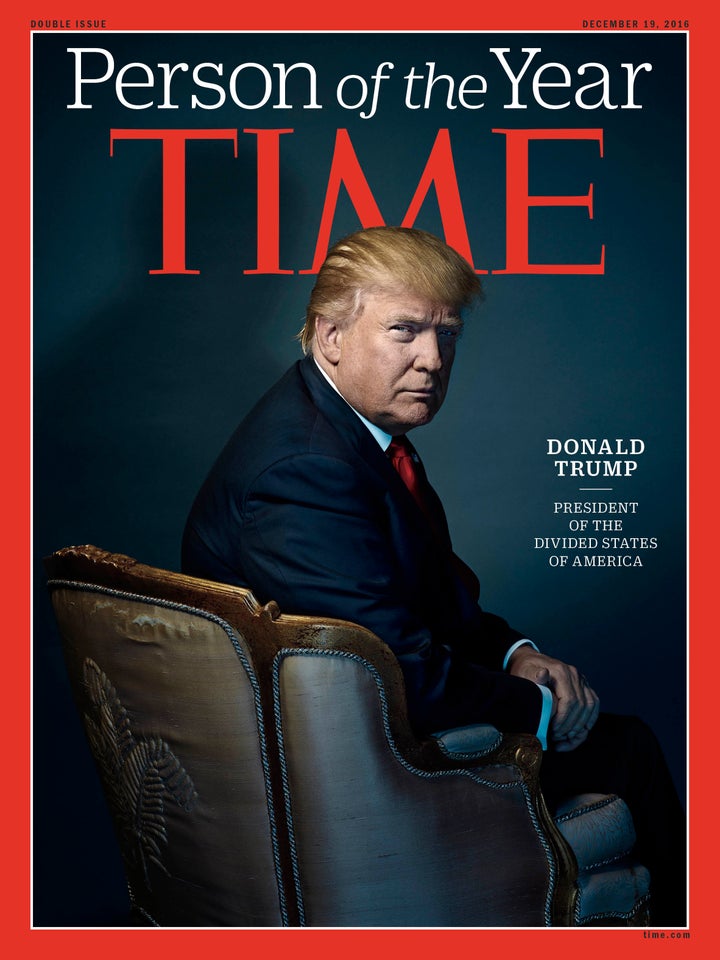 Like what you read below? Sign up for HUFFPOST HILL and get a cheeky dose of political news every evening! 
Time magazine named Trump its "Person of the Year," a nod to the rise of online bullying and internet trolls in American culture. The FBI is investigating a Huffington Post editor over a Twitter joke, since apparently Hillary Clinton had been keeping agents busy and oh wow, reporters are really screwed now. Trump chose Linda McMahon to head the Small Business Administration, so expect a big roll of red tape to be the heel at SummerSlam next year. This is HUFFPOST HILL for Wednesday, December 7, 2016:
YOU KNOW WHO ELSE ETC. ETC. - Donald Trump is Time's Person of the Year: "For all of Trump's public life, tastemakers and intellectuals have dismissed him as a vulgarian and carnival barker, a showman with big flash and little substance. But what those critics never understood was that their disdain gave him strength. For years, he fed off the disrespect and used it to grab more tabloid headlines, to connect to common people. Now he has upended the leadership of both major political parties and effectively shifted the political direction of the international order. He will soon command history's most lethal military, along with economic levers that can change the lives of billions. And the people he has to thank are those he calls 'the forgotten,' millions of American voters who get paid by the hour in shoes that will never touch these carpets ― working folk, regular Janes and Joes, the dots in the distance." [TIME]
"WHO, ME?" - Man, come on. New York Times: "In an interview with Time for its person of the year issue, and a follow-up with NBC's 'Today' show, Mr. Trump talked tough. He insisted he has nothing to do with the 'divided states of America' that Time says he will lead. 'When you say divided states of America, I didn't divide them,' he told NBC. 'I'm not president yet, so I didn't do anything to divide.'" [NYT]
The FBI is investigating HuffPost's Nick Baumann for a joke he made on Twitter. HuffPost Hill is a little sad our jokes aren't funny enough to merit throwing the entire weight of American law enforcement behind stopping them.
TRUMP'S SLOW-MOTION MILITARY COUP CONTINUES - These generals going to be surprised when they find out civil servants don't follow orders the way soldiers do. Elise Foley and Jessica Schulberg: "President-elect Donald Trump plans to nominate retired Marine Gen. John Kelly, a border hawk and yet another general, as his secretary of the Department of Homeland Security, multiple news outlets reported on Wednesday…. The selection of Kelly, a recently retired four-star general, to head the Department of Homeland Security, would add to the growing concern that Trump is increasingly filling his Cabinet and top advisory positions with generals ― particularly ones that clashed with President Barack Obama…. Trump has already nominated  retired Lt. Gen. Mike Flynn as his national security advisor and Gen. James Mattis to serve as Defense Secretary…. he president-elect is also reportedly considering retired Gen. David Petraeus and Adm. James Stavridis for Secretary of State." [HuffPost]
Iowa Gov. Terry Branstad (R) is Trump's pick for ambassador to CHI-na.
SECRETARY OF JABRONIS POSITION REMAINS VACANT - Next up: Dale Jr. for U.S. Trade Representative. Steve Holland: "U.S. President-elect Donald Trump said on Wednesday he will nominate professional wrestling magnate and former Senate candidate Linda McMahon as his choice to head the Small Business Administration…. McMahon, 68, is a co-founder and former CEO of the professional wrestling franchise WWE, which is based in Stamford, Connecticut. She ran unsuccessfully for a U.S. Senate seat in Connecticut in 2010. She was an early supporter of Trump's presidential campaign." [Reuters]
A WEE BIT TOO LATE, MR. PRESIDENT - W.J. Hennigan and Michael A. Memoli: "President Obama secretively built a massive counterterrorism apparatus, and now he's confronting the consequences of expanding his war-making powers: handing them over to a man he said was unfit to serve as commander in chief. With President-elect Donald Trump weeks away from inheriting them, Obama has taken a new approach, advocating for limits and transparency that he often was content to do without…. Advocates of greater transparency welcomed Obama's gesture, but expressed concern at the precedent he set by continuing to assert his authority for expanded counterterrorism operations under the broad authorization for the use of force that Congress passed after 9/11, years before Islamic State and other terrorist groups even existed." [LA Times]
Like HuffPost Hill? Then order Eliot's new book, The Beltway Bible: A Totally Serious A-Z Guide To Our No-Good, Corrupt, Incompetent, Terrible, Depressing, and Sometimes Hilarious Government
Does somebody keep forwarding you this newsletter? Get your own copy. It's free! Sign up here. Send tips/stories/photos/events/fundraisers/job movement/juicy miscellanea toeliot@huffingtonpost.com. Follow us on Twitter - @HuffPostHill
TRUMP MUST HAVE TONS OF ROLLOVER MINUTES HE WANTS TO BURN THROUGH - Imagine Ronald Reagan doing this. Arthur Delaney: "President-elect Donald Trump has asked his chief of staff to get him a list of every American company that has plans to shift production to another country. 'Hey, Reince, I want to get a list of companies that have announced they're leaving,' Trump said to Reince Priebus last week in the middle of an on-the-record interview with Time magazine that was published on Wednesday. 'I can call them myself,' Trump said. 'Five minutes apiece. They won't be leaving. O.K.?' … If Trump is going to spend five minutes on the phone with every CEO of every company that's planning to shift production abroad, he's going to be on the phone for many hours, because Carrier's case is not at all unusual." [HuffPost]
MEDISCARE FITS DEMOCRATS LIKE A COMFY OLD SWEATER - Congressional Democrats really, really, really want Republicans to try cutting Medicare benefits. Daniel Marans: "Top Democrats spoke at a Wednesday press conference on Capitol Hill to warn President-elect Donald Trump and the Republican Congress against privatizing Medicare. It is not yet clear whether Trump has the same appetite as House Republicans to take on transforming the massive health care program for seniors and people with disabilities. But Democrats are not waiting for him ― or their congressional colleagues ― to make the first move, and vowed on Wednesday to hang any benefit cuts around the candidate's neck like a millstone….'Democrats will not let them win this fight,' [New York Democratic Sen. Chuck Schumer] said. 'I say to my Republican colleagues: Turn back, because we will fight you on this tooth and nail. We will win, you will lose.'" [HuffPost]
NOTHING TRUMP SAYS MEANS ANYTHING: IMMIGRATION EDITION - Mr. Build-The-Wall now wants to come across like Mr. Those-Unfortunate-People. Elise Foley: "President-elect Donald Trump says he's 'going to work something out' with regard to Dreamers, the undocumented young people he promised for his entire campaign to strip of work authorization and protections. What does that mean, exactly? There were no clues in an interview with Time magazine for its 'Person of the Year' coverage, published Wednesday. 'I want Dreamers for our children also,' Trump told Time. 'We're going to work something out. On a humanitarian basis it's a very tough situation. We're going to work something out that's going to make people happy and proud. But that's a very tough situation.'" [HuffPost]
GOOD NEWS FOR THE INHALER INDUSTRY - Prediction: Pruitt will allow drilling for oil on the faces of teenaged boys. OIL! OIL! Kate Sheppard: "President-elect Donald Trump has picked Oklahoma Attorney General Scott Pruitt to serve as the head of the Environmental Protection Agency, Reuters reported Wednesday. Pruitt has been a vocal critic of EPA regulations and defender of fossil fuel interests. Lawyers for Devon Energy, one of his state's biggest oil and gas companies, authored a letter Pruitt sent to the EPA criticizing estimates on emissions from natural gas drilling sites, The New York Times reported in 2014." [HuffPost]
THIS MUST'VE BEEN A REAL RUDE-A-THON - By rights, Rahm Emanuel and Donald Trump having a chat should have created a singularity that swallowed the universe. John Byrne and Hal Dardick: "Mayor Rahm Emanuel and President-elect Donald Trump discussed Chicago's status an a sanctuary city for undocumented immigrants during a phone conversation since Trump's election win last month, Emanuel said Monday. The mayor said Trump called to talk about the White House transition. Emanuel tried to walk the line between honoring the privacy of the chat and letting Chicagoans know he stood up to the president-elect for the city's values." [Chicago Tribune]
STUNNING THAT JILL STEIN'S EFFORTS ARE AMOUNTING TO NOTHING - The queue for donation refunds begins to your right. Paul Egan and Kathleen Gray: "The Michigan Court of Appeals ruled Tuesday that the Board of State Canvassers never should have allowed a recount requested by Green Party candidate Jill Stein to proceed, because she has no chance to overturn the result of the presidential election in her favor and is not an aggrieved candidate. The panel ordered the board to 'reject the Nov. 30, 2016 petition of candidate Stein that precipitated the current recount process.' … Mark Brewer, an attorney for Stein, said the U.S. 6th Circuit Court of Appeals refused to stay the Republicans' request to stop the recount, so it will continue until all the parties can get back to federal court to plead their case, again." [Detroit Free Press]
NEVER HAVE SEX IN OHIO - Laura Bassett: "Ohio's Republican-led House and Senate passed legislation Tuesday night that would ban abortions as soon as a fetal heartbeat can be detected― as early as six weeks into a pregnancy.... If it's passed into law, physicians could face a year in prison if they perform an abortion after a heartbeat is detected or if they fail to check for one before a procedure. The measure is the most extreme abortion restriction in the country, effectively banning the procedure before most women even realize they're pregnant, pro-abortion rights advocates said." [HuffPost]
Oh, hey, the man who sponsored the abortion bill allegedly assaulted his wife.
PAUL RYAN IS SO, SO THIRSTY FOR TAX CUTS - Remember when he wanted to deny President Hillary Clinton security clearance or whatever? Nolan D. McCaskill: "House Speaker Paul Ryan is unbothered by President-elect Donald Trump's business conflicts. The Wisconsin Republican has no qualms about Trump's potential conflicts of interest with Trump's vast business empire, advising him to handle them 'however he wants to.' 'This is not what I'm concerned about in Congress,' Ryan said Wednesdayduring an interview on CNBC. 'I have every bit of confidence he's going to get himself right with moving from being the business guy that he is to the president he's going to become.'" [Politico]
IF YOU LIKE YOUR PLAN, GO F*** YOURSELF - Train wreck! Train wreck! Jonathan Cohn: "Republicans who think their 'repeal and delay' strategy for Obamacare won't cause serious and immediate insurance disruptions should read a new report that came out early Wednesday morning. The report, from the nonpartisan Urban Institute, predicts that state insurance markets will start to unravel almost immediately and that, as early as next year, the ranks of the uninsured will begin swelling. And if Republicans can't come up with a replacement, the report says, the number of people without insurance could eventually rise by 20 million to 30 million people." [HuffPost]
CONGRESS PASSED A HEALTH CARE BILL! - No, not that one. Jennifer Steinhauer and Robert Pear: "The Senate approved complex health care legislation on Wednesday that would increase funding for disease research, address weaknesses in the nation's mental health systems and vastly alter the regulatory system for drugs and medical devices. The vote sealed a final legislative victory for President Obama, who strongly supported the bill against objections from many liberal Democrats and consumer groups." [NYT]
POPE PANS POOPY PRESS - In case you wondered, the Latin word for "excrement" is "stercus." Philip Pullella: "Media that focus on scandals and spread fake news to smear politicians risk becoming like people who have a morbid fascination with excrement, Pope Francis said in an interview published on Wednesday…. 'I think the media have to be very clear, very transparent, and not fall into - no offence intended - the sickness of coprophilia, that is, always wanting to cover scandals, covering nasty things, even if they are true,' he said. 'And since people have a tendency towards the sickness of coprophagia, a lot of damage can be done.'" [Reuters]
BECAUSE YOU'VE READ THIS FAR - Someone is selling a human saddle. It's for kids, don't be gross.
OUR NEW BOSS IS REALLY SUPER AND GREAT AND PROBABLY SMELLS NICE -We have every confidence Lydia Polgreen will agree with us that HuffPost Hill is the most important and intellectual voice in politics, and that fart jokes are essential to democracy. Michael Calderone: "Lydia Polgreen, a New York Times associate masthead editor and editorial director of NYT Global, has been named editor-in-chief of The Huffington Post. Polgreen, 41, will succeed Arianna Huffington, the news site's namesake co-founder who left the company in August to launch Thrive Global, a company and website focused on health and wellness.In an interview, Polgreen said it was difficult leaving the Times, where she spent nearly 15 years, but that the role at HuffPost was a 'once-in-a-lifetime opportunity.'" [HuffPost]
COMFORT FOOD
- Here's how much it would cost to power Clark Griswold's holiday lights in every state.
- A history of the completely benign, very old greeting "Happy Holidays.
- These people built an ark for their cat.
TWITTERAMA
@lindsaygoldwert: I want to make people laugh but I also want to inform. I don't want to infotain, I want laughacate!
@MollyOShah: Guys, I totally gave him a chance, but by season 2 The Apprentice really sucked and this season feels like the end of Dexter level bad
@pattymo: People have expressed concern with Trump picking Hexxus, the pollution monster from FERNGULLY, to run the EPA, but let's give him a chance
Got something to add? Send tips/quotes/stories/photos/events/fundraisers/job movement/juicy miscellanea to Eliot Nelson (eliot@huffingtonpost.com)
Calling all HuffPost superfans!
Sign up for membership to become a founding member and help shape HuffPost's next chapter