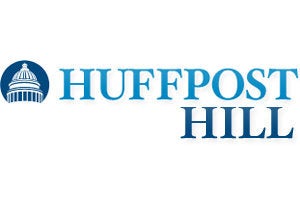 A lot of aggression today: Susan Collins put her foot down on financial overhaul. Photographers outnumbered armed protesters at gun rallies. Chuck Schumer is getting testy about filibustering, carry-on bags and a really narsty sandwich. Plus Eyjafjallajoekull roars on. It's Monday, April 19, 2010 and this is the maiden voyage of HUFFPOST HILL::
COLLINS FIRM ON REG. REFORM FILIBUSTER - After a Monday meeting with Treasury Sec Tim Geithner, Sen. Susan Collins says she'll filibuster Wall Street reform if it comes up this week, holding out hope for a bipartisan deal "over the next few weeks." http://bit.ly/b0s5AO
Exclusive: Reid spokesman Jim Manley tells HuffPost Hill there will be NO VOTE on a motion to proceed to debate the bill this week, as Reid had threatened, but there may be a cloture petition filed, setting up a showdown for next Monday.
RAHM WOOS WALL STREET - WaPo: "Rahm Emanuel...met privately on Sunday night with some of [New York City's] top investors... At a private cocktail reception at the Park Avenue home of investors Jane Hartley and Ralph Schlosstein, Emanuel joked about how each of the 60 guests should take a work of art home before speaking seriously about the administration's commitment to regulation reform. 'He was very forthright and frank,' said Sarah Kovner, a prominent Democratic donor who attended the meeting, but who would not discuss the details of Emanuel's remarks. 'He was citing the need for strong regulation.'" http://bit.ly/aLE9CU
OBAMA TO ATTEND MINE DISASTER MEMORIAL - Late afternoon Gibbs statement: "On Sunday, April 25, the President and Vice President will travel to Beckley, West Virginia, to participate in a memorial service for the miners lost in the tragedy at Upper Big Branch mine. President Obama will deliver a eulogy honoring the lives of those who perished and offering his deepest condolences to the loved ones they left behind."
GEITHNER, BERNANKE ON HILL TOMORROW - The House Financial Services Committee holds a hearing on the Lehman Bros. report that uncovered all sorts of shenanigans. Geithner, Bernanke, SEC head Mary Schapiro and the report's author, Anton Valukas, will all be on hand. Stick around for panel four: Dick Fuld, Lehman Brothers' disgraced CEO and Bill Black, an outspoken ex-regulator with a taste for blood who helped expose the S&L scandal, will be sitting on the same panel.
EXCLUSIVE: GAPS IN DODD BILL - Banks are combing Chris Dodd's Wall Street reform bill looking for holes they drive their clients through. One K Streeter sends HuffPost's Arthur Delaney over five pages worth that they've identified. If you're designated as a Farm Credit System, say, you're exempt from systemic risk regulation, don't have to keep skin in the game when selling securitized bundles of garbage and won't be overseen by the Consumer Financial Protection Agency. That and other cleverness here: http://bit.ly/9RRHqX
"Obtaining a carveout isn't rocket science," a Republican financial services lobbyist tells HuffPost Hill. "Just give Chairman Dodd and Chuck Schumer a shitload of money."
Rep. Brad Sherman (D-Calif.), never afraid to stomp on leadership toes, busts up the Dem message that the Dodd bill isn't a bailout: "The Dodd bill has unlimited executive bailout authority," he says in Politico's Arena. "That's something Wall Street desperately wants but doesn't dare ask for. The bill contains permanent, unlimited bailout authority." http://bit.ly/c5Q87h
SCHUMER VS. THE FILIBUSTER - The fight over the filibuster begins Thursday in Chuck Schumer's Rules Committee. Spokesman Brian Fallon tells HuffPost Hill that former Senate Parliamentarian Bob Dove and other procedure experts will testify on what changes Democrats can make to Senate rules to reduce filibusters beginning in January 2011.
Also, the airlines aren't digging Schumer's ban on fees for extra bags. He's meeting the CEO of Spirit Airlines Tuesday afternoon and then debating him on NBC's Today Show Wednesday morning.
EXCLUSIVE: GOLDMAN'S 'ABACUS' TERM SHEET - In an exclusive piece for HuffPost, the anonymous Wall Street insider known as 'Dear John Thain' scores a copy of one of the ABACUS transactions that landed Goldman Sachs in its current predicament http://huff.to/9CUpg0
FILIBUSTER BROKEN ON TREASURY NOMINEE - Much of this week's Senate floor time will be chewed up by confirmation fights. Democrats voted tonight to break a GOP filibuster of Lael Brainard to be the top Treasury official for international affairs. It's been a hell of a journey: she was nominated in March 2009. Her husband had it easier. Nominated in April 2009, he was confirmed to be an Assistant Secretary of State less than two months later.
Like so many nominees held up for months on end, when Brainard finally came up for a vote, it was overwhelming, 84-10.
Four more that Reid will try to muscle through: Christopher Schroeder, of NC, to be an Assistant Atty General and three judicial nominees, Thomas Vanaskie, Denny Chin, and Marisa Demeo. The nominees have been sitting unconfirmed for a combined four years and four months.
The objection to Demeo has come in unusually blunt terms. "Demeo's radical lesbianism, anti-marriage, anti-national security views are dangerous to our nation," the Traditional Values Coalition wrote in a letter to the Senate provided to HuffPost Hill. http://bit.ly/cs9P7O
FIRST LOOK: FLOTUS IN HAITI - Check out this new White House footage of First Lady Michelle Obama's visit to Haiti last week. http://huff.to/amWHgv
IRS JOINS HEALTH CARE FIGHT - The IRS is sending out more than four million postcards THIS WEEK to small businesses, alerting them to a health care tax credit they may be eligible for this year. House Dems plan to piggyback on the message and also remind voters that kids up to 26 years old will be able to remain on their parents' plans.
- Rahm Emanuel speaks with Charlie Rose about pirouettes, Chaines Turns and the unending pain he will visit on his enemies [PBS].
- Rep. John Dingell on the Daily Show, George Will on Colbert Report.
THE HILL's J.Taylor Rushing and Roxana Tiron report on subpoenas that Sen. Joe Lieberman will be serving over Fort Hood shooting... ROLL CALL's John Stanton preview a new Democratic strategy of vilifying Mitch McConnell, who has been the Dems' "chief antagonist over the past year."
WALL STREET THROW DOWN - Carl Levin thirsts for Blankfein blood. A Levin staffer tells Newsweek that the Senate Permanent Subcommittee on Investigations the Michigan Democrat chairs is gearing up for several high-profile hearings targeting members of Sachs' senior management. According to the aide, expect "another big shoe to drop on Goldman." http://bit.ly/cQChTx
This as word comes down that the SEC voted along party lines to press charges against the Wall Street behemoth: three Democrats voted Yes and two Republicans No. http://bit.ly/babG7E
Obama will talk tough about financial reform in New York Thursday. The President is scheduled to speak at Cooper Union, the same venue where he called for an overhaul of Wall Street two years ago during the primaries. According to Robert Gibbs, the President will demand "swift Senate action" on financial regulation. Sam Stein has it: http://huff.to/aQwrdy
Rep. Darrell Issa reax: "At the end of the day, all the theatrics and tactics in the world will not successfully divert the American people's attention away from the inescapable fact that the very people the Democrats are trying to blame for main street's problems are the same people that they gave a blank check to when they bailed them out with hundreds of billions of taxpayers' dollars."
SENATE (IN)FIGHTING - Many Senate Dems will be inwardly hostile and outwardly united as they circle the wagons on Wall Street reform. Roll Call's Emily Pierce outlines possible Senate leadership campaigns should Harry Reid lose his reelection bid. As Whip Dick Durbin and Vice Chair Chuck Schumer jockey to be top dog--neither willing to serve as the other's Whip--expect a series of pitched battles for lower leadership spots. Patty Murray, Bob Menendez and Debbie Stabenow are eying the number two spot. Sheldon Whitehouse, Amy Klobuchar and Stabenow are considering running for the Democratic Policy Committee Chairmanship. http://bit.ly/aiH7MZ
CRIST CRISIS - Charlie Crist is just trying to get INTO the Senate. The politically embattled Florida Governor is rumored to be considering an independent run for Senate to avoid an increasingly insurmountable primary challenge by Marco Rubio. Kos gives the deets and takes an I-told-you-so victory lap, reminding us he told Crist the only path to victory lay in switching parties almost a year ago. http://bit.ly/bnK4eW
A SOMBER DAY - The nation marked the 15th anniversary of the Oklahoma City attack that killed 168 women, men and children. Family members, politicians and others assembled at the site to pay their respects. http://huff.to/91T9D7
GUN RALLY PR FAIL - As Americans paused to remember the victims of a heinous domestic terrorist attack, gun rights activists gathered at 2nd Amendment rallies across the country while packing heat. Arthur Delaney and Sam Stein were embedded in the crush of semi-automatics and eagle-print XXL t-shirts. http://huff.to/b7VaCZ
(A reminder: it was Obama who signed the expansion of gun rights into law in June after Tom Coburn tacked it onto credit card reform.)
Gun control advocates didn't sit this one out. Several local and national organizations ran ads today urging lawmakers to adopt stricter regulation of firearms. Sam Stein: "The Coalition to Stop Gun Violence placed print ads in the Denver Post and Boulder Daily Camera on Monday in which Tom Mauser, whose son was murdered 11 years ago at Columbine High School, urged Senator Mark Udall (D-Col.) to help close the so-called "Gun Show Loophole."
A lot of buzz over James Homann's Politico article exploring the Tea Party schism between Ron Paul and Sarah Palin supporters. Paulites are libertarian and largely indifferent on social issues while Palinites really hate gays, abortion and are TOTES Team Jacob. http://bit.ly/dntOLP
Firedoglake breaks down a new Pew poll that shows Republicans to be less suspicious of Republican administrations than Democratic ones: "Look at those numbers. Democrats are about as trusting of Barack Obama's administration (33%) than they were of Ronald Reagan's (34%). Compare that to Republicans, who are supposedly wary of government, out of principle. Nope. When there's a guy with an "R" next to his name at 1600 Pennsylvania, they just completely toss that out the window...It's also pretty self-evident from these results that a Democratic President trying to appeal to Republican (or Teabagger) voters is completely wasting his time. So Barack Obama can escalate in Afghanistan and cut taxes and he's still considered a communist pacifist by the right." http://bit.ly/bogncA.
If you're a little creeped out by the gun rallies, the good folks here at HuffPost have compiled a list of the funniest protest signs. Our favorite? "HOMESCHOLERS FOR PERRY." http://huff.to/dwyctu
-smencimer: Confused lady wanders into Virginia gun rally. Asks what it's all about, then replies, "But it's already legal to carry guns in Virginia!"
-WillieGeist1: The Pope sleeping in church. We all can relate, but most of us do it in a less conspicuous hat. http://tinyurl.com/y7yrhvb
- mattyglesias: What can a 15 year-old academic paper on limited entry into banking tell us about the financial crisis? http://bit.ly/bF5drV
-mikemadden: Would go by the gun rally at Gravelly Point, but a) I have White House pool duty and b) I don't want to get shot.
- We feel strange debuting Nate Silver in the offbeat section but our favorite number-cruncher has placed the KFC Double Down on the grease continuum. http://bit.ly/9j7vBo
- Speaking of gross sandwiches, meet Chuck Schumer's culinary abomination: the Schumwich. The ingredients? Roast beef, banana peppers, pickled jalapenos, extra onions, extra tomatoes, two layers of pickles, mayonnaise, and mustard on Italian bread. http://bit.ly/dwDf0w
- The ten most hopeless bills in Congress: http://bit.ly/dDeXqp
- Esquire lists the 75 greatest women ever. Check out their steamy, salacious pix of historical hotties Joan D'arc, Sacajawea and Maud Gonne. Va Va Voom! http://bit.ly/dgwYBC
- Today's the deadline to RSVP to MSNBC's White House Correspondents afterparty, so get your act together.
-Like peanut butter and jelly, Utah Republicans and civil rights just go together...or not. Utah AG and primary challenger to Bob Bennett Mark Shurtleff will host a celebration of Dred Scott's life on May 12th...presumably to court Utah's all important African-American Republican primary vote. Check out the invite, with the most bizarre photo you can imagine, here: http://bit.ly/ci5Ji2 and here: http://bit.ly/c5WBj9 (Explanation: He wrote a book on Dredd Scott. Still.)
- National Jewish Democratic Council's Carly Lindauer: "NJDC has received numerous inquiries about the Axelrod dinner coming up this Thursday. I wanted to let you know that the event is off the record and closed to press. Apologies for any confusion." Noted, Carly.
- 6:00 pm: If you're in the mood for guns, lasers and favor-currying, head on over to the National Rifle Assocation's headquarters. Sanford Bishop (D-Ga.) will be putting his Blue Dog bona fides on display at a NRA function dedicated to...no joke...advances in laser technology [National Rifle Association, 410 First Street SE].
-6:00 pm & 7:30 pm: Reflections Dance Company gives two free performances at the National Theater. The group melds contemporary dance and ballet with African American influences [National Theater, 1321 Pennsylvania Avenue, NW].
-6:30 pm: James Cameron made Avatar for around $250 million. You can see it for one dollar. The Arlington Cinema and Drafthouse will screen the blockbuster this evening. It might not be IMAX in 3D but a few pints of microbrews will yield an equally mind-blowing effect [Arlington Drafthouse, 2903 Columbia Pike, Arlington, Va].
- 8:00 am: Tortilla Coast is more than a meeting place for parched Hill staffers, it's also the site of Bob Filner's (D-Calif.) fundraiser. $1,007.95, will get you some chicken flautas and the Congressman's gratitude [Tortilla Coast, 400 First Street SE].
-8:30 am: Michael Bennet (D-Colo.), whose reelect numbers have been anemic of late, will host a breakfast discussion at the Mott House. Amy Klobuchar (D-Minn) is scheduled to make an appearance [Mott House, 122 Maryland Ave NE].
-11:00 am: The DCCC's Executive Director Jon Vogel and Political Director Robby Mode host an update on the Dems' house races. They'd appreciate your money [Democratic National Committee, 430 South Capitol Street SE].
-12:00 pm: Xavier Becerra (D-Calif.) will be holding court at Starfish Cafe. The Vice Chair of the Democratic Caucus hopes to fill his campaign war chest Eddie Ayoob, David Jones, and James C. Gould host [Starfish Cafe, 539 Eight Street SE].
Got something to add? Send tips/quotes/stories/photos/events/fundraisers/job movement/juicy miscellanea to Eliot Nelson (eliot@huffingtonpost.com) or Ryan Grim (ryan@huffingtonpost.com). Follow us on Twitter @HuffPostHill.
Popular in the Community