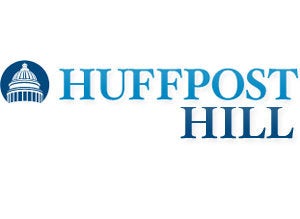 Washington was a hotbed of cool tempers today: Shelby and Dodd made nice on Wall Street reform, Obama talked SCOTUS with Senate leadership, folks are rubbing elbows at the Press Club soiree and everyone lavished praise on journalism's Boo Radley, Mike Allen. This is HUFFPOST HILL for Wednesday, April 21st, 2010:
GOP opposition to Wall Street reform is buckling and final passage of a sweeping bill to rewrite financial regulatory rules has never been closer. Lead GOP negotiator Richard Shelby briefed his colleagues in the Capitol at 4:30 this afternoon. His Dem counterpart, Chris Dodd, told reporters he had presented Shelby with a list of proposals and that regardless of the Republican position the bill was moving forward. He guessed a vote on a motion to proceed to debate would come on Friday. Is Dodd meeting with Shelby later today? "I live with Shelby," Dodd said.
Sen. Jim DeMint, emerging from the meeting at 5:30 for a vote, said that Shelby briefed them on the progress being made but that Friday's vote would be key. "There's not a lot of optimism we're going to get it fixed until they do a test vote," he said. "They're going to wanna make sure we've got 41 before they deal too much with us." Will they? "Yes we will."
Shelby post-meeting, on whether GOP has 41 votes to block current bill: "I'm not entirely confident, but I'm hopeful." He says a deal is still possible "tonight or tomorrow."
OBAMA @ COOPER UNION PREVIEW: HuffPost's Sam Stein: The President delivers his big speech on Wall Street reform tomorrow at NYC's Cooper Union. A White House official tells HuffPost Hill that financial leaders WILL BE in attendance when the President speaks -- though the audience, the aide said, is "the American people." Buzz phrases: here's what's AT STAKE... the URGENCY of acting now... bill is BIPARTISAN with ideas from both sides of the aisle.
DEEP DIVE ON WALL ST. REFORM - Just days ago, Republicans were ripping the bill to pieces -- "permanent bailout!" -- and Democrats were parading ahead without them. What changed?
The center got scared. When it comes to financial issues in Washington, the relevant coalitions are truly bipartisan: the outer factions of both parties join together in a mixture of populism, political opportunity and genuine differences with the center, which stands for Wall Street. One need go no further than the roll calls for the bailout votes to see this coalition at work. That coalition is the reason the center is now forging an alliance.
Don't take HuffHill's word for it. Here's GOPer Bob Corker today: Without a bipartisan deal in place, "amendments that sound really good on the surface, and really appealing when you hear what it says, and you play it out it can be very damaging to our financial system. I that that concern probably is held by people on both sides of the aisle....There needs to be a debate and there needs to be amendments, so that people on both sides of the aisle that have good ideas and want to introduce them [can do so] , but at the same time I think we need to be careful in that process so that you don't end up with some over-populist kinds of ideas that sound great that do damage."
Blanche Lincoln moved her tough derivatives bill through the Agriculture Committee today, picking up Chuck Grassley's support and giving it that AAA label "bipartisan." Dodd says he'll "harmonize it" with what his committee has done. http://huff.to/cXXKzC
OpenLeft's Chris Bowers notes the irony that Lincoln's bill was too much for some of her colleagues, who worked in committee to water it down. Chris is looking at you, Kirsten Gillibrand, Bob Casey and Debbie Stabenow. http://bit.ly/ccu3I4
Let's pause to chuckle at the mess the Senate GOP made for itself: Banking Committee members Judd Gregg (R-N.H.) and Jack Reed (D-R.I.) had been in negotiations to write derivatives legislation and probably could have struck a moderate deal, but Gregg backed out, the thinking being that the fight would be easier to win in Lincoln's committee. Lincoln, instead, hit them with the toughest bill that's been debated since the crisis. They should have taken the bird in the hand.
PRESS CLUB SHINDIG TONIGHT - The Washington Press Club Foundation dinner kicks off at 7. Get moving. Jeff Merkley and Brad Miller will be at the HuffPost table -- Sheldon Whitehouse and Debbie Wasserman Schultz are Roll Call's dates -- The Hill is bringing Ben Nelson and Darrell Issa. Politico's got Chuck Schumer.
Claire McCaskill's speaking tonight at the dinner and is nervous she can't live up to Amy Klobuchar's KILLER performance last year. Former talk radio veteran Mike Pence is also speaking.
TOMORROW'S PAPERS TODAY - ROLL CALL's David Drucker pens "Schumer Aggravates Old Friends on Wall Street"... THE HILL's Molly Hooper interviews Rep. Michele Bachmann, who defends her recent "gangster government" attack on Democrats.
REUTERS CHIEF: 'WHAT I WANT FROM THE PENTAGON' -- Editor-in-chief David Schlesinger addresses the Wikileaks video showing the "deaths in Iraq of my colleagues... What I want from the Pentagon - and from all militaries - is simple: Acknowledgment, transparency, accountability." http://bit.ly/cWuRGL
NEW FEATURE: WHAT (ELSE) MIKE ALLEN IS READING - Joseph Lelyveld, former NYT executive editor, does the New York Review of Books review of David Remnick's "The Bridge: The Life and Rise of Barack Obama": "Remnick is no hagiographer. But by choosing to view the candidate who becomes his subject mainly through the prism of race, he sidesteps the burdens of seeing him whole and assessing him as a political leader. ... [I]t may be, finally, that Obama's complex Kansas-Indonesia-Kenya background, and all the discussions of race it has inspired (including his own impressive contributions), will not prove to be the most interesting, memorable thing about his presidency. It may even be that while the Tea Party fumes about taking the country back, the country is already looking past race, viewing him the way it's accustomed to viewing presidents, for the difference they've made. This may or may not be good news for Obama. Not only did he become the first African-American president, he became that president at the height of the worst economic crisis in a lifetime. In viewing his victory and any setbacks that may lie ahead, it will never be easy to disentangle those two facts." http://bit.ly/cmmmZG
ON THE TUBE TONIGHT - FLOTUS brother Craig Robinson on Colbert... Sherrod Brown on CNN's Situation Room... Pete Sessions on John King, USA... Larry Summers is on NPR's All Things Considered.
WHIP COUNT - Sen. Udall: We're "within a vote or two" of repealing Don't Ask, Don't Tell using defense authorization as vehicle. http://bit.ly/9hqVoU
LATE BREAKING: REID, PELOSI CHOOSE IMMIGRATION OVER CLIMATE - Roll Call's John Stanton: "Democratic leaders are pushing ahead with plans to move comprehensive immigration reform legislation this year -- even if it means punting on energy legislation until next Congress. According to Senate Democratic aides, [Reid and Pelosi] agreed during a Tuesday afternoon meeting that a 'moral imperative' exists to move immigration reform in 2010. The decision to press ahead on such a controversial issue now - in an election year - comes even though Democrats have had little success attracting GOP support for their initiatives in the 111th Congress. Hispanic Members have been ramping up the pressure on President Barack Obama to force the issue with Congress." http://www.rollcall.com/news/45419-1.html
MARCH ON WALL STREET - The AFL-CIO will host a Wall Street rally on April 29th calling for tougher finance regulation. From the e-mail blast from union President Richard Trumka: "So next Thursday, about 10,000 of us will march and rally in the heart of New York's financial district, calling for commonsense rules to hold Wall Street accountable and restore our jobs."
OBAMA ASKED ABOUT GOLDMAN DONATIONS, GREG CRAIG: John Harwood during his sit-down with POTUS for CNBC: "In the 2008 campaign, you got a lot of money, about a million dollars from employees of Goldman Sachs. Your former White House Counsel, Greg Craig (PH) is apparently going to represent Goldman Sachs. In light of this case, do either of those things embarrass you?"
PRESIDENT OBAMA: "No. First of all, I got a lot of money from a lot of people. And the vast majority of the money I got was from small donors all across the country. And moreover, anybody who gave me money during the course of my campaign knew that I was on record, again in 2007 and 2008, pushing very strongly that we needed to reform how Wall Street did business... As for-- as far as my former-- White House Counsel Greg Craig, he's one of the top lawyers in the country. He has a range of clients. But we have the toughest ethic rules-- that any President's ever had. And the one thing that he knows is-- is that he cannot talk to the White House, he cannot lobby the White House. Once he left the White House, he cannot in any way use his former position to have any influence on us. And so-- neither of those things, I think, are gonna have any bearing on how we move forward on this issue of Wall Street reform."
PELOSI STAFFER THROUGH REVOLVING DOOR - Arshi Siddiqui, a senior policy adviser to the Speaker, is off to K St., joining Akin Gump. The firm has represented numerous health insurance industry clients including Aetna, Pfizer, General Electric, and the Pharmaceutical Researchers and Manufacturers of America. Wouldn't you know it, Siddiqui worked on health care reform! http://bit.ly/aw3W0j
POTUS' SCOTUS TALKS BEGIN - Flanked by key Senators, the President told a gaggle of reporters in the Oval Office that he hopes to have the seat filled when the Court reconvenes. Obama offered few hints about what kind of judge he'll nominate, telling the press pool he has no judicial "litmus test," but added: "...I will say that I want somebody who is going to be interpreting our Constitution in a way that takes into account individual rights and that includes women's rights and that is going to be something that is very important to me." http://huff.to/aIfkTZ
As Washington gossips about the next Associate Justice, might we suggest nominating someone keyed-in enough to know the difference between an e-mail and a pager? The highest court in the land is hearing arguments in City of Ontario vs. Quon about the legality of 'sexting' on employer-supplied pagers. Too bad our esteemed Justices can't really wrap their heads around the 21st century (or the 20th for that matter -- pagers???):
"Chief Justice John G. Roberts, Jr. - who is known to write out his opinions in long hand with pen and paper instead of a computer - asked what the difference was 'between email and a pager?' At one point, Justice Anthony Kennedy asked what would happen if a text message was sent to an officer at the same time he was sending one to someone else. 'Does it say: 'Your call is important to us, and we will get back to you?'' Kennedy asked." http://huff.to/9B3lqG
IMF IS BULLISH ABOUT GLOBAL GROWTH - As America's financial capital takes one on the chin, the International Monetary Fund reports that the global economy will outperform economists' expectations this year. The IMF predicts a 4 percent growth globally. http://bit.ly/9IrKlo
Arthur Delaney tracked Public Citizen's efforts to have retiring Congressmen sign a pledge not to work on K Street. Guess how that went:
"On Wednesday, HuffPost called several retiring members of the House who are not running for some other office and failed to dig up any interest in the pledge. A spokesman for Rep. Vern Ehlers (R-Mich.) said he had not yet discussed the pledge with his boss. 'He typically does not sign pledges throughout his entire career,' he said. 'But he doesn't have any plans to turn around and work anywhere after this.' (Ehlers, the spokesman said, would probably build an airplane. 'He's going after his private pilot license.;) A spokesman for Rep. Rep. John Tanner (D-Tenn.) said, 'Congressman Tanner is focused on serving in this Congress and that's as far as he's focused right now.'"
FREEDOM OF INFORMATION ACT WIN - This might be a good time to mention a bill introduced today by Rep. Brad Sherman that would create a panel to analyze and strengthen the Freedom of Information Act. While we're always suspicious of the "bill to establish committee x to better improve the efficiency of y" formula, we can't help but like the idea of toughening up FOIA.
From Sherman: "The committee study would specifically attempt to identify methods of reducing delay in FOIA processing, create an efficient and equitable processing system, and examine whether the charging of fees and granting of waivers needs to be reformed."
ALL ABOUT THE BENJAMINS - Legal tender enthusiasts are in a tizzy over the new $100 bill design unveiled at the Treasury Department today. The new hundy-spot, presented by Tim Geithner, Ben Bernanke, US Treasurer Rosie Rios and others, features new anti-counterfeiting designs centered around Benjamin Franklin's mug.
EVERYTHING YOU WANTED TO KNOW ABOUT THE UK ELECTION BUT WERE TOO UNAWARE OF IT TO ASK - As we Yanks bicker over SCOTUS nominees and financial reform, our British cousins are having an election on May 6th. It's a three-way tossup between current Labor PM Gordon Brown, Conservative David Cameron and Liberal Democrat Nick Clegg. For months, conventional wisdom dictated that it was Brown or Cameron's race to lose. That is until last week's first-ever televised PM debate in which Clegg opened up a can of understated, polite whoop-ass on his counterparts. Now, it's anyone's guess who will come out on top. Expect more repercussions after the second debate tomorrow.
All this is surprising as the Lib Dems, a sort of left-leaning, catchall party, are perennial bronze medalists in British elections. Yet on the heels of Cleggs' debate KO, some polls place them in the lead. The latest YouGov poll shows the Liberal Democrats commanding 34 percent of the vote with the Conservatives trailing at 31 percent. http://huff.to/dvC7gw
The prospect of an unprecedented Nick Clegg-fueled Lib Dem victory has the British press spewing Obama comparisons left and right. Take this delightful Anglo-nugget from a Guardian article by Oliver Burkeman: "Consider the Obama-Clegg parallels. Obama's sensibility developed during a childhood dominated by the absence of his father and his struggles to fit into communities in Hawaii and Indonesia; Clegg's outlook was forged in the crucible of his hardscrabble origins in Chalfont St Giles, Buckinghamshire, his education at Westminster School in London, and his degree in archaeology and anthropology at Robinson College, Cambridge. Obama had "Yes, we can". Clegg has "I agree with Nick". Obama, as a youth, flirted with hard drugs. Clegg set fire to a cactus." http://bit.ly/dwZC8F
- You'll need more than 15 minutes to file for unemployment. The dude who voices the Geico Gecko has been canned for disparaging the Tea Party movement. http://huff.to/94ZBPa
- Serenity now: Keith Olbermann got Donny Deutsch fired after the MSNBC sub said Olbermann is angry. Rumor is that Deutsch also disparaged Ms. Precious Perfect. http://huff.to/cUtluE
- Hector Penate and Shawn Southwick did it in Larry King's bed. No word on whether they activated the humidifier or used the bed-rail. http://huff.to/9rVeJU
-14 things you might not know about The Big Lebowski. http://bit.ly/bl9vgf
The "Missing the Larger Point" award goes to: EHolmesWSJ: If u didn't know anything abt Mike Allen, it would be fascinating, of course. It's just there was nothing new for those of us who know him.
She also wins the "Contradictory Tweet" prize: EHolmesWSJ: Disappointed by the Mike Allen profile. Why so many questions left unanswered?
edhenrycnn: Tickled: House ethics committee announces creation of subcommittee to investigate former Congressman Massa
Wonkette: Hilarious One-Paragraph History of Politico News Invention http://bit.ly/cUIFkG
daveweigel: A brief explanation of why the Arizona birther bill is silly and doomed. http://bit.ly/anoGcU
7:00 pm: The press club reception gets going at 7:00. The dinner and speechifying about the STATE OF THE INDUSTRY follow at 8:30. The party gets going around 10:00. That's the time to crash the open bar, but, of course, you didn't hear that from us.
7:00 pm: The Rock Bottom Remainders, a supergroup of remarkably nerdish proportions perform tonight at 9:30 Club. Dave Barry, Mitch Albom, Amy Tan, Scott Turow, Ridley Pearson, Greg Iles, Roy Blount, Jr. and Kathi Kamen Goldmark make up the band [9:30 Club, 815 V ST. N.W.].

7:00 pm: Mark Kurlansky's new book "The Eastern Stars" uncovers what exactly is in the water of San Pedro, Dominican Republic that makes everyone there so damn good at baseball. Manny Alexander, Sammy Sosa and Tony Fernandez are just some of the superstars reared in this impoverished yet vibrant region. The author discusses his new book tonight [Politics and Prose, 5015 Connecticut Ave NW].
8:00 am: Rodney Alexander (R-La.) isn't just the guy who flipped off his staff after he switched parties, he's also the guy having a fundraiser at the Capitol Hill Club [Capitol Hill Club, 300 First Street SE].
8:00 am: Debbie Halvorson (D-Ill.) has a small luncheon where she'll elicit big donations [National Democratic Club, 40 Ivy Street SE]
Got something to add? Send tips/quotes/stories/photos/events/fundraisers/job movement/juicy miscellanea to Eliot Nelson (eliot@huffingtonpost.com), Ryan Grim (ryan@huffingtonpost.com) or Nico Pitney (nico@huffingtonpost.com). Follow us on Twitter @HuffPostHill. Sign up here: http://huff.to/an2k2e

REAL LIFE. REAL NEWS. REAL VOICES.
Help us tell more of the stories that matter from voices that too often remain unheard.